Lazarus, The Immortal Man: A Comic For Depressives, By Depressives
Julian Darius writes for Bleeding Cool:
Lazarus, the Immortal Man #1 is on Kickstarter now. It's a story about history, multicultural identity, how immortal characters work… and my depression.
I've been a depressive my entire adult life. When I was in high school, crying for hours every day after school, comics were one of my few joys.
I wound up starting a website that analyzes comics as literature. Sequart grew into a book publisher and a movie producer.
In 2014, I started publishing comics — writing them and collaborating with artists, colorists, and letterers to make these dreams a reality. In Martian Comics, I had a Martian society with pulp sensibilities possessing and enlightening humans. One such Martian was Jesus.
In issue #2, the back-up elaborated on this by exploring Lazarus, whom Martian Jesus had resurrected. I was fascinated by the idea of what came after his resurrection, a subject on which the Bible was silent.
My Lazarus, though resurrected, is still scarred from the disease that killed him. The rural, first-century Jews around him are scared of him. They're not going to employ him or work with him. Lazarus is a pariah, a burden on his family, and he attempts suicide. But he survives. He realizes he doesn't need to eat. He can't die, or seems to be immortal. He leaves his family to free them, and joins Jesus until Jesus's crucifixion.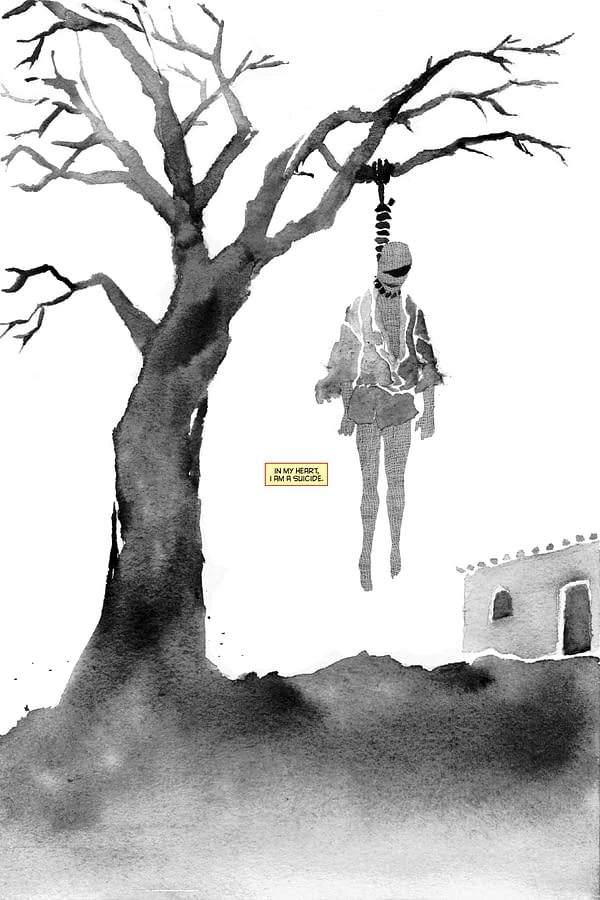 For Martian Comics #3, I wrote a second Lazarus story, in which he's in Athens, watching St. Paul visit and preach Christianity. But Paul hadn't met Jesus, and Lazarus had. Paul's second-hand accounts of Jesus had to differ from Lazarus's memory of the man himself. An immortal character, especially in the ancient world, would see history being distorted and misremembered. Lazarus doesn't know that he's witnessing the birth of Christianity, but he's wise enough to realize that his immortality will allow him to see the shape of history.
Lazarus, the Immortal Man #0 reprints these two Lazarus stories and runs 24 pages.
For the first issue (which is what's on Kickstarter now), I wanted to depict Lazarus's response to the first Jewish-Roman war, in which the Second Temple in Jerusalem was destroyed. This was the seat of the Jewish religion, which believed that God acted through history. The Temple's destruction was, for many, equivalent to the destruction of the Jewish religion itself… and that's why the Romans did it. They'd had enough of this rebellious province, which they afforded religious liberties not offered elsewhere, but which was filled with zealots who kept rebelling.
It's a fascinating moment in history. But I realized Lazarus's response had to address his own Jewishness. Living in Athens, Lazarus was part of a Jewish diaspora. Athens was a multicultural place, but so was a lot of the Roman Empire, including Alexandria in Egypt and Jerusalem itself. Living in Athens, Lazarus didn't seem especially interested in his Jewish identity. But historical events would force him to confront his relationship with his own people and his past.
Was he a Jew? An Athenian? A subject of the Roman Empire? I think most of us have these overlapping identities. We might be American and from India and a Muslim. Or European and German and of Syrian ancestry. Lazarus struggling with his identity, in the first century, is important for us, as our nations' conception of themselves as multicultural, tolerant states are under concerted attack from nativist movements. We live in our own fascinating moment in history.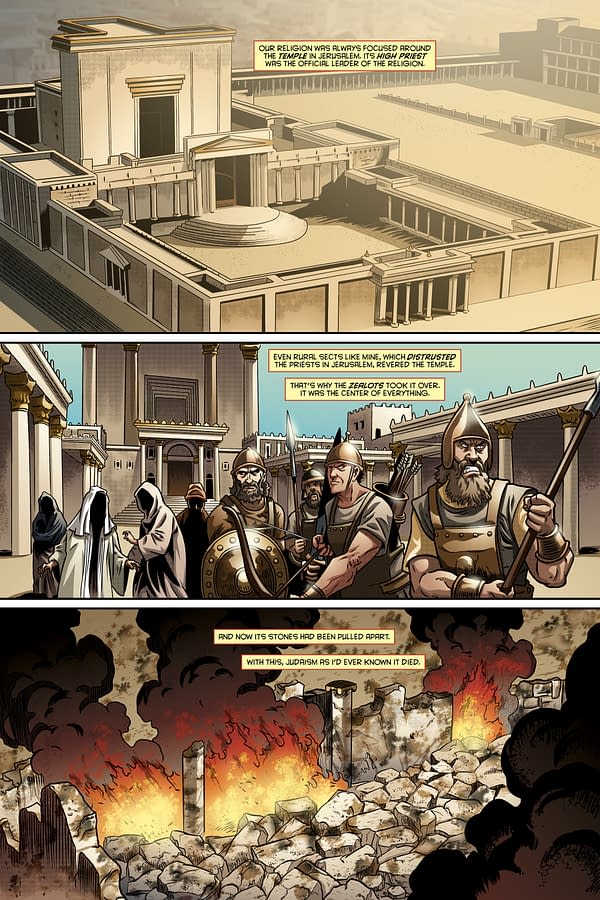 To address Lazarus's identity, I also had to address his immortality. In most fiction, characters become immortal and realize they heal or can't be killed, and that's it. Those characters are now available for stories in which they're immortal.
But immortality doesn't come with a handbook. Back in his first story, it's clear that Lazarus can't die. But the rope scars from when he tried to hang himself remain on his neck, much like the scars from the disease that killed him. Because of this, Lazarus tells Jesus that he thinks he can't heal. In this new story, we learn that Lazarus has been afraid of being in a fire, burned to a crisp but still alive and in pain. He thinks this is how his immortality works.
In a key moment in the new story, Lazarus confides in a friend. Because his friend is Greek, Lazarus explains his immortality by relating the Greek myth of Tithonus. Tithonus was granted immortality by Zeus, but continued to age. Even as a kid, when I first heard this story, I was fascinated by it. Like the story of Lazarus in the Bible, the story just stopped. I imagined Tithonus continuing to age until he decomposed, yet was somehow still alive. Some particle of him might still be floating around now. Lazarus uses this story to reach his friend, using it as an example of how not all immortalities are the same, and an immortal has to figure out how it works. In contending with his own past, I also had to address Lazarus's attempted suicide. Back when I wrote it, that attempted suicide was a plot point. It established that Lazarus couldn't die, and the scars on his neck looked cool. They would remain, like a curse, to mark what he'd tried to do to himself. Beyond this, the attempted suicide showed the extent of Lazarus's desperation, after his resurrection, and helped motivate him leaving his family to join Jesus. It's Lazarus hitting rock bottom, before he seeks out help.
As a depressive who's struggled with suicidal thoughts, I couldn't leave this attempted suicide as a plot point. It's not right to imagine that this wouldn't haunt him. And so I started the new story with this image and this feeling. It's the emotional rock, on which the whole story would be built.
And this tied everything together. Lazarus figuring out his immortality was part of a dance between immortality and suicide, between zero and infinity. And Lazarus figuring out his identity as a Jew, while watching history unfold, had everything to do with his people's destruction. From the perspective of Athens, Lazarus sees the Jewish revolts, which lead to the destruction of Jerusalem and the Second Temple, as a kind of cultural suicide.
By the end of the story, Lazarus reaches a kind of catharsis. It's one that reflects my own feelings, as a depressive. The horrors of the world are terrible. But I have found the joy of being alive, and am so thankful for surviving.
In large part, that's because of comics. Comics got me through, in my adolescence. Now making comics is why I get up in the morning.
Yeah, I know it's weird to channel depression into a story set in the first century. But depression's a weird thing.
Lazarus, the Immortal Man #1 is a 70-page epic. It's on Kickstarter now, and it needs your help. If you'll pledge, you'll also get the zero issue, meaning you'll be getting 94 pages of comics, brilliantly illustrated by Sergio Tarquini and colored by R.L. Campos, with a little help from our friends Sara Nietto, Steven Legge, and Colin Bell. And as a special gift for Bleeding Cool fans, everyone who pledges by the end of Monday, November 20th (tomorrow) will get a free PDF of my book The Weirdest Sci-Fi Comic Ever Made, analyzing Jack Kirby's continuation of 2001, A Space Odyssey! So act now!
I hope you'll support this comic on Kickstarter. Maybe, it'll even help a few people. It's so important, when you're down, to believe tomorrow can have light in it.
---
---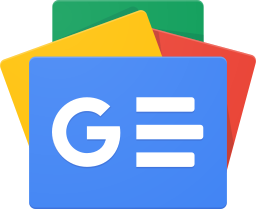 Stay up-to-date and support the site by following Bleeding Cool on Google News today!