25% Less Spent On Comics In August 2017 Than In August 2016 As Direct Market Sales Fall Off A Cliff
Diamond has released their sales statistics for August 2017 for products sold in the North American direct market. And it makes a worrying read.
August was a five-Wednesday month. Five weeks of new product rather than four. Usually that means the dollars spent on comics and graphic novels for that month is around 20% higher than a four-week month. But August was only up 10% on July, which is not good. And from August 2016, also a five-week month? Down 25% — that's a whole quarter less spent on comics in the direct market in a comparable timeframe.
This is a game-changing drop; sales have fallen over a cliff. Overall, year on year, that's almost 7% down on 2016 at the same time. July's figure was 3% down. Things are getting worse, not better. 2017 looks like it may be an annus horribilus for the comic book direct market.
So how are the deckchairs being arranged?
Marvel Comics is August's top publisher with a 35.01% dollar share and a 39.52% unit share — that's a drop of its dollar share by almost two points, while its unit share stays almost exactly the same. This is an indication that Marvel is engaging in heavy discounting to keep their numbers up. DC Comics' dollar share falls below the psychologically important 30% mark, down from 31.15% to 28.18%, and their unit share has dropped from 36.89% to 31.09%.
In a reversal of recent form, Marvel takes seven of the top ten with three issues of Secret Empire, two of Generations and two of Star Wars, though DC Comics tops the chart with Metal and Batman taking the top three. for the first time, the top ten is made up of only five series, with multiple issues of each.
The Walking Dead #170 was Image Comics' top book for August at #11. Neil Gaiman's American Gods: Shadows #6 was Dark Horse Comics' top book #105. Finally, IDW Publishing's Teenage Mutant Ninja Turtles #73 was their top book at #158.
Read the carnage…
TOP COMIC BOOK PUBLISHERS
RETAIL MARKET SHARE
PUBLISHER
SHARE
MARVEL COMICS
35.01%
DC ENTERTAINMENT
28.18%
IMAGE COMICS
10.06%
IDW PUBLISHING
4.81%
DARK HORSE COMICS
3.16%
DYNAMITE ENTERTAINMENT
2.50%
BOOM! STUDIOS
2.19%
TITAN COMICS
1.48%
VIZ MEDIA
1.42%
ONI PRESS INC.
1.28%
OTHER NON-TOP 10
9.91%

UNIT MARKET SHARE
PUBLISHER
SHARE
MARVEL COMICS
39.52%
DC ENTERTAINMENT
31.09%
IMAGE COMICS
9.23%
IDW PUBLISHING
3.69%
DYNAMITE ENTERTAINMENT
3.58%
DARK HORSE COMICS
2.18%
BOOM! STUDIOS
1.88%
TITAN COMICS
1.25%
ONI PRESS INC.
0.82%
VALIANT ENTERTAINMENT LLC
0.77%
OTHER NON-TOP 10
5.98%
COMPARATIVE SALES STATISTICS
DOLLARS
UNITS
AUGUST 2017 VS. JULY 2017
COMICS
9.56%
9.30%
GRAPHIC NOVELS
18.34%
20.46%
TOTAL COMICS/GN
12.16%
10.12%
TOYS
52.54%
32.90%
AUGUST 2017 VS. AUGUST 2016
COMICS
-25.72%
-25.91%
GRAPHIC NOVELS
-6.89%
-10.02%
TOTAL COMICS/GN
-20.71%
-24.84%
TOYS
-33.47%
-42.90%
YEAR-TO-DATE 2017 VS. YEAR-TO-DATE 2016
COMICS
-9.94%
-6.23%
GRAPHIC NOVELS
-11.68%
-12.77%
TOTAL COMICS/GN
-10.47%
-6.76%
TOYS
-10.99%
-16.38%
NEW TITLES SHIPPED
| | | | | |
| --- | --- | --- | --- | --- |
| PUBLISHER | COMICS SHIPPED | GRAPHIC NOVELS SHIPPED | MAGAZINES SHIPPED | TOTAL SHIPPED |
| MARVEL COMICS | 106 | 40 | 1 | 147 |
| DC ENTERTAINMENT | 78 | 29 | 1 | 108 |
| IMAGE COMICS | 62 | 18 | 0 | 80 |
| IDW PUBLISHING | 56 | 22 | 0 | 78 |
| DARK HORSE COMICS | 20 | 16 | 0 | 36 |
| DYNAMITE ENTERTAINMENT | 30 | 6 | 0 | 36 |
| BOOM ENTERTAINMENT | 25 | 10 | 0 | 35 |
| TITAN COMICS | 20 | 13 | 1 | 34 |
| VIZ MEDIA | 0 | 26 | 0 | 26 |
| ONI PRESS INC. | 8 | 7 | 0 | 15 |
| OTHER NON-TOP 10 | 119 | 182 | 32 | 333 |
TOP 10 COMIC BOOKS
| | | | | |
| --- | --- | --- | --- | --- |
| RANK | DESCRIPTION | PRICE | ITEM CODE | VENDOR |
| 1 | DARK NIGHTS: METAL #1 | $4.99 | JUN170232-M | DC |
| 2 | BATMAN #28 | $2.99 | JUN170252-M | DC |
| 3 | BATMAN #29 | $2.99 | JUN170254-M | DC |
| 4 | SECRET EMPIRE #10 | $4.99 | JUN170877-M | MAR |
| 5 | GENERATIONS: ALL-NEW WOLVERINE/WOLVERINE #1 | $4.99 | JUN170857-M | MAR |
| 6 | SECRET EMPIRE #8 | $4.99 | JUN170865-M | MAR |
| 7 | SECRET EMPIRE #9 | $4.99 | JUN170871-M | MAR |
| 8 | GENERATIONS: THE MIGHTY THOR/UNWORTHY THOR #1 | $4.99 | JUN170842-M | MAR |
| 9 | STAR WARS #34 | $3.99 | JUN171015-M | MAR |
| 10 | STAR WARS #35 | $3.99 | JUN171018-M | MAR |
TOP 10 GRAPHIC NOVELS & TRADE PAPERBACKS
| | | | | |
| --- | --- | --- | --- | --- |
| RANK | DESCRIPTION | PRICE | ITEM CODE | VENDOR |
| 1 | PAPER GIRLS VOLUME 3 TP | $12.99 | JUN170777 | IMA |
| 2 | BATMAN VOLUME 3: I AM BANE TP | $16.99 | MAY170321 | DC |
| 3 | GOD COUNTRY TP (MR) | $16.99 | MAY170624-M | IMA |
| 4 | KILL OR BE KILLED VOLUME 2 TP (MR) | $16.99 | MAY170693-M | IMA |
| 5 | WONDER WOMAN VOLUME 3: THE TRUTH TP | $16.99 | MAY170328 | DC |
| 6 | X-MEN GOLD VOLUME 1: BACK TO BASICS TP | $15.99 | MAY170943 | MAR |
| 7 | REBORN HC (MR) | $24.99 | FEB170703-M | IMA |
| 8 | SUPERMAN VOLUME 3: MULTIPLICITY TP | $16.99 | MAY170327 | DC |
| 9 | OLD GUARD BOOK 1: OPENING FIRE TP (MR) | $16.99 | JUN170687-M | IMA |
| 10 | X-MEN BLUE VOLUME 1: STRANGEST TP | $15.99 | MAY170944 | MAR |
TOP 10 BOOKS
| | | | | |
| --- | --- | --- | --- | --- |
| RANK | DESCRIPTION | PRICE | ITEM CODE | VENDOR |
| 1 | HELLBOY: AN ASSORTMENT OF HORRORS SC NOVEL | $14.99 | APR170061 | DAR |
| 2 | BATMAN & ROBIN ADVENTURES: HARLEY QUINN'S CRAZY CREEPER CAPER TP | $5.95 | MAY172127 | CAP |
| 3 | CINEGEEK HC | $14.99 | FEB170487 | IDW |
| 4 | DC SUPER HERO GIRLS: WELCOME TO SUPER HERO HIGH | $4.99 | MAY172134 | RAN |
| 5 | MIGHTY MORPHIN POWER RANGERS ADULT COLORING BOOK TP | $16.99 | JUN171326 | BOO |
| 6 | DC SUPER PETS: KRYPTO ORIGIN OF SUPERMAN'S DOG | $4.95 | MAY172138 | CAP |
| 7 | DC SUPER PETS: STREAKY ORIGIN OF SUPERGIRL'S CAT | $4.95 | MAY172139 | CAP |
| 8 | OVERSTREET COMIC BOOK PRICE GUIDE VOLME 47 SC | $29.95 | APR171765-M | GEM |
| 9 | BUFFY THE VAMPIRE SLAYER: BIG BADS & MONSTERS ADULT COLORING BOOK TP | $14.99 | MAY170055 | DAR |
| 10 | DC SUPER PETS: ACE ORIGIN OF BATMAN'S DOG | $4.95 | MAY172136 | CAP |
TOP 10 TOYS
| | | | |
| --- | --- | --- | --- |
| RANK | DESCRIPTION | ITEM CODE | VENDOR |
| 1 | LEGEND OF ZELDA: BREATH OF THE WILD: LINK NENDOROID DX | DEC168626 | GOO |
| 2 | BATMAN BLACK & WHITE STATUE BY NORM BREYFOGLE | FEB170345 | DC |
| 3 | DRAGONBALL SUPER DRAGON STARS ACTION FIGURES | DEC168377 | BAN |
| 4 | MARVEL SELECT: LADY DEADPOOL ACTION FIGURE | DEC162578 | DST |
| 5 | DC COVER GIRLS: ZATANNA STATUE | FEB170343 | DC |
| 6 | MARVEL PREMIUM COLLECTION: THANOS STATUE | DEC162576 | DST |
| 7 | ONE-12 COLLECTIVE: DC COMICS: ARSENAL ACTION FIGURE | AUG168742 | MEZ |
| 8 | MEGA MAN X FULL ARMOR NENDOROID | SEP168170 | GOO |
| 9 | MARVEL NOW: CARNAGE ARTFX+ STATUE | FEB172861 | KOT |
| 10 | MARVEL GALLERY: LUKE CAGE NETFLIX PVC FIGURE | JAN172647 | DST |
TOP 10 GAMES
| | | | |
| --- | --- | --- | --- |
| RANK | DESCRIPTION | ITEM CODE | VENDOR |
| 1 | MARVEL HEROCLIX: THE MIGHTY THOR BOOSTER BRICK | APR173304 | NEC |
| 2 | MAGIC THE GATHERING TCG: AMONKHET BOOSTER PACKS | DEC168751 | WIZ |
| 3 | MAGIC THE GATHERING TCG: AETHER REVOLT BUNDLE PACK | NOV162989 | WIZ |
| 4 | MONOPOLY: STAR WARS 40TH-ANNIVERSARY EDITION | FEB178728 | HAS |
| 5 | STARFINDER RPG CORE RULEBOOK HC | JUN173371 | PAI |
| 6 | MACHI KORO CARD GAME | MAY142831 | IDW |
| 7 | CHOCOBO PLAYING CARDS | NOV168553 | SQU |
| 8 | MARVEL HEROCLIX: THE MIGHTY THOR STARTER SET | APR173305 | NEC |
| 9 | MAGIC THE GATHERING TCG: COMMANDER 2017 | JUN173402 | WIZ |
| 10 | MAGIC THE GATHERING TCG: AMONKHET BUNDLE PACK | DEC168752 | WIZ | Dollar Market Share – August 2017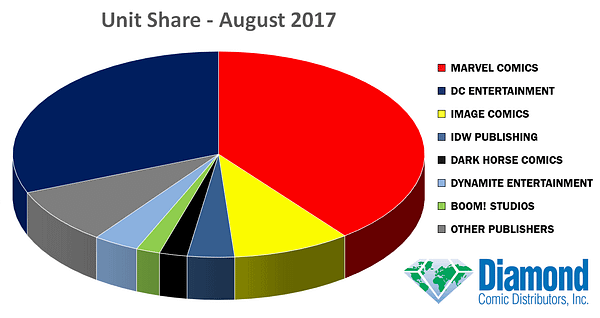 Unit Market Share – August 2017