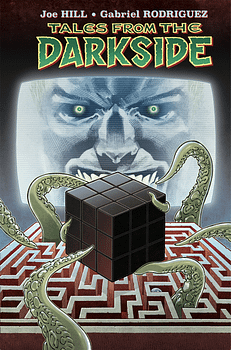 Locke & Key's Joe Hill and Gabriel Rodríguez and working together again on Tales from the Darkside, a comic-book revival of the horror anthology TV series of the same name.
The four-issue series will feature Hill's re-imagining ofTales for a contemporary take on the cult classic. Structured to have the scope of Locke & Key while exploring a vast, underlying mythology, Tales aims to unfold a cohesive universe made up of each individual issue. According to the creative team, these stories will draw inspiration from the TV series that it has spawned from while also taking a meta approach to the material.
Joe Hil explains,
This is the show that could've been. The original Tales from the Darkside was a fun, bleak little spin on the Twilight Zone style anthology. My idea is to give readers a little more. Every story is meant to stand alone, but gradually, you will come to see how they all connect, to tell a single larger story.
Charles P. Wilson III will contribute variant covers.
To be published from IDW in June…
Enjoyed this article? Share it!