Loot Crate Brings Back the Hydra T-Shirt Controversy?
Loot Crate, after going through bankruptcy and a buyout courtesy of NECA, is doing its best to rebuild its reputation. Late crates are being delivered it seems, new product is joining them, the new investment seems to be turning things around, to the surprise of many who had written Loot Crate off. And more people have been subscribing (use the code BLEEDINGCOOL for a possible discount that might still work, you go find out)
The last thing they need is accusations of spreading Nazi propaganda. Um, about that…
The theme for November's main crate is Squad, nothing problematic there is there? Unless you put the word Firing in front of it. Even a possible offensive term like Suicide is transformed into a DC Comics superteam with a movie behind it.
But in November, both Marvel and DC are part of the miz for the first time at Loot Crate, alongside GI Joe and South Park. Might we get an advance variant cover version of DC's Suicide Squad #1 comic out soon? Maybe. But we know what we're getting from Marvel.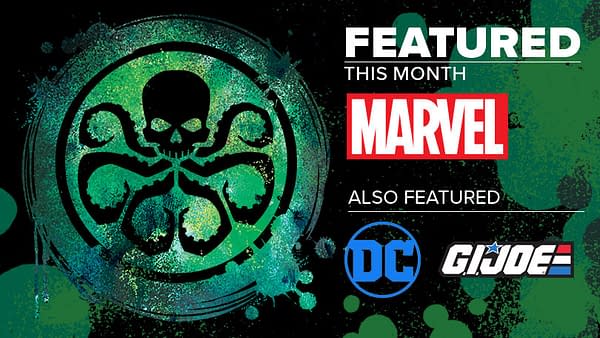 We're getting Hydra.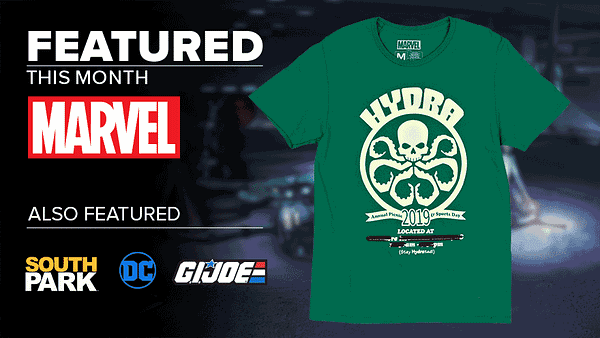 Specifically a Hydra T-shirt. Now, while Marvel Comics has repeatedly reminded us, Hydra aren't Nazis, they just worked alongside the Nazis, were let by the Red Skull, do a lot of 'Hail' ing their glorious leader, dress on leather and jackboots, and pretty much goosestep in line with whatever fascist ideology is around at the time, the Marvel TV shows know better. As Agents Of SHIELD once reminded us, at the end of this video which looked at the whole fuss…
So do you remember that when Marvel Comics were planning to ship free Hail Hydra shirts to comic stores for employees to wear to help promote the Secret Empire comic where it was revealed Captain America was a Hydra sleeper agent, and very legally took over as the Supreme Commander of the USA, there was a little blowback.
Still we've all moved on now, right? Right?
Right?
Oh, the DX version of Loot Crate seems to be Hydra Free – just Guardians Of The Galaxy, GI Joe and Scooby-Doo…