Lunar Gives Comic Shops Extra Chance to Order Batman/Fortnite #4
Yesterday, Bleeding Cool reported that comic book stores had severely underordered copies of Batman/Fortnite: Zero Point #1. Despite knowing about the free skin code, getting previews of the comic, and the comic being completely returnable, copies of the comic – and the code – were selling on eBay for up to $40. We pointed out that a) for paid customers of the DC Universe App (North America only) it was included, b) second printings were coming and that c) the skin would be on the Item Store in a couple of months anyway. And all the other items for #2-#6 would also be on the Item Store straight away. The Armored Batman Zero Outfit skin for those who collect all six codes, however, that might be a different thing.
Lunar Distribution has contacted retailers to give them an extra chance to up their orders for Batman/Fortnite: Zero Point #4 – even though this went to FOC last Sunday.
If you have underordered Batman/Fortnite Zero Point #4, this is your chance to increase your order. You have until 3:00 PM EST to increase your order and get it added to the print run. You can go on the Lunar Distribution site and enter your order for CVR A (0221DC812) and CVR B (0221DC813).

If you wish to increase your order for the Premium Cover (0221DC814), which still has a 25 copy minimum order, please email service@lunardistribution.com. If you have already ordered 25 copies, you can increase by any amount.
The premium cover by Donald Mustard can be seen below for the first time. Here's the solicitation for Batman/Fortnite: Zero Point #4.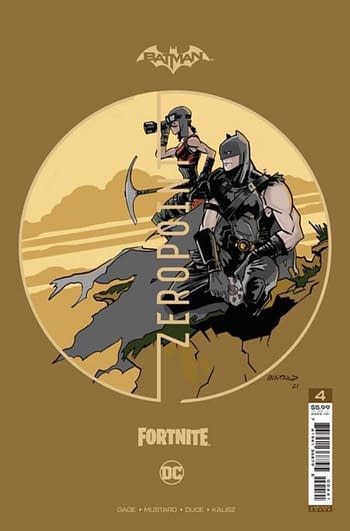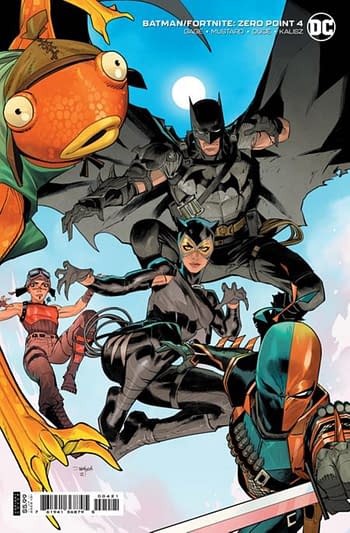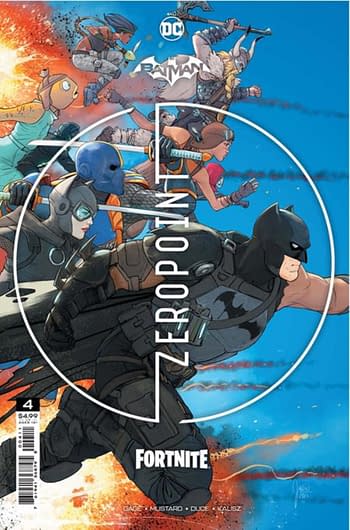 BATMAN FORTNITE ZERO POINT #4 (OF 6) CVR A MIKEL JANÍN
(W) Christos Gage, Donald Mustard (A) Christian Duce (CA) Mikel Janín
Batman has broken free from the Loop and the endless cycle of combat. Now free to explore the island without limitation, the World's Greatest Detective will discover secrets about the world of Fortnite never before revealed in the game or anywhere else. Just one thing…he's not alone. Not only is he met by a rogue faction of Fortnite bandits who have ALSO escaped the loop – Eternal Voyager! Bandolette! Magnus! Fishstick! And a few others — there's someone else trapped, someone who is trying to get free from the world of Fortnite …someone deadly. Will Batman recognize this familiar hunter-for-hire, and even more importantly, will he trust him? Just because Batman's out of the Loop doesn't mean the fighting is over… Each print issue of Batman/Fortnite: Zero Point will include a redeemable code for bonus DC-themed Fortnite digital items, inspired by the events in the comic. Fans who redeem all six codes will also unlock a new Armored Batman Zero Outfit for their Fortnite character. Retail: $4.99