Mad Reads Comics to Close in Brighton, Colorado
Mad Reads Comics is a comic book store in Brighton, Colorado – or rather it was. Co-owners Tom Walsh and Kristi Walsh have been running the store together after opening four years ago. They recently closed their bricks and mortar story to go online-only, with a plan to reopen when they found a suitable location, but that now appears to be no longer the plan. Tim posted to Facebook, saying;
Hey all! Just want to let everyone know that after the next order that comes in we are getting completely out of the biz. I've come to realize there are much more important things I should be focusing on. I just want to thank everyone for their business over the years. We will miss a lot of you! The best thing for us right now is focusing on the things that really matter to us and that is our family.
He followed up saying;
If anyone knows someone that is looking for a pretty big collection please let me know. Did a quick long box count and have roughly 73 long boxes. Probably more but it was a quick count. We also have a fair number of short boxes. Books range from gold to modern. There are some slabs in there as well. This also includes all the toys we have left. Would like to get rid of everything at once but if I have to piece out I will. Selling the whole kit n kaboodle cheap, but not stupid cheap.
Anyone who wants to make an offer can do so via their Facebook page.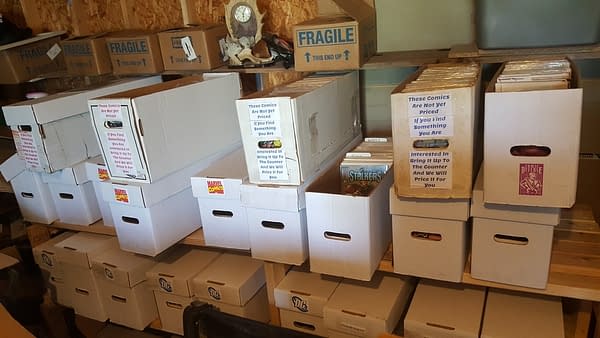 Bleeding Cool tries to mark the passing of comics stores as well as their opening. Existing fanbases are likely to make the former more well known, but please let us know if a comic store is opening or closing in your neighbourhood. Just e-mail richjohnston@bleedingcool.com.