We like to keep an eye on Jean-Marc Lofficier's Hexagon Comics USA line, European comics mostly written by Jean-Marc Lofficier, translated into English and distributed solely through his website, Amazon page or at conventions. Selling enough copies to make it more than worthwhile, as well as making certain comics available to a wider English speaking audience. Retailers can purchase them at a 40% discount from distributor Ingram or from the publisher.
And for November, that means two books starring Scarlet Lips – that's Scarlet Lips: Crimson Dawn by Marv Wolfman and Mario Guevara, and Dragut & Scarlet Lips by Jean-Marc Lofficier, Alfredo Macall, Studio Cirque & Miren Pijuan.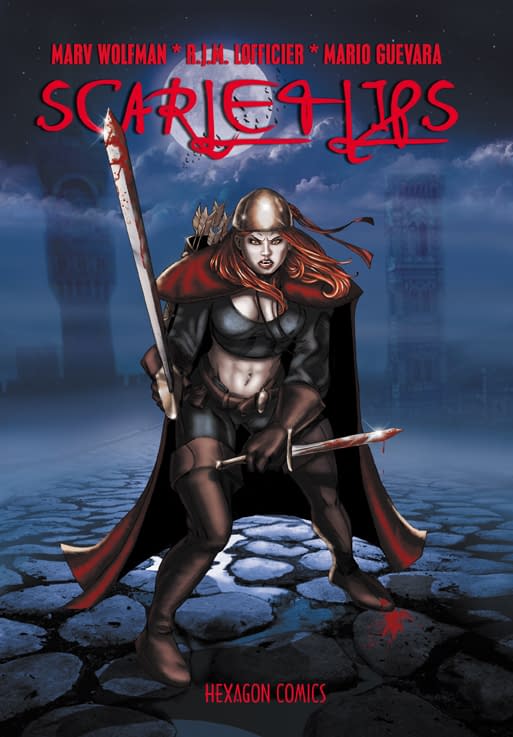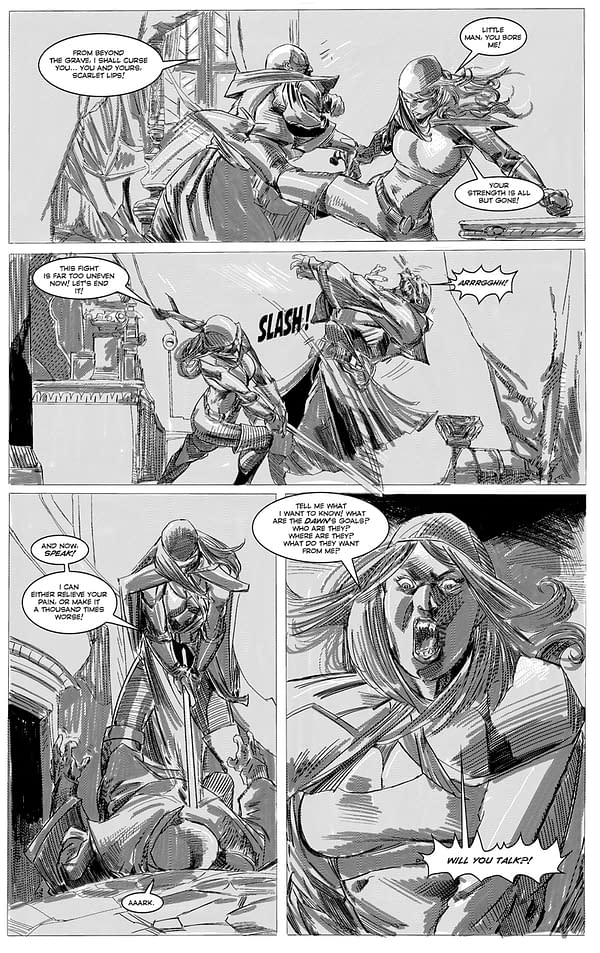 SCARLET LIPS: CRIMSON DAWN
7×10 squarebound trade paperback, 48 pages b&w. ISBN-13: 978-1-61227-790-5. US$9.95.

Story by Marv Wolfman; Art by Mario Guevara.

From the darkest streets of Venice in the 16th century to the lonely beaches of Yucatan today… From the Île Saint-Louis in Paris to Hitler's Germany… the beautiful vampire Scarlet Lips leads a merciless war against a mysterious organization called "the Dawn," with the fate of the human race in the balance… Spanning the centuries, Scarlet Lips crosses the paths of Captain Dragut, the Black Lys, the Prince of Night and the Partisans… She struggles to defeat a fantastic conspiracy that threatens not only her survival, but also that of her race, the legendary Twilight People…

Marv Wolfman (Tomb of Dracula) and Mario Guevara (Solomon Kane) have crafted here a saga imbued with blood and wonders, illuminating the entire Hexagon Universe with a crimson glow!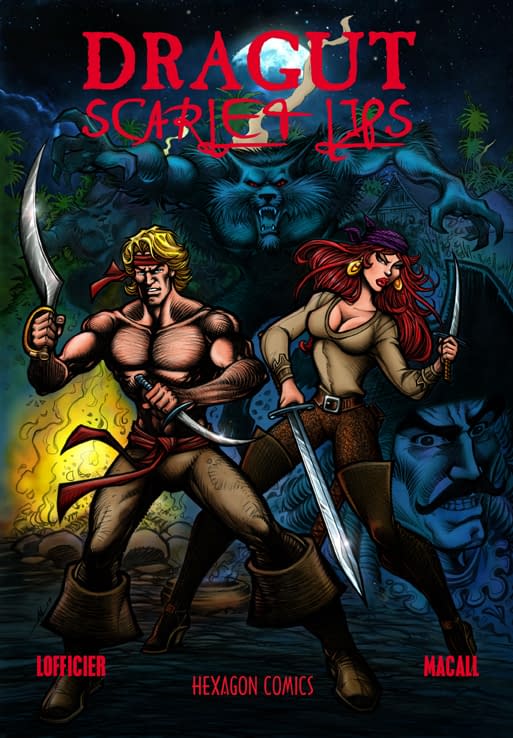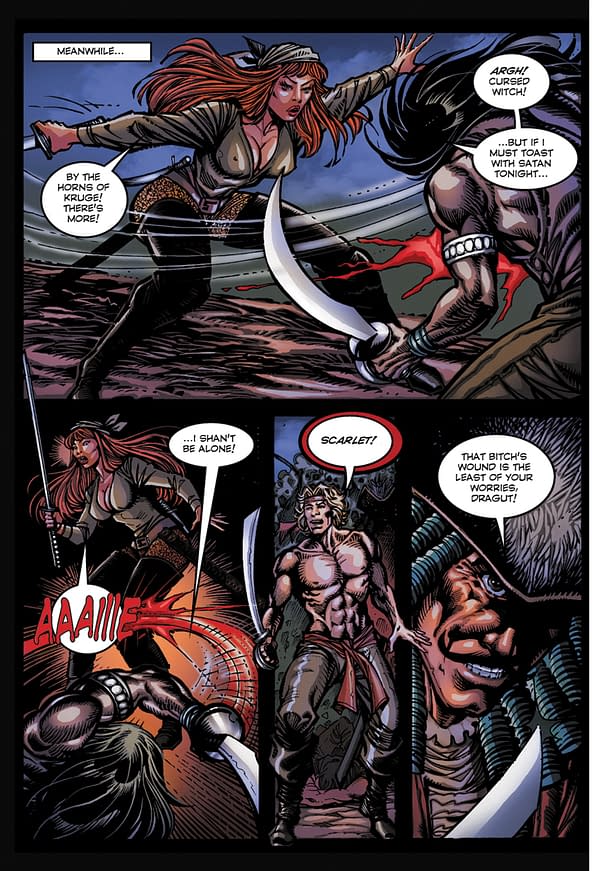 DRAGUT & SCARLET LIPS
7×10 squarebound trade paperback, 68 pages color. ISBN-13: 978-1-61227-894-0. US$19.95.

Story by Jean-Marc Lofficier; Art by Alfredo Macall; colors by Studio Cirque & Miren Pijuan.

In the year of our Lord 1542, Captain Dragut returns from a perilous mission to the Sargasso Sea, when his ship is attacked by the bloodthirsty privateer known as Captain Hook. Taken prisoner to the island of the Croatoan, a tribe of shapeshifting beast-men, Dragut is saved by the intervention of a beautiful female vampire called Scarlet Lips…

The adventures of Captain Dragut are inspired by the life of a real historical privateer born in 1485, who died at the siege of Valetta in 1565. Following in the footsteps of Conan the Freebooter and Captain Blood, writer Jean-Marc Lofficier (Doctor Strange) and Mexican artist Alfredo Macall have combined forces to tell a seafaring saga of creatures and corsairs, magic and monsters, in the 16th century.
Enjoyed this article? Share it!