Marvel Brings Back Classic "Sins Past" Story in JMS Spider-Man Omnibus
Superstar writer J. Michael Straczynski had a very memorable run on Amazing Spider-Man in the mid-2000s, with notable improvements like "now Spider-Man has organic web-shooters like in the movies" and the unforgettable One More Day storyline, in which Spider-Man, totally keeping within his character, makes a deal with Mephisto that sacrifices his marriage, a storyline that was a massive crowd-pleaser, provided that crowd consisted solely of Joe Quesada.
But perhaps no JMS Spider-Man story is more memorable than Sins Past, in which it is revealed that Gwen Stacy had a very not-icky sexual affair with Norman Osborn back when she was still alive, bearing two children. For some reason, Marvel doesn't list this classic tale amongst the highlights in the solicit for January's Amazing Spider-Man by J. Michael Straczynski Omnibus Vol. 1, but trust us, it's in there, and surely worth the $125 on its own.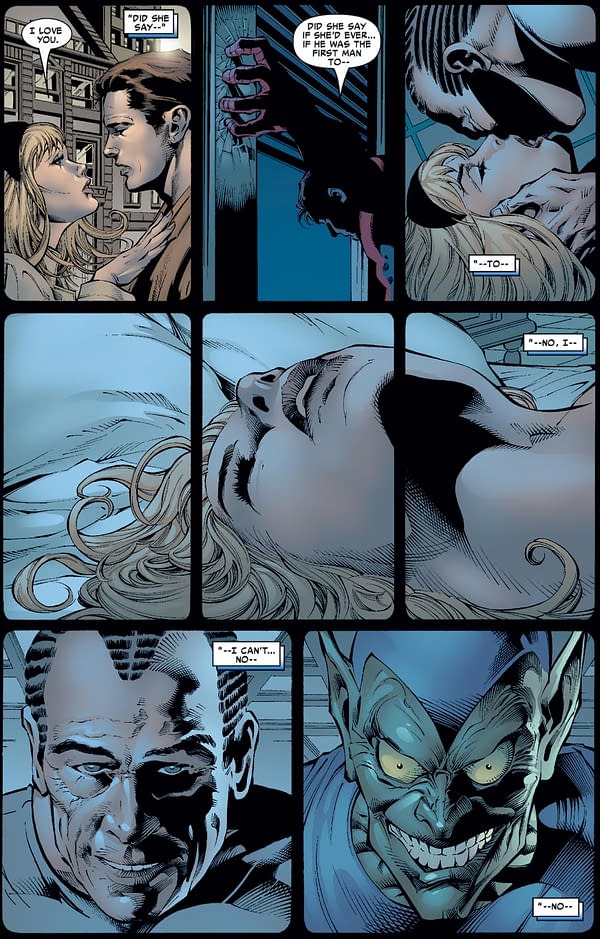 See? Totally classic. Will you be picking one up?
Check out the solicit below, and check out Marvel's full January solicitations here.
AMAZING SPIDER-MAN
BY J. MICHAEL STRACZYNSKI OMNIBUS VOL. 1 HC
Written by J. MICHAEL STRACZYNSKI & FIONA AVERY
Penciled by JOHN ROMITA JR. & MIKE DEODATO JR.
Cover by J. SCOTT CAMPBELL
Acclaimed screenwriter J. Michael Straczynski begins a run that established him as one of the all-time Spidey greats — joined by the legendary John Romita Jr.! And they kick things off by introducing an enigmatic stranger with a startling secret about Spider-Man's origin! Wrestling with his separation from Mary Jane, Peter goes back to his roots with a new job: science teacher at his old school! But how will Aunt May react when she learns Peter is really Spider-Man?! Plus: Spidey battles Doctor Octopus, Morlun, Dormammu and more, and teams up with Doctor Strange, Captain America and…Loki?! And as Spidey copes with the horror of 9/11 and relives his heroic career, shocking sins of the past catch up with the wall-crawler! Collecting AMAZING SPIDER-MAN (1999) #30-58, #500-514 and #509 DIRECTOR'S CUT.
1120 PGS./Rated T+ …$125.00
ISBN: 978-1-302-91706-7
Trim size: oversized