Marvel Comics will announce their full December 2019 solicitations next week, but as ever, we just can't wait, so have Frankensteined a few of them together, nice and early…
UPDATE: Thanks to Aaron for reminding me of the 2099 tie-ins…

SPIDER-MAN 2099 #1
GHOST RIDER 2099 #1
DOOM 2099 #1
VENOM 2099 #1
2099 OMEGA #1
As before…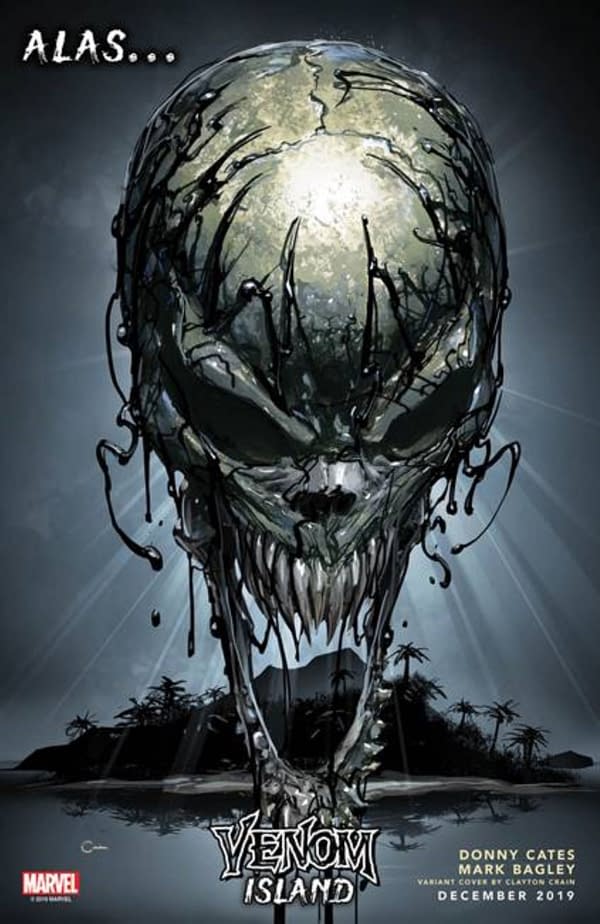 VENOM #21
Written by DONNY CATES
Drawn by MARK BAGLEY
Venom Island – 'ALAS POOR VENOM…'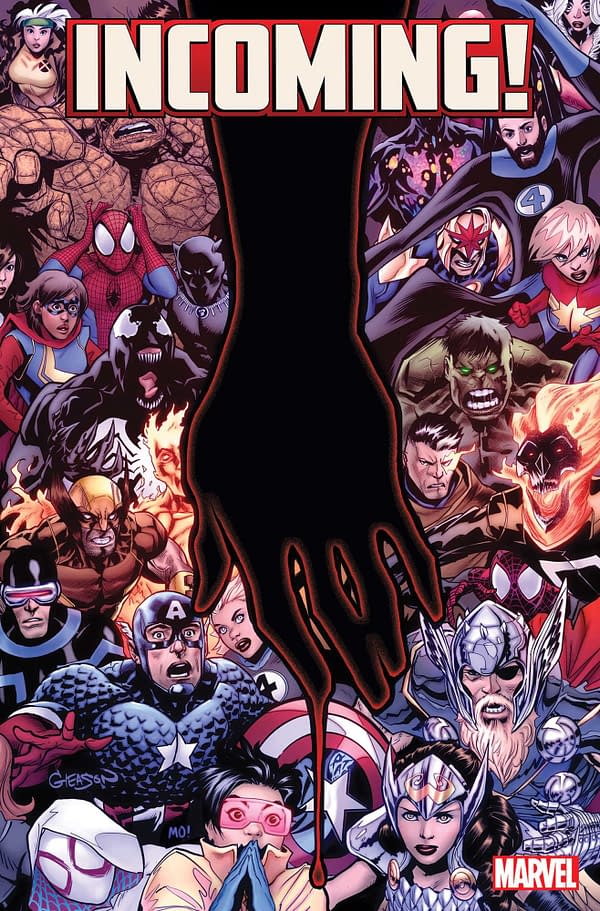 INCOMING #1
Written by AL EWING. DAN SLOTT, CHIP ZDARSKY, KELLY THOMPSON, GREG PAK,
EVE L. EWING, MATT ROSENBERG, ED BRISSON, SALADIN AHMED, TINI HOWARD,
JONATHAN HICKMAN, GREG PAK, DONNY CATES & JASON AARON
Art by HUMBERTO RAMOS, JIM CHEUNG AND MORE
Cover by PATRICK GLEASON

ONE WILL UNITE THEM! A mysterious murder brings together the heroes of the Marvel Universe in the search for a killer – but no one can imagine where the trail will lead, or how it will affect everything in 2020 and beyond! Who is the victim and who is the assailant?
The closing chapter to MARVEL's 80th year, which will connect the dots of everything that happened in 2019 and propel the narrative into the year that is to come! Featuring the Avengers, the Fantastic Four, the X-Men, the Guardians of the Galaxy, Daredevil, Spider-Man, the Champions, the Agents of Atlas, Valkyrie, the Immortal Hulk, Jessica Jones, Venom, Ghost Rider, the Masked Raider and more!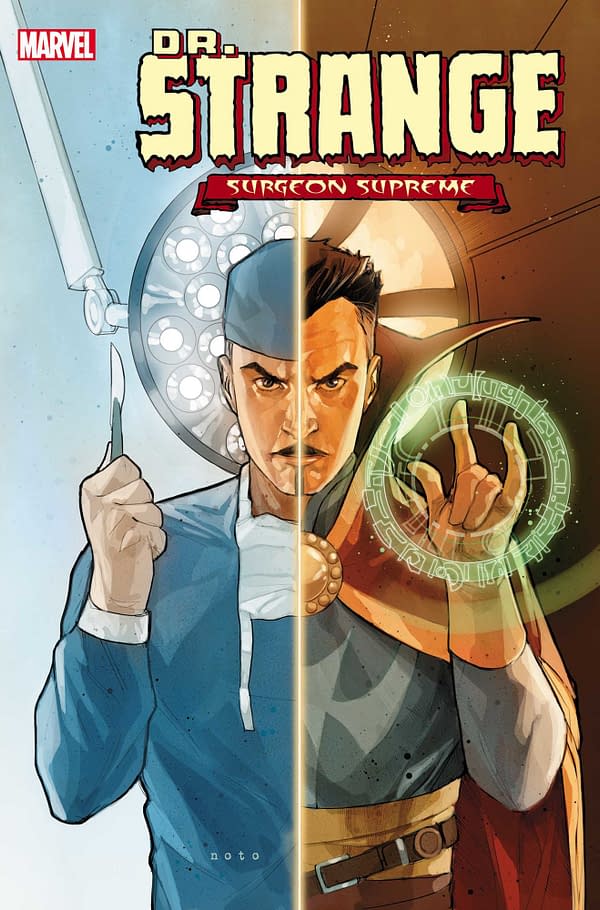 DR. STRANGE: SURGEON SUPREME #1
Written by MARK WAID
Art by KEV WALKER
Cover by PHIL NOTO

The impossible has happened! Doctor Strange's hands have been healed, restoring his surgical skills – but now he's being torn between his obligations as the Sorcerer Supreme and as a neurosurgeon. And when he's forced to choose which vows to uphold, who suffers most for it? After all, magic always has a cost…Be here for a brand new era of magic…and horror from Mark Waid (HISTORY OF THE MARVEL UNIVERSE) and Kev Walker (BLACK PANTHER)!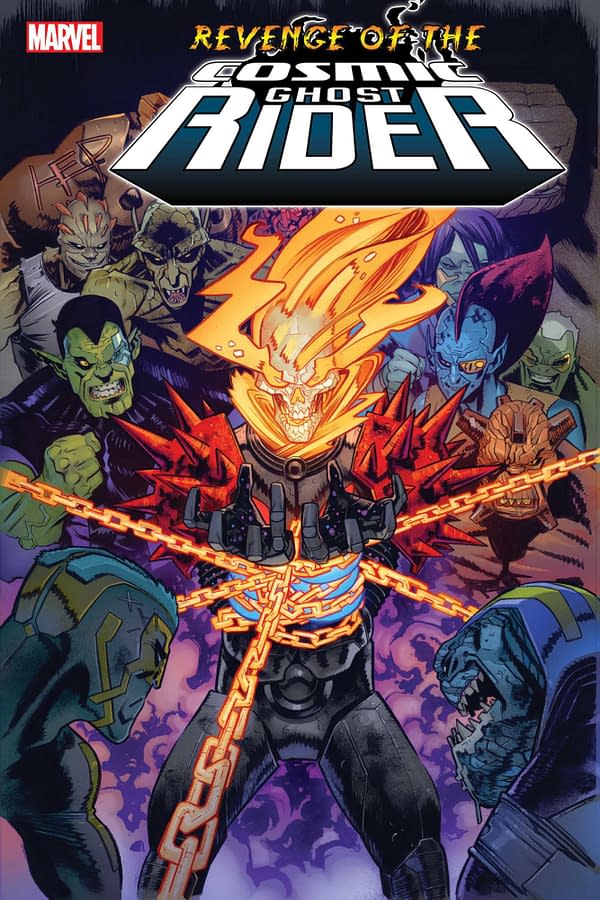 REVENGE OF THE COSMIC GHOST RIDER #1 (OF 5)
Written by DENISS "HOPELESS" HALLUM & DONNY CATES
Art by SCOTT HEPBURN & GEOFF SHAW
Cover by SCOTT HEPBURN

Cosmic Ghost Rider is back, baby! But with a reputation like his, it's only a matter of time before the law catches up to the future Frank Castle and tries to put him in chains – too bad for the law, chains are Castle's weapons of choice these days. Now in an intergalactic prison, the Rider is going to turn his cage into an all-out cage match! Who's going to be the last alien standing?! Find out in this all new miniseries from Dennis "Hopeless" Hallum (MARVEL'S SPIDERMAN: CITY AT WAR) and Scott Hepburn (DEADPOOL)! Plus – Don't miss out on a brand new short story from the guys who started it all, Donny Cates (ABSOLUTE CARNAGE) and Geoff Shaw (GUARDIANS OF THE GALAXY)!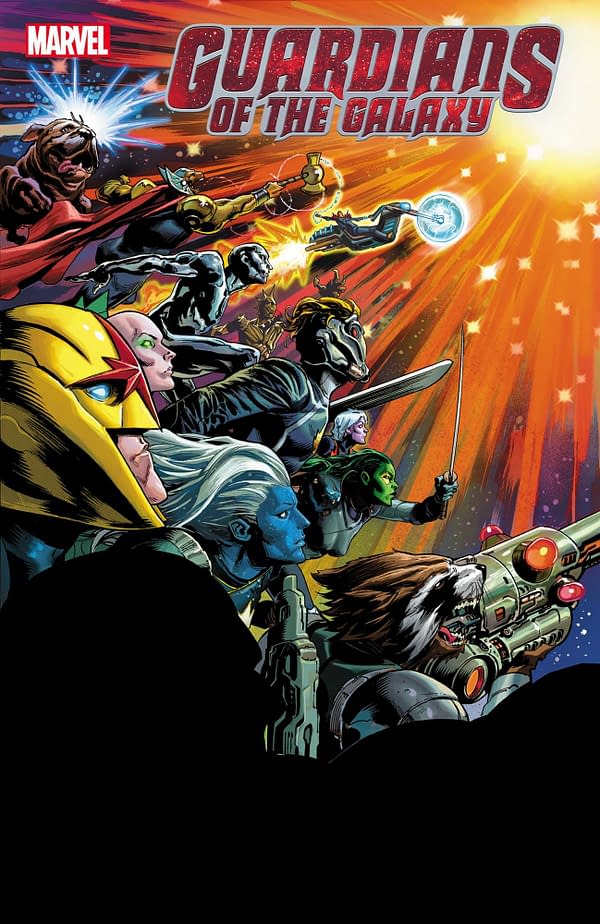 GUARDIANS OF THE GALAXY #12
Written by DONNY CATES
Art by CORY SMITH & MORE
Cover by GEOFF SHAW

THE "FAITHLESS" STORYLINE ENDS HERE!
Thanos Wins…Cosmic Ghost Rider…The Death of the Inhumans…Silver Surfer: Black…Guardians of the Galaxy…It's all been leading to this.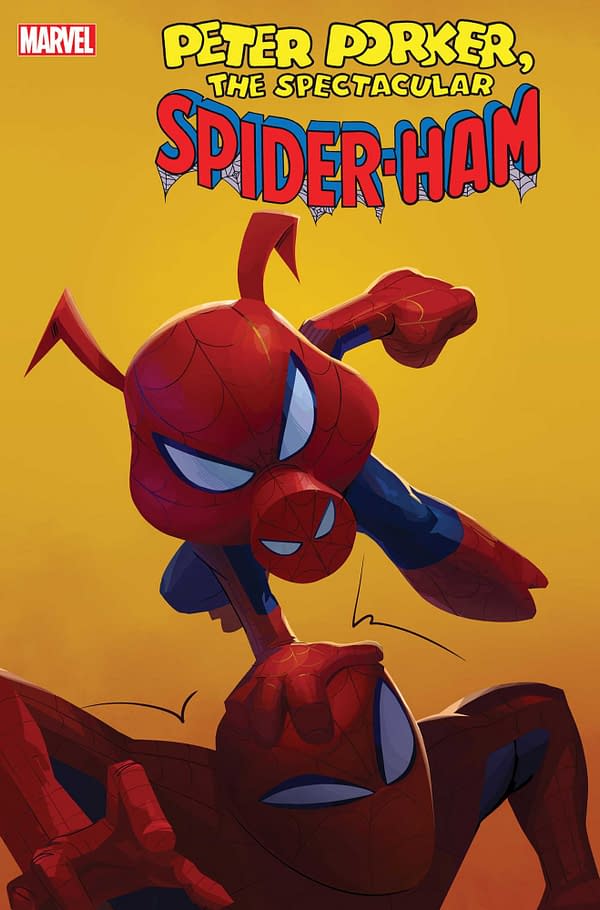 SPIDER-HAM #1 (of 5)
Written by ZEB WELLS
Art by WILL ROBSON
Cover by WENDELL DALIT

APORKALYPSE NOW!
Not a dream! Not a hoax! Not an imaginary tail! Spider-Ham finally has his own series! (Again!) Peter Porker, the Spectacular Spider-Ham finds himself jumping through time, side-by-side with Peter PARKER, the Spectacular Spider-MAN! ZEB WELLS and WILL ROBSON bring you the Ham and Man story you've been waiting for!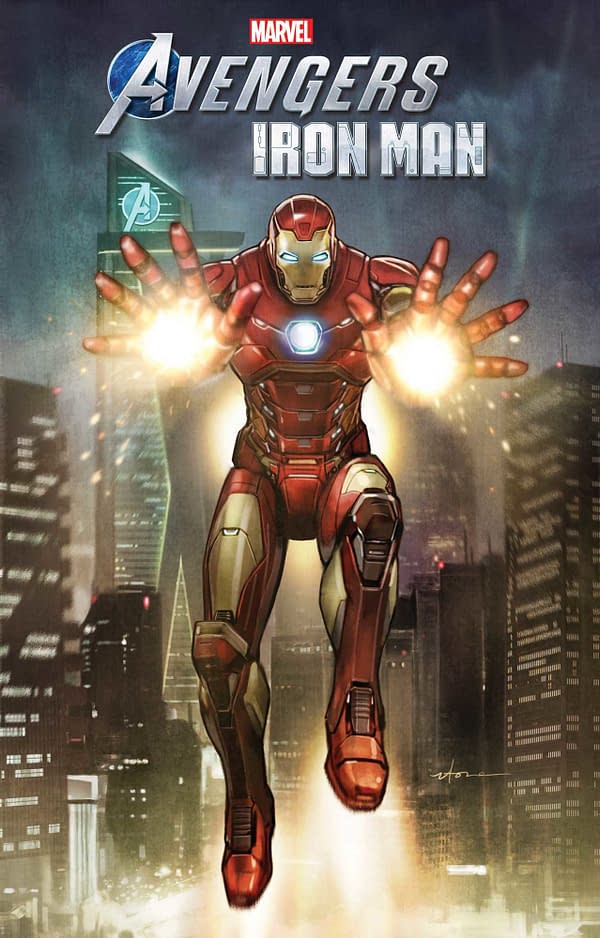 MARVEL'S AVENGERS: IRON MAN #1
Written by JIM ZUB
Art by PACO DIAZ
Cover by STONEHOUSE

THE FIRST PREQUEL TO THE UPCOMING VIDEO GAME, MARVEL'S AVENGERS!
Avengers Assemble! The road to Marvel's Avengers begins here, with an all-new story leading directly into the events of the highly anticipated video game! IRON MAN, CAPTAIN AMERICA, BLACK WIDOW, THOR, and HULK are the mighty Avengers, but as the LETHAL LEGION strikes, it's going to take more than their usual teamwork to save the day! When TONY STARK discovers his enemies have co-opted Stark technology for nefarious purposes, it's up to him to stop the leak. But can his teammates be trusted, or is something more sinister at play? Featuring the debut of the game's AVENGERS, as well as never before seen takes on some classic villains, you won't want to miss this landmark moment in comics history!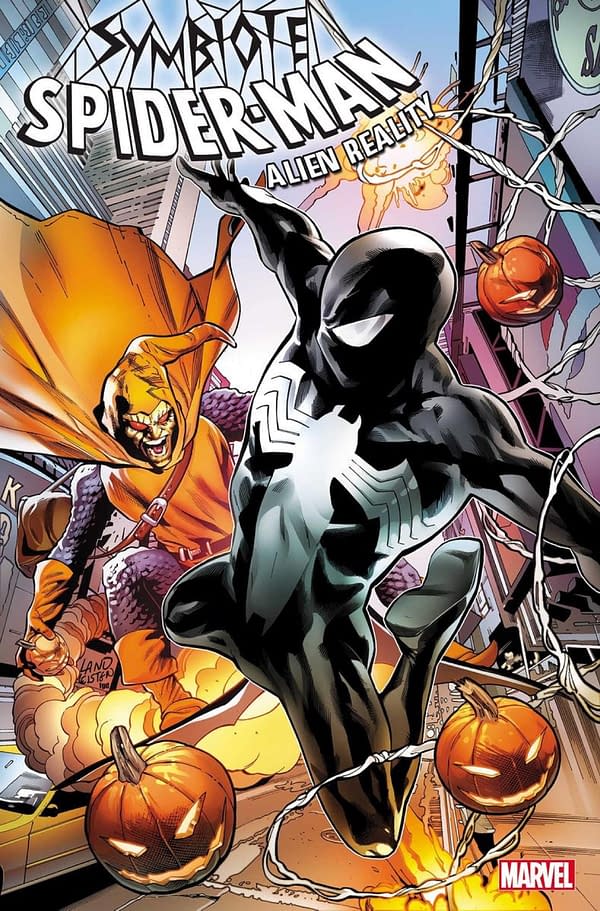 SYMBIOTE SPIDER-MAN: ALIEN REALITY #1

Wrutten by PETER DAVID

Drawn by GREG LAND

In the oversized, 40-page first issue, Peter Parker finds himself entrenched in battle with one of his greatest-ever foes—the Hobgoblin! But where did the Super Villain also known as Roderick Kingsley get his new powers…?

The original creative team from SYMBIOTE SPIDER-MAN (2019) return to provide the questions and answers in the next installment of classic tales from the Alien Costume Saga!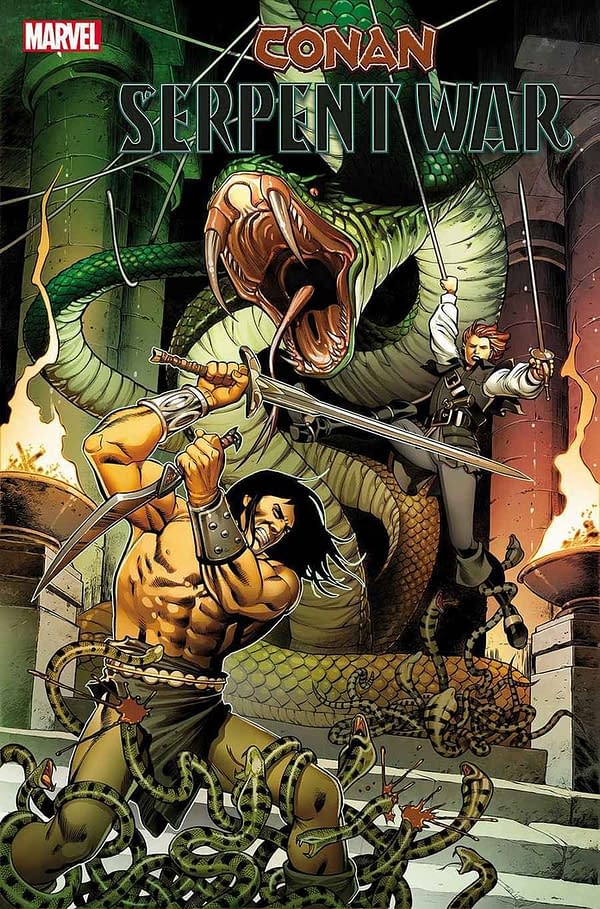 CONAN: SERPENT WAR #1 & #2 (OF 4)
JIM ZUB (W)
ISSUE #1 – SCOT EATON (A)
ISSUE #2 – STEPHEN SEGOVIA (A)
COVERS BY CARLOS PACHECO
ISSUE #1 VARIANT COVER BY NEAL ADAMS
ISSUE #1 VARIANT COVER BY INHYUK LEE
ISSUE #1 VIRGIN CONNECTING VARIANT COVER BY GIUSEPPE CAMUNCOLI (1 OF 4)
ISSUE #1 VARIANT COVER BY DAVID FINCH
ISSUE #1 STONE VARIANT COVER ALSO AVAILABLE
ISSUE #2 VARIANT COVER BY LUKE ROSS
ISSUE #2 VARIANT COVER BY JUNGGEUN YOON
ISSUE #2 VIRGIN CONNECTING VARIANT COVER BY GIUSEPPE CAMUNCOLI (2 OF 4)
"WARRIORS ACROSS TIME DEFY THE ELDER GODS!
JAMES ALLISON will soon die. But it's not his first death. He's lived many lives, in many places – lives he can recall in vivid detail. But when an Elder God called the WYRM reaches across time to James, an ages-spanning quest begins! The serpent god SET plans to usher in an eternity of darkness, and only the chosen warriors across time and space have a hope of stopping him: CONAN THE BARBARIAN, SOLOMON KANE, DARK AGNES, and the man known as MOON KNIGHT! In an unprecedented comics event, Robert E. Howard's characters join forces along with Marvel's Moon Knight, in an all-new saga built on REH and Marvel lore from across the ages!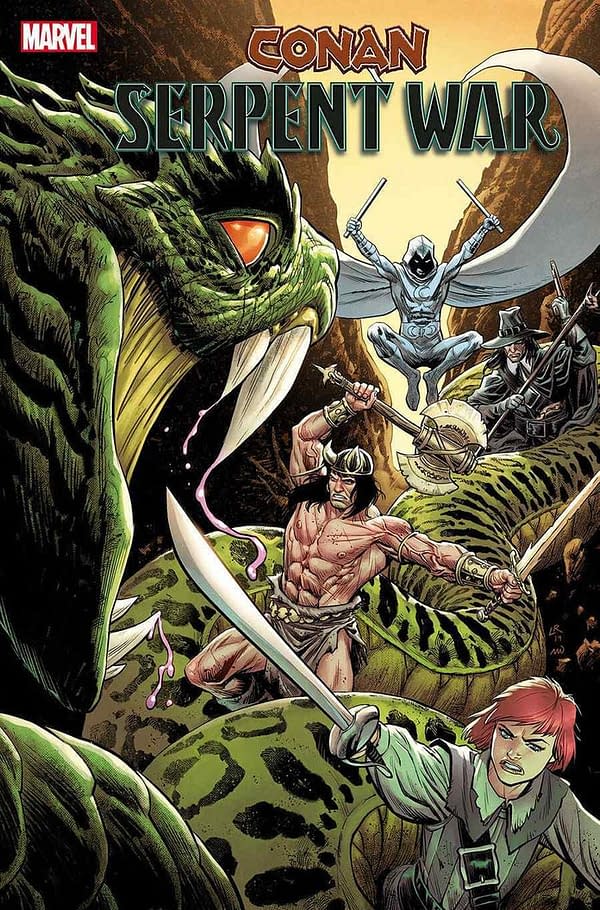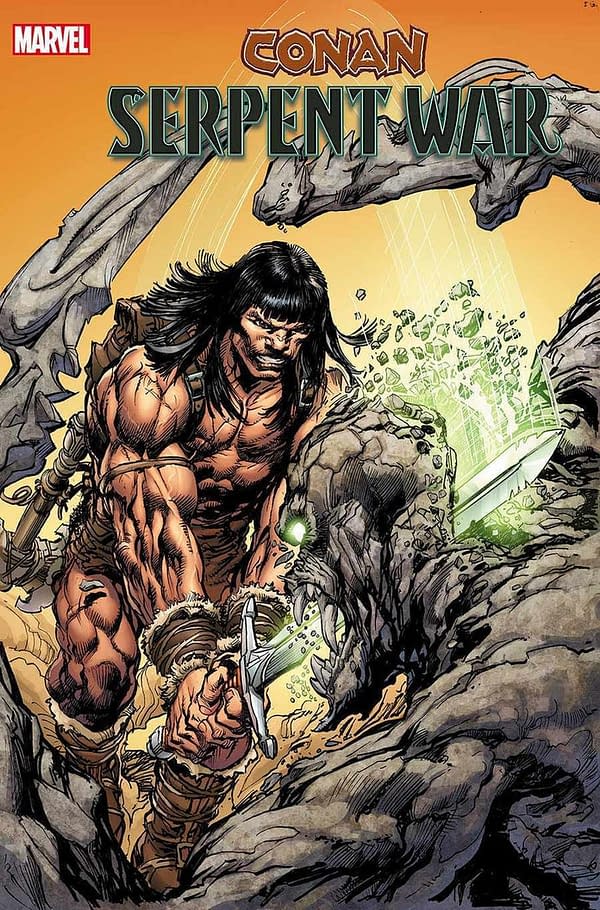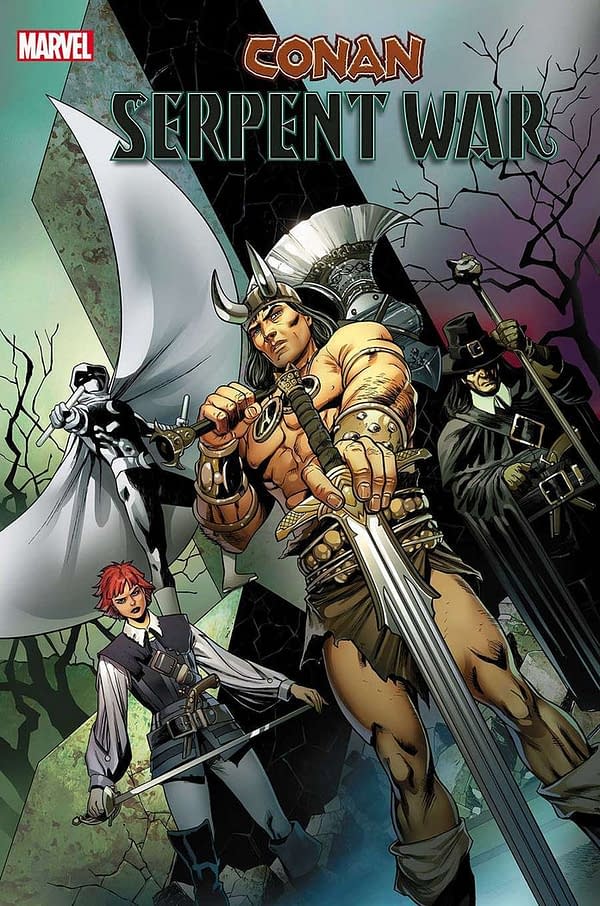 Enjoyed this article? Share it!