We tipped you off that Marvel was planning a few tricks for Venom's 30th anniversary in 2018. reprints, backing boards and… a map? We told you that:
[…] these boards will feature key moments from Eddie Brock's return and the character's appearances in other current Marvel comics leading up to the plans for the character's 30th anniversary. Whatever they may be. .The board features an exclusive piece by Clayton Crain and Marvel Comics teases to retailers that and "it just might contain a surprise or two!"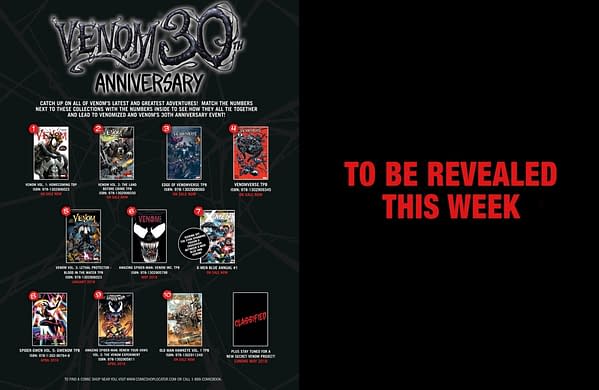 And so it seems…
To help readers sort out where the Venom trail started and where Eddie Brock's story is headed, Marvel is excited to reveal its WEB OF VENOM map: a 20 x 13 laminated poster featuring a dynamic new image by superstar artist Clayton Crain, designed to show how the seeds for the milestone 30th anniversary have been planted across the Marvel Universe for the past year in epic stories such as EDGE OF VENOMVERSE, VENOMVERSE, VENOM INC, the upcoming POISON X and more!
Check out the maps at your comic store come January 31st.
Enjoyed this article? Share it!