Marvel Comics Presents is coming back as a new ongoing series starting in January. An anthology series, it will be celebrating the eightieth anniversary of the Marvel Universe. And yes, just like the original Marvel Comics Presents, there will be a lot of Wolverine. Specifically "looking at Wolverine's life starting in the 30s and 40s" to see what Wolverine was up to in each decade of the Marvel universe.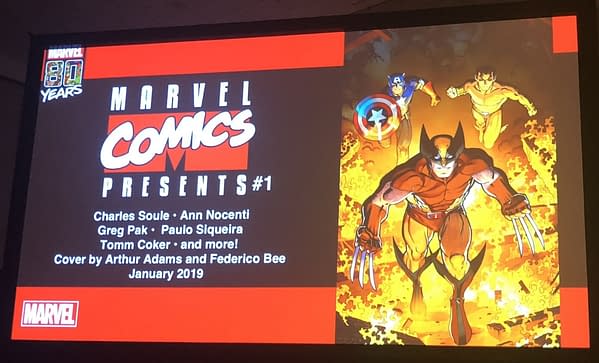 With the first issue featuring Charles Soule, Ann Nocenti, Greg Pak, Paulo Siqueira, Tomm Coker and more. Kicking off in January. Frequency not stated…
We are live, coming from the Diamond Retailer Breakfast meeting at New York Comic-Con. With Bleeding Cool reporters Hugh Sheridan and Madeline Ricchiuto at the scene, reporting back to Rich Johnston in London. This is how we roll. To read more stories coming out of the meet, use this tag…
Enjoyed this article? Share it!