Marvel to Continuity Nerds: Don't Be a @#$% About It – Cosmic Ghost Rider Destroys Marvel History #1
The sliding scale of Marvel's timeline has long been a subject of intense scrutiny. In order to keep their characters within the precise age range considered by corporate bean counters to be the ideal for marketing synergy, none of the events that occurred in past Marvel stories can be locked to any specific point in actual history, save a few, like Captain America fighting in World War 2. Exactly how long it's been, and how old characters are, is an ongoing subject of debate and speculation.
But in Cosmic Ghost Rider Destroys Marvel History #1, Frank Castle has an answer to that: don't be a@#$% about it.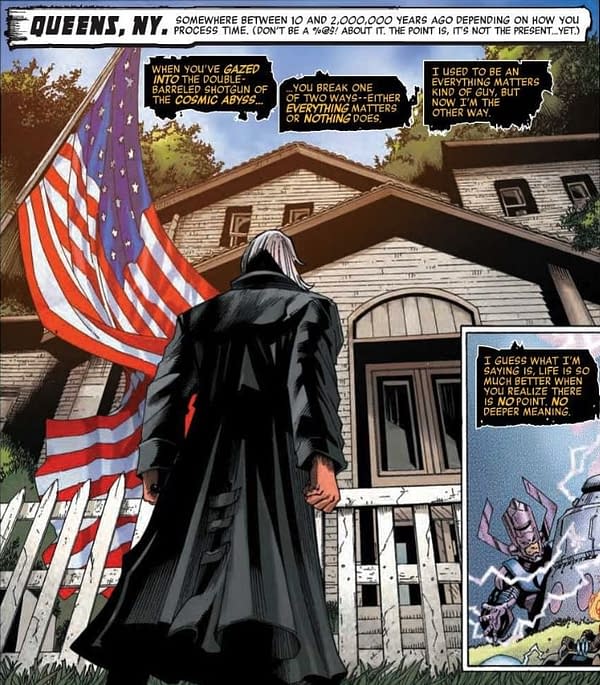 Castle's lackadaisical attitude toward continuity may be taken too far, however, as Castle has one goal in mind to kick off this mini-series: preventing his family from being murdered, which turned him into the Punisher (and eventually led to him becoming the Cosmic Ghost Rider). It could create a paradox that destroys Marvel's already fragile history (hence: the name of the series).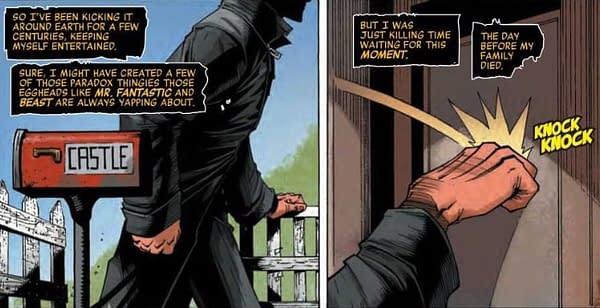 Of course, he doesn't want to totally freak out his wife, so he comes up with a quick excuse on the spot, claiming to be Frank's uncle, Fredo.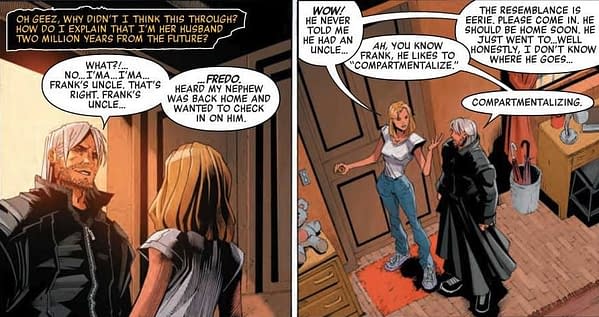 And sure, you might think it's a little strange that she would accept this explanation without question… but this is a woman who will apparently leave her son alone with a man she just met who is obviously lying about his identity…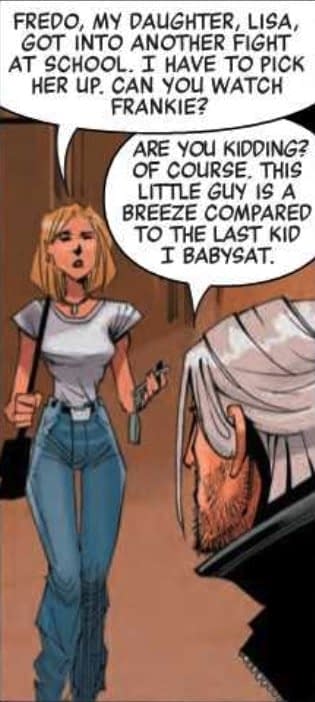 Yeah, this isn't going to end well. But then, we probably could have guessed that by the title of the book.
Cosmic Ghost Rider Destroys Marvel History #1 hits stores next Wednesday.
Cosmic Ghost Rider Destroys Marvel History #1 (of 6)
(W) Paul Scheer, Nick Giovannetti (A) Gerardo Sandoval (CA) Ron Lim
The Cosmic Ghost Rider is stuck in the past, so he might as well have some fun with the origins of the Marvel Universe, right?! After going back in time and trying to kill Thanos as a baby, Frank Castle has sworn off trying to alter history. But when he arrives in Earth's past at the birth of the Fantastic Four, how can he resist jumping in on the fun?!
Parental Advisory
In Shops: Mar 06, 2019
SRP: $3.99