Marvel Finally Puts a Label on Mystique and Destiny's Relationship in Tomorrow's X-Men #6 [SPOILERS]
Raven Darkholme, shapeshifting known as Mystique, was created by Chris Claremont and Dave Cockrum in 1978, first appearing in Ms. Marvel #16. Irene Adler, precognitive mutant known as Destiny, created by Chris Claremont and John Bryne, first appeared in 1981's Uncanny X-Men #141. And from the start, Claremont saw, and wrote, Mystique and Destiny as a lesbian couple, raising their adoptive daughter Rogue together, even if Marvel's standards of the time prevented the relationship from being portrayed too explicitly. (Fun fact: Claremont wanted Mystique and Destiny to be the biological parents of Nightcrawler, with Mystique shapeshifting into a man to impregnate Destiny, something Marvel Editor-in-Chief Jim Shooter was having none of. Though the alternative parentage of Nightcrawler Marvel ultimately went with — Mystique raped by a demon — seems demonstrably worse in every way.)
In any case, Marvel's reluctance didn't stop Claremont from trying, such as in a story with penciler Craig Hamilton in Marvel Fanfare #40 in which Mystique calls Destiny "my love" and transforms into a man so they can share a dance together.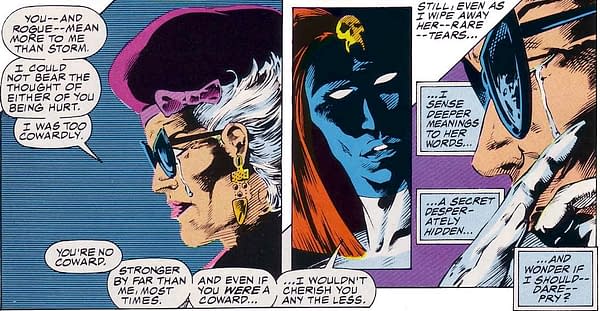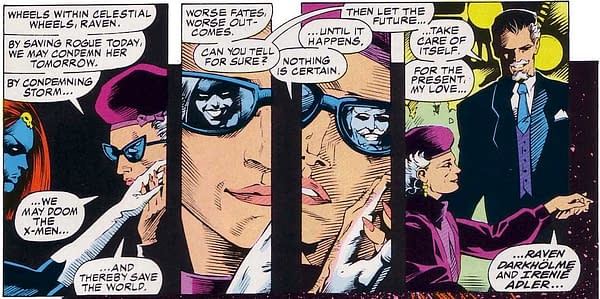 But it wasn't until History of the Marvel Universe #2, by Mark Waid and Javier Rodriguez, that the two got to share a kiss on the page.
And finally, in X-Men #6, in stores tomorrow by Jonathan Hickman and Matteo Buffagni, Marvel officially puts a label on it. Except, our copy of X-Men #6 arrived in at our doorstep today, a day early.
As we saw in the preview of the issue over the weekend, X-Men #6 revisits House of X #4, in which Mystique joins the X-Men on a mission to send a Mother Mold hurtling into the sun. But she only briefly touches down in the ORCHIS space station's arboretum before being launched into space and to her (temporary) death.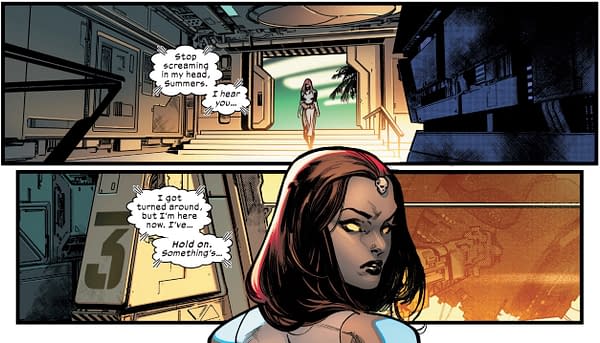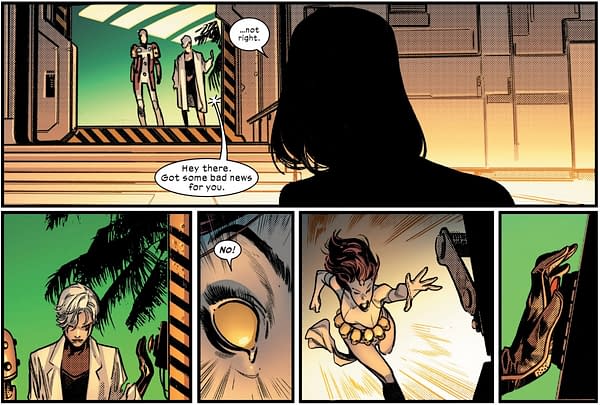 The preview of today's X-Men #6 shows us why Mystique entered the space station where she did.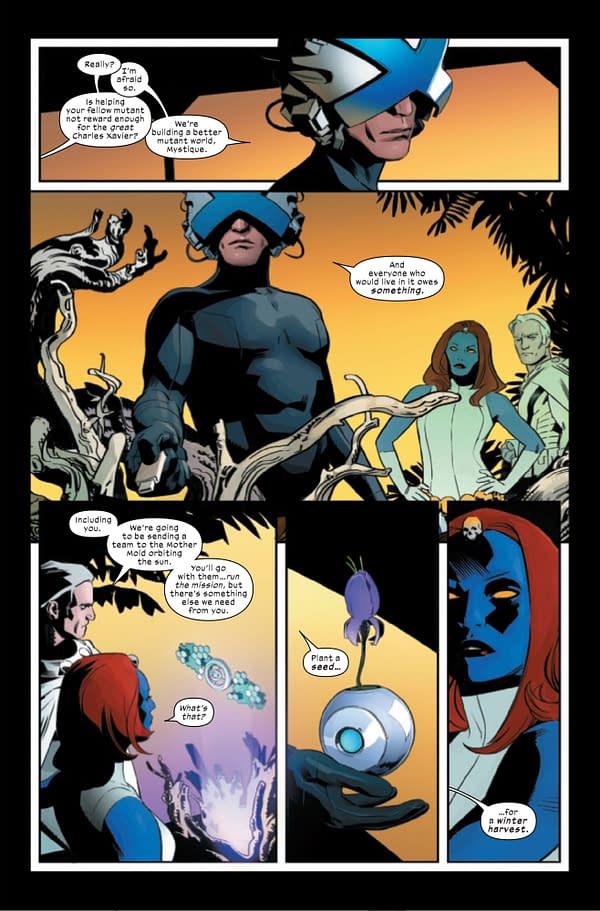 To plant a seed? For a gate? How interesting. And to secure Mystique's help in building the mutant nation of Krakoa, Charles Xavier made a promise, one that could bring about the undoing of Krakoa, back in Powers of X #6.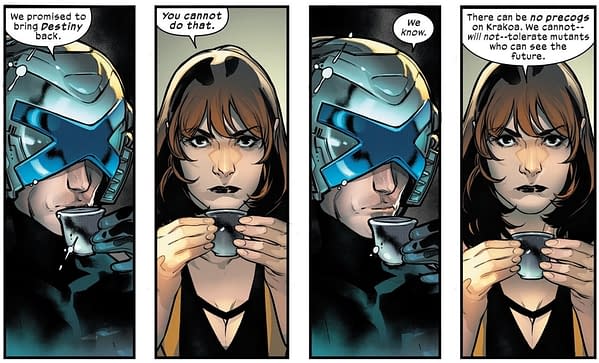 Precogs like Destiny, after all, could see the truth: that the story of mutants always ends the same way. But it may not be by bringing Destiny back that Xavier and Magneto have sown the seeds of their own destruction, but rather, by messing with the wrong 100-year-old bisexual mutant who has only wanted one thing since her partner's death back in Uncanny X-Men #255…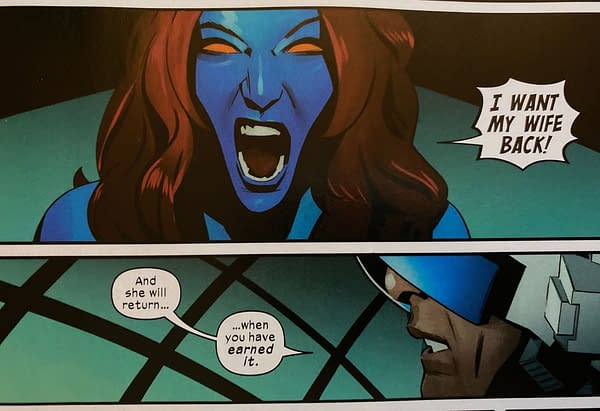 But the thing about precogs is… they know things. And within the bonds of a now explicit, in-canon marriage, they might share certain things as well. Such as the entire concept of Krakoa years before it happens, and the fact that Xavier and Magneto have no intention of ever bringing Destiny back.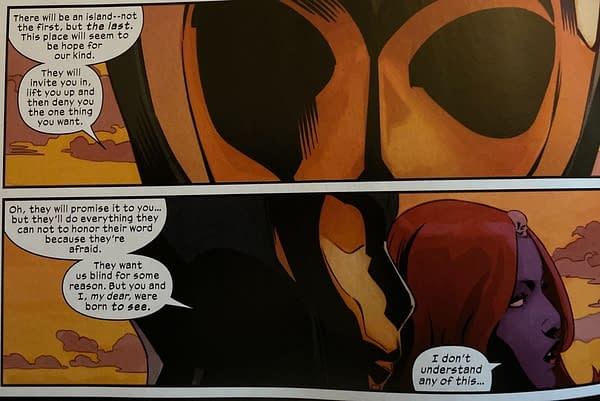 And what will Mystique do then? For her wife?
Moira feared precogs on Krakoa because of what they might know and what they might tell, but the whole point of being a precog is that they know things in advance, and it seems that Destiny knew, and Destiny told… and now, ironically, Krakoa could fall not because Xavier and Magneto brought Destiny back, but because they refused.
X-Men #6 is in stores tomorrow… unless, like ours, your post office is feeling impatient.
X-MEN #6 DX
NOV190812
(W) Jonathan Hickman (A) Matteo Buffagni (CA) Leinil Francis Yu
Mystique goes to extraordinary lengths to get what she wants…
Rated T+
In Shops: Feb 12, 2020
SRP: $3.99
P.S. – If Mystique can replicate the male reproductive system when shapeshifting into a man, we have to wonder — when she shapeshifts as Wolverine, does she have two dicks? Bleeding Cool, asking the important questions…