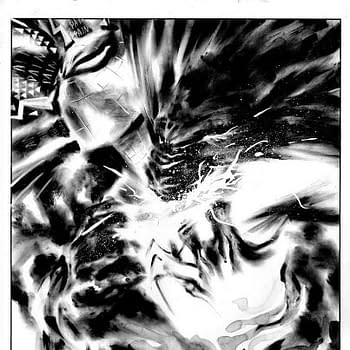 Marco Rudy is best known of late for his work on Swamp Thing.
But, according to the vast number of emails in my inbox this evening, he is rather teasing people on Facebook about an upcoming Spider-Man mini-series he is working on.
And that's might not be the Superior Spider-Man either.
He writes;
"Spider Bites". 11×17" finger inked, bottom done in washes. This is the background image (actually the first and last panel) of a page for the current gig i am doing. Its a mini and it has not been announced yet, so no its nothing nobody have talked about yet.
And in a conversation:
"You drawing spidey now???"
MR: "mini series to be announced."
"Superior Spidey??"
MR: "Nope. Not announced."
MR: "stay tuned. :)"
It may not have been announced yet. But from what's we've seen already, it does look mighty fine…
This is another of a series of creators associated of late with DC Comics who Marvel appears to have brought on board.
Of course, it hasn't been announced yet…
Enjoyed this article? Share it!