Looks like Marvel Comics are giving the old Marvel Knights books a bit of a rebrand and a line image. When Jimmy Palmiotti and Joe Quesada relaunched all manner of Marvel titles with exciting talent, it gave us the Black Panther that would lead to the movie. And so much more…
Here's how the new line is looking in paperback.
Black Panther by Priest & Texeira: The Client Paperback – September 18, 2018
King T'Challa of Wakanda is not just a monarch – he is the Black Panther, ceremonial protector of the nation! And he fights an unceasing battle to protect his homeland from those who seek to plunder its amazing riches and technology. T'Challa has forged a fearsome reputation as a monarch, a warrior, and even an Avenger. But now a very diff erent king hungers for Wakanda – a king of hell itself. And T'Challa, together with his deadly Dora Milaje, must battle to protect his people's very souls! The Panther travels to America to fight his diplomatic and spiritual war on many fronts – and U.S. State Department special attaché Everett K. Ross, assigned to the visiting king, swiftly becomes a man far out of his depth. Christopher Priest kicks off a revolutionary era of Black Panther!
COLLECTING: BLACK PANTHER (1998) 1-5
Daredevil by Smith & Quesada: Guardian Devil Paperback – September 25, 2018
A scared teenager on the run. An infant child that some say is humanity's savior. A former lover whose life is now hobbled by a terrible secret. A law partner accused of a horrible crime. A city being overcome by an inscrutable menace. They need a guardian. Someone to protect them. Someone with faith in them. They need the Man Without Fear: Daredevil! The Marvel Knights imprint's very fi rst off ering, "Guardian Devil" is a modern classic, one that found Kevin Smith (Clerks, Chasing Amy) confidently transitioning from writing acclaimed screenplays to comics that hit the top of the sales charts and critics' lists. It also found artist Joe Quesada at his peak, as the stylist who would usher Marvel Comics into the 21st century!
COLLECTING: DAREDEVIL (1998) 1-8, 1/2
Daredevil by Bendis & Maleev: Underboss Paperback – October 30, 2018
The mystery man named Mr. Silke has inspired Wilson Fisks lieutenants to rise up and take down the Kingpin of Crime! But what is the connection between Silke's coup and the contract on attorney Matt Murdock's life? And what role did Fisk's wife and son play in this underboss uprising? Meanwhile, when Matt dons his crimson costume to fight crime in Hell's Kitchen, what toll does that take on the man beneath the mask? Is the Man Without Fear becoming a man without mercy? Creative dream team Brian Michael Bendis and Alex Maleev take Daredevil in a bold new direction!
COLLECTING: DAREDEVIL (1998) 26-31
Black Widow By Grayson & Rucka: The Complete Collection Paperback – October 23, 2018
Natasha Romanoff has always led a life of adventure. A former Soviet spy, she defected to the West and became a super hero and Avenger. Natasha has earned a reputation as a consummate professional, coldly efficient and deadly as her namesake. But now, her time as Black Widow may be running out! Yelena Belova is the first student in the history of the Red Room to exceed Natasha's skills – and now she's gunning for the mantle she feels was stolen. And she's determined to put Natasha in the grave! Prepare for a war of the Widows that will rage from the Middle Easts deserts to New York's Upper West Side. And explore the history of the "pale little spider" in a never-before-collected tale!
COLLECTING: BLACK WIDOW (1999) 1-3, BLACK WIDOW (2001) 1-3, BLACK WIDOW: PALE LITTLE SPIDER 1-3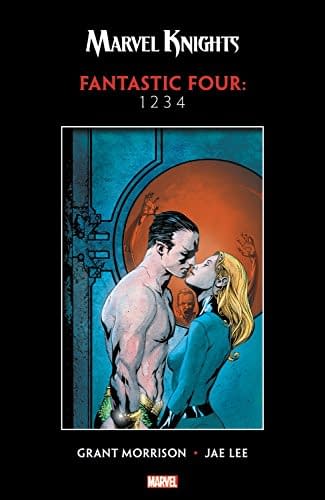 Fantastic Four By Morrison & Lee: 1234 Paperback – October 2, 2018
Reed Richards. Sue Richards. Benjamin Grimm. Johnny Storm. They rocketed into outer space aboard an experimental starship, the first humans to attempt interstellar travel. But a freak encounter with cosmic radiation altered their lives forever, granting each amazing abilities! Now, Marvel's First Family finds its members divided – their unique powers stretched to the absolute limit, their time-tested resolve pushed to the point of breaking. Each chapter of this quintessential collection focuses on one member of the cosmic quartet as the team's greatest foes band together in an all-out assault on the FF! Plus: In Grant Morrison's only other Marvel Knights story, superspy Nick Fury is targeted for death!
COLLECTING: FANTASTIC FOUR: 1234 1-4, MATERIAL FROM MARVEL KNIGHTS DOUBLE-SHOT 2
Captain America By Rieber & Cassaday: The New Deal Paperback – November 27, 2018
Captain America takes on a new Axis of Evil! In a stunning and spectacularly illustrated Marvel Knights tale set in the aftermath of 9/11 – at a time when America needed heroes more than ever – Cap must come to terms with a changing global landscape. From the ruins of the World Trade Center to the horrors of a small town shaken by terrorism, Steve Rogers is forced to make some hard decisions about his role in the world. But the time has come for one man to stand against terror and fight for what's right – and that man is Captain America! This is one story you'll never forget – and neither will Marvel's star-spangled champion!
COLLECTING: CAPTAIN AMERICA (2002) 1-6
UPDATE: Looks like we've had a Rich Twitch. From Marvel PR…
Visionary creators such as Joe Quesada, Brian Michael Bendis, Alex Maleev, Garth Ennis, Christopher Priest, Steve Dillon, David W. Mack, Grant Morrison, Jimmy Palmiotti, Jae Lee, Kevin Smith, Jeph Loeb, and more created the stories that would change the comics industry! And together, with co-founders and editors Quesada and Palmiotti at the helm, they would become superstar legends for their revolutionary work!

With Marvel Knights, Marvel traded traditional style for daring storytelling, creating new and bold tales for Marvel icons such as Punisher, Daredevil, The Inhumans, Black Widow, and Black Panther. By reinventing classic characters and focusing on strong stand-alone story arcs, Marvel Knights nearly recreated the Original Graphic Novel as monthly comic format – and became the industry's spark that paved the way for the bright and intrepid stories of today's heroes!

This fall, in honor of the critically acclaimed imprint's 20th anniversary, Marvel is celebrating the inception of Marvel Knights by bringing fans a uniform set of new trade paperbacks featuring the best of Marvel Knights, as well as two brand new Omnibus editions. Find your favorite in your local comic shop starting this September!
SEPTEMBER:
· DAREDEVIL BY SMITH & QUESADA: GUARDIAN DEVIL TPB
o COLLECTING: Daredevil (1998) 1-8, 1/2
· BLACK PANTHER BY PRIEST & TEXEIRA: THE CLIENT TPB
o COLLECTING: Black Panther (1998) 1-5
OCTOBER:
· MARVEL KNIGHTS BY DIXON & BARRETO: DEFENDERS OF THE STREETS TPB
o COLLECTING: Marvel Knights (2000) 1-15
· FANTASTIC FOUR BY MORRISON & LEE: 1234 TPB
o COLLECTING: Fantastic Four: 1234 1-4, material from Marvel Knights Double-Shot 2
· DAREDEVIL BY BENDIS & MALEEV: UNDERBOSS TPB
o COLLECTING: Daredevil (1998) 26-31
· BLACK WIDOW BY GRAYSON & RUCKA: THE COMPLETE COLLECTION TPB
o COLLECTING: Black Widow (1999) 1-3, Black Widow (2001) 1-3, Black Widow: Pale Little Spider 1-3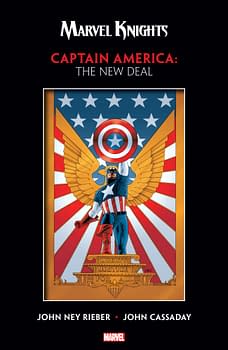 NOVEMBER:
· CAPTAIN AMERICA BY RIEBER & CASSADAY: THE NEW DEAL TPB
o COLLECTING: Captain America (2002) 1-6
· MARVEL KNIGHTS BY JOE QUESADA OMNIBUS HC
o COLLECTING: Daredevil (1998) 1-15, 1/2; Daredevil: Father 1-6; Marvel Authentix: Daredevil 1; material from Marvel Knights Double-Shot 1
DECEMBER:
· PUNISHER BY GARTH ENNIS: THE COMPLETE COLLECTION VOL. 1 TPB
o COLLECTING: Punisher (2000) 1-12, Punisher (2001) 1-5, Punisher Kills the Marvel Universe
· MARVEL BOY BY MORRISON & JONES TPB
o COLLECTING: Marvel Boy 1-6
· DAREDEVIL: MARVEL KNIGHTS by BENDIS, GALE & JENKINS TPB
o COLLECTING: Daredevil/Spider- Man #1-4 & one-shot, Daredevil: Ninja #1-3, Daredevil (1998) #20-25
· DAREDEVIL BY MACK & QUESADA: PARTS OF A HOLE TPB
o COLLECTING: Daredevil (1998) 9-15
· JEPH LOEB & TIM SALE: YELLOW, BLUE, GRAY & WHITE OMNIBUS HC
o COLLECTING: Daredevil: Yellow 1-6, Spider-Man: Blue 1-6, Hulk: Gray 1-6, Captain America: White 0-5
Enjoyed this article? Share it!