Marvel Comics Missing In Action Until At Least Mid-July
Marvel Comics issued a revised shipping schedule last night covering the end of May through into July. But which books are being scheduled and which are not? Firstly, nothing that was solicited for May or June is getting a look in yet, Instead, we seem to be getting a selection of the first few weeks of planned titles for April, spread out across the new period, with monthly comcis every two weeks and collections in the weeks between. Which titles we get, which we don't, which are missing in action, and when if at all we will get them is something I am sure we will be looking at.
Here are the books that were planned for the first couple of weeks of April that have yet to find a slot until at least July 8th. There are launches, including the Outlawed related books, comics tied to the Black Widow movie that isn't being put out yet. But these are also the missing in action series that may not have been making as much money for Marvel as they might otherwise like, and Marvel needs its bankers. At what point will the issues below be released? If at all? I need my Doctor Doom and Punisher Vs Barracuda, guys.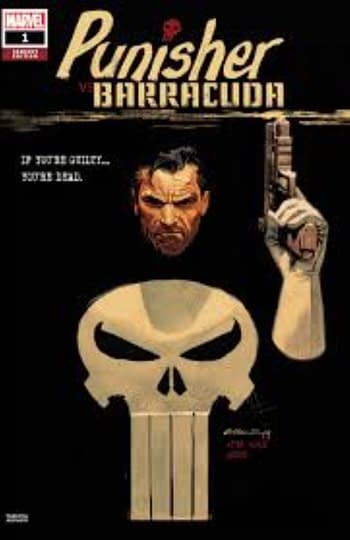 ANT-MAN #4
AVENGERS OF THE WASTELANDS #4
BLACK WIDOW #1
DOCTOR DOOM #7
EMPYRE HANDBOOK #1
MAGNIFICENT MS. MARVEL #14
SPIDER-MAN NOIR #2
STRIKEFORCE #8
SWORD MASTER #10
TASKMASTER #1
TRUE BELIEVERS: BLACK WIDOW – RED GUARDIAN #1
TRUE BELIEVERS: INTRODUCING THE BLACK WIDOW #1
CHAMPIONS #1
CONAN: BATTLE FOR THE SERPENT CROWN #3
NEBULA #3
POWER PACK #1
RUNAWAYS #32
THE PUNISHER VS. BARRACUDA #1
TRUE BELIEVERS: BLACK WIDOW & DAREDEVIL #1
TRUE BELIEVERS: BLACK WIDOW & THE AMAZING SPIDER-MAN #1
The last two weeks of April included Children Of The Atom #1, Empyre #1, Cable #2, New Warriors #1, Hellions #2, Star Wars #5, X-Factor #1, X-Men #10 and more. Look for them to be scheduled in the second half of July – but how many from the missing in action list above?