Marvel To Publish Ant-Man In-Movie Book By Scott Lang As Actual Book
Look Out For The Little Guy is the Ant-Man in-world memoir of Scott Lang, from convict to Avenger and beyond, and they're actually publishing it.
---
Ant-Man time. I confess I am an absolute sucker for this kind of thing. I have bought Willy Wonka chocolate, eaten at a Bubba Gump Shrimp Company, and read the Melody Malone books written by River Song. A fictional product published as an actual product. Or in this case a memoir by Scott Lang, Ant-Man. Look Out For The Little Guy will be published in hardcover on the 5th of September. At which point, presumably, Ant-Man & The Wasp: Quantumania, the film in which it appears in, will be available on Disney+.
Once upon a time, Alan Moore was going to do this kind of thing for The Show. Electricomics. Fuel Rod energy drinks. The computer game Escapism. Sadly never came to pass, although the film did!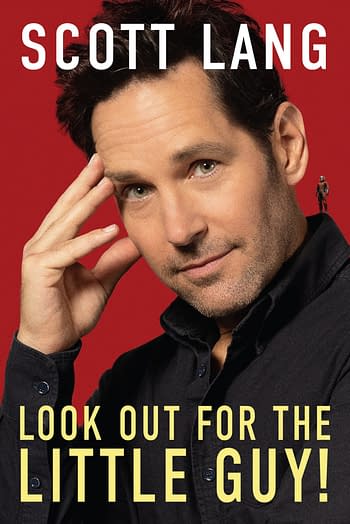 Hyperion Avenue is licensing the published rights to the character from Marvel, and Look Out For The Little Guy is described thus;
This is the incredible story of an ex-con turned world-saving Super Hero. In Look Out for the Little Guy, Scott Lang shares with the world a bracingly honest account of his struggles and triumphs, from serving time to being a divorced dad to becoming Ant-Man and joining The Avengers. These are stories of epic battles won and lost, as this everyman turned Super Hero finally tells all—from the official account of what really happened between The Avengers and Thanos to how shrinking down to ant-size really feels to the challenges of balancing the roles of hero and dad. Across his many adventures big and small, Scott has gathered the wisdom of countless amazing experiences into this, the first memoir from a real-life Avenger. Once you learn the unforgettable details of his epic journey, you won't need to be reminded . . . to look out for the little guy. "Introduces the man behind the hero, and the hero I call friend." —Bruce Banner, fellow Avenger.
So, what other fictional-made-real products do you own or have experienced?