Marvel Unlimited Adds Classic Doctor Strange, Mutant X, Adventures of the X-Men for October
Another month, another round of newly digitized classic comic books added to Marvel's Netflix-like digital comic book reading service. This month, Marvel has added new issues of Doctor Strange, Mutant X, and Adventures of the X-Men, in addition to the usual round of time-delayed new comic book releases.
Doctor Strange #38-56 features work by Chris Claremont, Roger Stern, Gene Colan, Marshall Rogers, Dan Green, Terry Austin, Ben Sean, Bob Sharen, Tom Orzechowski, Diana Albers, and more from the early 1980s. Mutant X continues the alternate reality series that saw Havok transported into the body of another Universe's Havok where he found himself on a bizarro team of X-Men. Written by Howard Mackie and featuring a cavalcade of artists including Bart Sears, Ron Lim, Tom Lyle, Cary Nord, and more, this run of issues from Mutant X #18-32 concludes the series on Marvel Unlimited. Finally, Adventures of the X-Men was the second series of comics based on the cartoon X-Men: The Animated Series., the first being called X-Men Adventures. Adventures of the X-Men #7-12 land on Marvel Unlimited this month, by Ralph Macchio and various artists, concluding the series.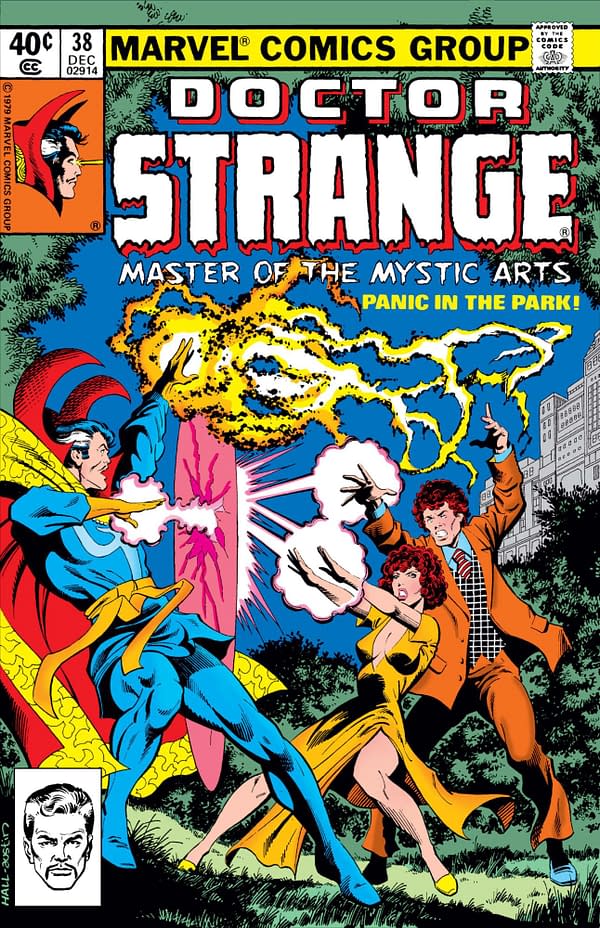 Here's the rest of the comics coming to Marvel Unlimited in October:
New York, NY—October 7, 2019—Marvel Unlimited, Marvel's digital comics subscription service, offers members unlimited access to over 25,000 issues of Marvel's classic and newer titles, delivered digitally through your desktop web browser and the Marvel Unlimited mobile app. With classic and newer issues added every week, here are some of the amazing Marvel titles coming to Marvel Unlimited this month:

Week of 10/7

AGE OF X-MAN: PRISONER X #2

AMAZING SPIDER-MAN #18.HU

AVENGERS NO ROAD HOME #8

CAPTAIN AMERICA #9

CHAMPIONS #4

COSMIC GHOST RIDER DESTROYS MARVEL HISTORY #2

DEADPOOL #11

DOMINO: HOTSHOTS #2

IMMORTAL HULK #16

MAJOR X #1

WHO IS MAJOR X? A mysterious new player enters the Marvel Universe and the X-Men are in his crosshairs! What is his mission and how can the man known as Cable hope to stop him? Writer/artist Rob Liefeld introduces a new wrinkle in the saga of Marvel's Mightiest Mutants!

MARVEL SUPER HERO ADVENTURES: SPIDER-MAN – WEB DESIGNERS #1

MARVEL TEAM-UP #1

THE CLASSIC MARVEL TEAM-UP RETURNS! After a science demonstration at Empire State University goes awry, Ms. Marvel and Spider-Man find themselves tangled up in the same chaotic adventure. Is it destiny? Or disaster?! Eve L. Ewing (IRONHEART) and Joey Vazquez (SPIDER-GEDDON) team up for the first thrilling arc of a mind-bending and magnificent new series!

SOLO: A STAR WARS STORY ADAPTATION #7 SERIES COMPLETE!

SPIDER-GWEN: GHOST-SPIDER #7

STAR WARS #64

THE PUNISHER #10

UNCANNY X-MEN #15

WAR OF THE REALMS #1

THE WORLD AT WAR! Asgard. Alfheim. Heven. Jotunheim. Muspelheim. Niffleheim. Nidavellir. Svartalfheim. Vanaheim. All of the Ten Realms have fallen to Malekith and his army except one: Midgard. Home to Thor's beloved humans. Home to heroes and gods alike. Now, at last, it burns. And Thor won't even be there to see it. All hell breaks loose in New York City as Malekith and his allies begin their invasion — and the greatest heroes of the Marvel Universe watch as the Earth falls!

Week of 10/14

AGE OF X-MAN: APOCALYPSE & THE X-TRACTS #2

AGE OF X-MAN: THE MARVELOUS X-MEN #3

AMAZING SPIDER-MAN #19

ASGARDIANS OF THE GALAXY #8 WAR OF THE REALMS TIE-IN!

AVENGERS NO ROAD HOME #9

CAPTAIN MARVEL #4

DEAD MAN LOGAN #6

FRIENDLY NEIGHBORHOOD SPIDER-MAN #5

INVADERS #4

SPIDER-MAN/DEADPOOL #49

STAR WARS: AGE OF REBELLION – GRAND MOFF TARKIN #1

THE SOUL OF THE DEATH STAR! The EMPIRE has built the deadliest weapon the galaxy has ever seen. But even the most ruthless Imperial officer might hesitate before unleashing the DEATH STAR's power to kill millions in an instant. Behold the secret story of GRAND MOFF TARKIN, the horrors that honed his resolve and the terrifying steps he takes to ensure that the Death Star lives up to its deadly name!

STAR WARS: AGE OF REBELLION – PRINCESS LEIA #1

BOUNTY HUNTER PRINCESS! With HAN SOLO frozen in carbonite in the palace of JABBA THE HUTT, PRINCESS LEIA prepares for a daring rescue by taking on the identity of the bounty hunter BOUSHH. But in order to succeed, she'll have to prove herself in her new identity to the ruthless bounty hunter BOSSK! With her life and all of her principles on the line, how far will Leia go to rescue a scoundrel? Co-starring CHEWBACCA and LANDO, who almost certainly have a bad feeling about this!

SYMBIOTE SPIDER-MAN #1

Everyone knows that Spider-Man's infamous black suit would someday become the wicked web-slinger called Venom — but what happened BEFORE Peter Parker discovered the black suit's sinister secret? Find out in this dynamic tale from comics legends PETER DAVID and GREG LAND! Set during the original "Black Suit Saga," this is an all-new tale that pits the wall-crawling wonder against that most mystifying of menaces…MYSTERIO!

THE UNBEATABLE SQUIRREL GIRL #43 WAR OF THE REALMS TIE-IN!

THE UNSTOPPABLE WASP #6

WAR OF THE REALMS: JOURNEY INTO MYSTERY #1

The creators of the blockbuster podcast The Adventure Zone bring their talents to Marvel for a wild romp through THE WAR OF THE REALMS! Earth is at war, besieged by an army of Frost Giants, Trolls and Fire Goblins — and the mighty Thor is nowhere to be found! But could it be that the key to turning the tide is…Thor's baby sister? Journey into Mystery with Spider-Man (Miles Morales), Hawkeye (Kate Bishop), Wonder Man, and Balder the Brave as they go on an epic quest to save Earth's only hope! (And, yes, deal with diaper duty.)

WEB OF VENOM: CULT OF CARNAGE #1

A new terror has risen on the fringes of the Marvel Universe, stirring in the depths of space. But evil is also rising on Earth, claiming one victim at a time in the name of the killer called CARNAGE.

WINTER SOLDIER #5 SERIES COMPLETE!

X-23 #11

X-FORCE #6

Week of 10/21

AGE OF X-MAN: NEXTGEN #3

AGE OF X-MAN: THE AMAZING NIGHTCRAWLER #3

AMAZING SPIDER-MAN #19.HU

AMAZING SPIDER-MAN #252 FACSIMILE EDITION

AVENGERS NO ROAD HOME #10 SERIES COMPLETE!

DAREDEVIL #4

GUARDIANS OF THE GALAXY #4

MAGNIFICENT MS. MARVEL #2

MAJOR X #2

MARVEL'S SPIDER-MAN: CITY AT WAR #2

MEET THE SKRULLS #3

MILES MORALES: SPIDER-MAN #5

OLD MAN QUILL #4

SHURI #7

SPIDER-MAN: LIFE STORY #2

STAR WARS: AGE OF REBELLION SPECIAL #1

A ONE-SHOT SPECIAL FEATURING YOUR FAVORITE (AND UNEXPECTED) CHARACTERS FROM THE ORIGINAL STAR WARS TRILOGY!

STAR WARS: TIE FIGHTER #1

ENTER SHADOW WING! THE EMPIRE'S SALVATION! THE REBELLION'S DOOM! As the war against the REBELLION stretches on, it is the innocent people of the GALACTIC EMPIRE who are most at risk. An elite squadron of TIE fighter pilots is assembled to help protect Imperial interests and hammer the Emperor's fury down upon the treasonous and violent Rebel Alliance. But how far is this untested team willing to go to preserve law and order? And are the pilots of SHADOW WING as loyal to the Empire as they seem? JODY HOUSER (THRAWN, AGE OF REPUBLIC) and ROGÊ ANTÔNIO's (X-MEN RED) TIE fighter tale chronicles the struggles and triumphs of the heroes of the Empire in the last days of civil war — but what about the heroes of the Rebellion?

THOR #12 WAR OF THE REALMS TIE-IN!

TONY STARK: IRON MAN #10

UNCANNY X-MEN #16

WAR OF THE REALMS #2

WAR OF THE REALMS: PUNISHER #1

PUNISHER: AVENGER OF MIDGARD! The War of The Realms has brought monsters to the streets of New York City, but New York has a monster all its own…Frank Castle, A.K.A. THE PUNISHER! And he'll be damned to Hel if he's going to let a bunch of Ten Realms tin-pot tyrants terrorize his town. But given he's one man against an army of monsters, Hel might soon have him! The War of Realms is about to meet Marvel's One Man Army. Expect Punishment!

WAR OF THE REALMS: WAR SCROLLS #1

THE MUST-READ COMPANION TO WAR OF THE REALMS! Gifted the sight of the Bifrost, Daredevil watches all Midgard burn under Malekith's invasion. How will the Guardian of Hell's Kitchen…guard an entire Earth turned to Hell? Find out in a story by Jason Aaron & Andrea Sorrentino! All this and more (including a new Howard the Duck story by Chip Zdarsky & Joe Quinones!), straight from the battlefield of WAR OF THE REALMS!

WEST COAST AVENGERS #10 SERIES COMPLETE!

WOLVERINE: INFINITY WATCH #3

Week of 10/28

AGE OF X-MAN: X-TREMISTS #3

AMAZING SPIDER-MAN #20

AVENGERS #18 WAR OF THE REALMS TIE-IN!

AVENGERS: EDGE OF INFINITY #1

M.O.D.O.K.'S SCHEME REACHES ITS ENDGAME! From the wreckage of their moon base, the villainous LUNAR rises again — with a deadly plan for the shards of the COSMIC CUBE! Join CAPTAIN AMERICA, BLACK WIDOW, IRON MAN and CAPTAIN MARVEL in a race against time that will determine the fate of the solar system! But what is M.O.D.O.K.'s plan, and how does he figure into LUNAR's ambitions? All will be revealed as the Avengers fight to save the Earth from the EDGE OF INFINITY!

BLACK PANTHER #11

BLACK WIDOW #4

DOCTOR STRANGE #13

FANTASTIC FOUR #9

HULKVERINES #3 SERIES COMPLETE!

IRONHEART #5

MARVEL COMICS PRESENTS #4

MARVEL RISING #2

MOON GIRL AND DEVIL DINOSAUR #42

MR. AND MRS. X #10

RUNAWAYS #20

SPIDER-MAN: FAR FROM HOME PRELUDE #2 SERIES COMPLETE!

STAR WARS: DOCTOR APHRA #31

STAR WARS: GALAXY'S EDGE #1

A CALL TO ADVENTURE ON THE VERY EDGE OF THE GALAXY! THE COMIC TIE-IN TO THE THEME PARK! BLACK SPIRE OUTPOST has long been frequented by smugglers, merchants and travelers from every corner of the galaxy looking to make their score on the infamous black market – or experience the exotic thrills only the remote world of Batuu has to offer. Beings like the infamous DOK-ONDAR, a proprietor of rare and one-of-a-kind antiquities, thrive on the unique opportunities which abound on the lawless outpost at the very edge of Wild Space! But the evil FIRST ORDER has come to Batuu and the survival of the entire outpost is at stake! The road to Black Spire's possible salvation might begin in the past…with a job HAN SOLO and his partner CHEWBACCA pulled for Dok-Ondar.

STAR WARS: VADER – DARK VISIONS #3

SUPERIOR SPIDER-MAN #5

THANOS #1

THANOS IS DEAD! Executed by the deadliest assassin in the galaxy…his daughter, Gamora. But before their relationship came to a bloody end, how did it begin? Find out in this all new miniseries by Tini Howard (MARVEL KNIGHTS 20TH and AGE OF CONAN: BELIT) and Ariel Olivetti (DEATH OF THE INHUMANS)!

VENOM #13 WAR OF THE REALMS TIE-IN!

WAR OF THE REALMS: UNCANNY X-MEN #1

The War of the Realms has come to Midgard…and Westchester! Malekith's forces are invading Earth, and the heroes of Earth are joining with the heroes of Asgard to fight them back! Who better to lead the X-Men into that war than their very own Valkyrie, Dani Moonstar?

WOLVERINE: THE LONG NIGHT ADAPTATION #4