Marvel Unlimited Adds X-Factor, Power Man and Iron Fist, X-Men/Alpha Flight in November
Marvel Comics has revealed which classic series will be added to or receive updates on its all-you-can-read Marvel Unlimited digital comics service this month. X-Factor #93-100, Power Man and Iron Fist #90-107, and X-Men/Alpha Flight #1-2 will be the classic comics making their debut on Marvel Unlimited in November.
X-Factor #93-100 picks up right after the Fatal Attractions crossover event and culminates in the (supposed) death of Jamie Madrox, a theme that would recur throughout the years. These issues feature work by Scott Lobdell, J.M. Dematteis, Jan Duursema, Al Milgrom, Glynis Oliver, Richard Starkings, Terry Shoemaker, Greg Luzniak, Paul Ryan (not the congressman… we think), and more. Power Man and Iron Fist #90-107 features work by Kurt Busiek, Denys Cowan, Ernie Chan, Mike Mignola, Christie Scheele, Janice Chiang, Rich Howell, Greg LaRocque, and more. X-Men/Alpha Flight is the second such series and features work by John Cassaday, Ben Raab, and more.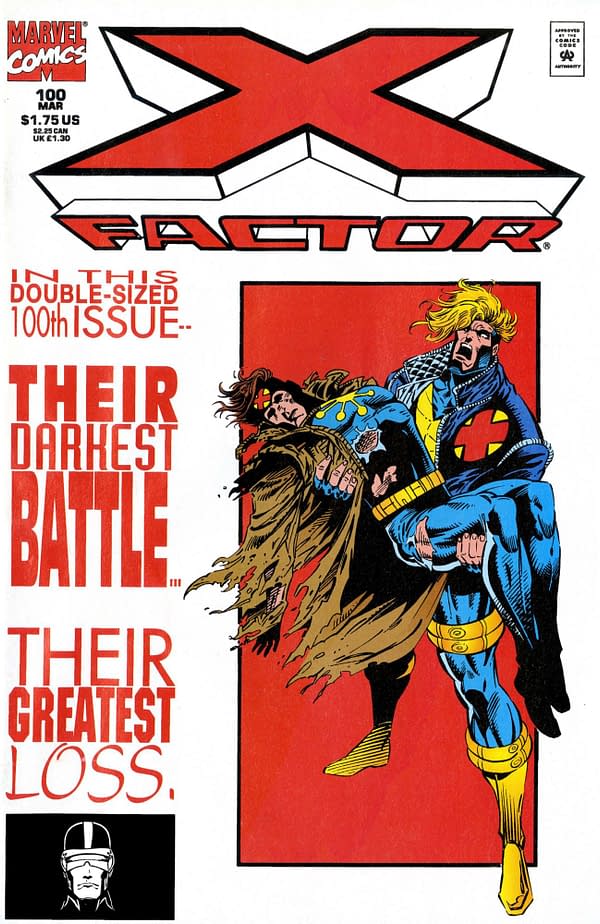 In addition to these classic books, the usual time-delayed modern releases will also hit Marvel Unlimited this month, and you can see a list of those below from the press release:
Week of 11/4

AGE OF X-MAN: PRISONER X #3

AMAZING SPIDER-MAN #20.HU

CHAMPIONS #5 WAR OF THE REALMS TIE-IN!

COSMIC GHOST RIDER DESTROYS MARVEL HISTORY #3

DEAD MAN LOGAN #7

DEADPOOL #12

DOMINO: HOTSHOTS #3

MAJOR X #3

MARVEL ACTION AVENGERS #1

A new era of all out Avengers action begins! A new team is formed to battle a mega-sized threat that is weirder and wilder than any of the superheroes have met before! This new ongoing series will be the perfect opportunity for middle grade readers, and fans of all ages, to experience the thrilling adventures of Avengers comics for the first time! Avengers stories that are epic, weird and above all: fun! Your favorite heroes along with surprise team members!

MARVEL ACTION AVENGERS #2

MARVEL ACTION AVENGERS #3

MARVEL ACTION AVENGERS #4

MARVEL ACTION BLACK PANTHER #1

Readers of all ages can get lost in the technologically advanced African nation of Wakanda as they follow the adventures of its monarch, the Black Panther! King T'Challa is responsible for defending his people-and the world-from any threats. And he gets plenty of help-and sass-from his genius sister Shuri. A Marvelous new era begins here! A bold new era for Black Panther begins here! From the mind of multiple Eisner and Harvey award winner Kyle Baker!

MARVEL ACTION SPIDER-MAN #1

Readers of all ages can get tangled up in these all new adventures of Spider-Man and his astonishing friends! Peter Parker has thrown down with deadly villains and legendary heroes, but high school life might be his greatest challenge yet.

MARVEL ACTION SPIDER-MAN #2

MARVEL ACTION SPIDER-MAN #3

MARVEL TEAM-UP #2

MEET THE SKRULLS #4

SPIDER-GWEN: GHOST-SPIDER #8

STAR WARS #65

STAR WARS: AGE OF REBELLION – HAN SOLO #1

THE SCOUNDREL'S CODE! After helping destroy the DEATH STAR, HAN SOLO's ready to cash in his reward and return to life as a scoundrel. But when LUKE SKYWALKER asks for one last favor, Han gets pulled into a rebel mission that might wreck all of his plans. Co-starring CHEWBACCA and introducing AKKO, an old friend who might actually out-scoundrel Han himself!

STAR WARS: THE ORIGINAL MARVEL YEARS 50 FACSIMILE EDITION

THE PUNISHER #11

UNCANNY X-MEN #17

WAR OF THE REALMS #3

WAR OF THE REALMS STRIKEFORCE: THE DARK ELF REALM #1

THE PUNISHER LEADS THE CHARGE TO SHUT DOWN THE BLACK BIFROST! Deep in the swamps of Svartalfheim stands the Black Bifrost, Malekith's corrupted Rainbow Bridge and the only reliable means of travel between the realms with the true Bifrost in pieces. If the gods are going to stop Malekith's invasion, the Black Bridge must fall. With her son missing and husband injured, Lady Freyja must take up the challenge herself. But she won't go alone. Hulk (Jen Walters), the Punisher, Blade and Ghost Rider follow the All-Mother of Asgard straight into Malekith's home territory!

Week of 11/11

AGE OF X-MAN: APOCALYPSE & THE X-TRACTS #3

CAPTAIN AMERICA #10

CAPTAIN MARVEL #5

DEFENDERS: MARVEL FEATURE #1 FACSIMILE EDITION

FRIENDLY NEIGHBORHOOD SPIDER-MAN #6

INVADERS #5

MARVEL ACTION SPIDER-MAN #4

MARVELS ANNOTATED #3

SPIDER-MAN/DEADPOOL #50 SERIES COMPLETE!

STAR WARS: AGE OF REBELLION – BOBA FETT #1

THE HUNTER'S HEART! As the implacable bounty hunter who tracked down HAN SOLO, BOBA FETT earned his reputation as one of the greatest villains in the galaxy. But what happens when Boba Fett picks up the trail of an actual villain? Find out what kind of heart — if any — beats under that MANDALORIAN armor!

STAR WARS: DOCTOR APHRA #32

SYMBIOTE SPIDER-MAN #2

THE UNBEATABLE SQUIRREL GIRL #44 WAR OF THE REALMS TIE-IN!

THE UNSTOPPABLE WASP #7

WAR OF THE REALMS: JOURNEY INTO MYSTERY #2

WAR OF THE REALMS: NEW AGENTS OF ATLAS #1

A WAR OF THE REALMS TIE-IN! As Sindr, Immortal Queen of Muspelheim, and her legions of Fire Demons march on Asia, it's time for a new band of heroes to unite to protect the Pacific Rim. Having brought together a ragtag team of heroes to defend the Earth from an alien invasion in the past, can Amadeus Cho reassemble his "protectors" — Shang-Chi, Silk and Jimmy Woo to save the world from incineration? And where is Kamala Khan? And just who are Crescent, Io and Luna Snow??? Featuring Marvel's newest heroes from China, AERO and SWORD MASTER, and a mysterious new Filipino heroine named WAVE!

X-FORCE #7

Week of 11/18

AGE OF X-MAN: NEXTGEN #4

AGE OF X-MAN: THE MARVELOUS X-MEN #4

AMAZING SPIDER-MAN #21

BLACK WIDOW #5 SERIES COMPLETE!

DAREDEVIL #5

GIANT-MAN #1 WAR OF THE REALMS TIE-IN!

A WAR OF THE REALMS TIE-IN! ON THE SHOULDERS OF GIANTS! At the behest of All-Mother Freyja, four men must rise to monstrous heights and infiltrate the most savage territory of New Jotunheim: Florida!

GUARDIANS OF THE GALAXY #5

IMMORTAL HULK #17

IRONHEART #6

OLD MAN QUILL #5

SPIDER-MAN & THE LEAGUE OF REALMS #1

A WAR OF THE REALMS TIE-IN! In order to win the War of the Realms, we need a LEAGUE OF REALMS! Thor once led this team with one representative from each fantastical realm, but the League has a NEW leader and representative of Midgard- SPIDER-MAN!

SPIDER-MAN: LIFE STORY #3

STAR WARS #66

STAR WARS: AGE OF REBELLION – LANDO CALRISSIAN #1

CLOUD CITY BLUES! Former smuggler LANDO CALRISSIAN has a beautiful dream: a life of leisure and luxury as the totally legitimate BARON ADMINISTRATOR of CLOUD CITY. All he needs to do is take care of his money troubles with one last, big scam. But what will get in his way the most — his bad luck or this annoying sense of ethics he seems to be developing? Co-starring LOBOT!

STAR WARS: TIE FIGHTER #2

UNCANNY X-MEN #18

WAR OF THE REALMS #4

WAR OF THE REALMS STRIKEFORCE: THE WAR AVENGERS #1

CAPTAIN MARVEL AND HER WAR AVENGERS HOLD THE FRONTLINE! While two other Strikeforce teams head out to other realms, Captain Marvel leads the fight to reclaim the Earth! But even with a crew of heavy hitters (Weapon H, Captain Britain, Venom, Deadpool) and two of the best spies on the planet (the Winter Soldier and the Black Widow), Carol's fighting a losing game. Malekith's allies are without number — and the battlefield bigger than any Carol's commanded before. Time to lay it all out on the line — and fight for a miracle.

Week of 11/25

AGE OF X-MAN: THE AMAZING NIGHTCRAWLER #4

ALPHA FLIGHT #1 FACSIMILE EDITION

ASGARDIANS OF THE GALAXY #9 WAR OF THE REALMS TIE-IN!

AVENGERS #19 WAR OF THE REALMS TIE-IN!

DOCTOR STRANGE #14

MARVEL COMICS PRESENTS #5

MILES MORALES: SPIDER-MAN #6

MOON GIRL AND DEVIL DINOSAUR #43

MR. AND MRS. X #11

RUNAWAYS #21

SHURI #8

STAR WARS: AGE OF REBELLION – JABBA THE HUTT #1

IT'S GREAT TO BE JABBA! Across the galaxy, Imperials, rebels and scoundrels alike speak in hushed tones of JABBA THE HUTT, the greatest gangster in the OUTER RIM. Discover what makes the name of Jabba so feared, in a crime story that stretches from the casinos of CANTO BIGHT to the deserts of TATOOINE!

STAR WARS: GALAXY'S EDGE #2

THE UNSTOPPABLE WASP #8

TONY STARK: IRON MAN #11

VENOM #14 WAR OF THE REALMS TIE-IN!

WAR OF THE REALMS: JOURNEY INTO MYSTERY #3

WAR OF THE REALMS: NEW AGENTS OF ATLAS #2

WAR OF THE REALMS: THE PUNISHER #2

WAR OF THE REALMS: UNCANNY X-MEN #2

WAR OF THE REALMS STRIKEFORCE: THE LAND OF GIANTS #1

THE GOD OF THUNDER IS TRAPPED IN THE LAND OF ICE AND SNOW…And it's up to Captain America to rescue him before all is lost! Taking up Thor's ax, Jarnbjorn, Cap and his team—Spider-Man, Wolverine, Luke Cage and Iron Fist—invade the Frost Giant realm in search of their fellow Avenger. But this rescue mission will cost far more than they expect.

WOLVERINE: INFINITY WATCH #4

X-FORCE #8