DC Comics has announced a New Comics Day for Tuesdays going forward. Diamond Comic Distributors is sticking with the day after, especially now that DC Comics is making a sharp exit from them. Which seems to be an opportune time for Marvel Comics to launch "On Sale Wednesday" Variants for a number of upcoming titles going to FOC in a week's time. Maybe we'll know what they look like by then, but for now they have placement covers for a list of covers, as seen below. Unless of course that is actually how they are going to look? I suppose that's possible. Saves a bit of cash too. And might make for a fun repeated message across the comic book stands, in bold opposition to the Distinguished Competition.
Since Wednesday has been known as "New Comic Book Day" for many years, Marvel is offering up a reminder in the way of these variant covers. Retailers can use them in stores to remind customers that every Wednesday is the day for new comics and to Make Mine Marvel!
And not DC Comics? That does seem to be the takeout. The ten covers listed below are now available as order-all variants, including Empyre #1 and all that comes with it.
AMAZING SPIDER-MAN #44 MARVEL WEDNESDAY VAR (APR208168, FOC 6/22/20)
AVENGERS #34 MARVEL WEDNESDAY VAR (APR208169, FOC 6/22/20)
CAPTAIN MARVEL #17 MARVEL WEDNESDAY VAR (APR208170, FOC 6/22/20)
EMPYRE #1 (OF 6) MARVEL WEDNESDAY VAR (APR208171, FOC 6/22/20)
FANTASTIC FOUR #21 MARVEL WEDNESDAY VAR EMP (APR208172, FOC 6/22/20)
GIANT-SIZE X-MEN MAGNETO #1 MARVEL WEDNESDAY VAR DX (APR208173, FOC 6/22/20)
GUARDIANS OF THE GALAXY #4 MARVEL WEDNESDAY VAR (APR208174, FOC 6/22/20)
IMMORTAL HULK #35 MARVEL WDNESDAY VAR (APR208175, FOC 6/22/20)
SPIDER-WOMAN #2 MARVEL WDNESDAY VAR (APR208176, FOC 6/22/20)
VENOM #26 MARVEL WDNESDAY VAR (APR208177, FOC 6/22/20)
Any of these tickle your fancy? Anyone want to collect the lot? Or is it more effective to just try and keep them on the shelf?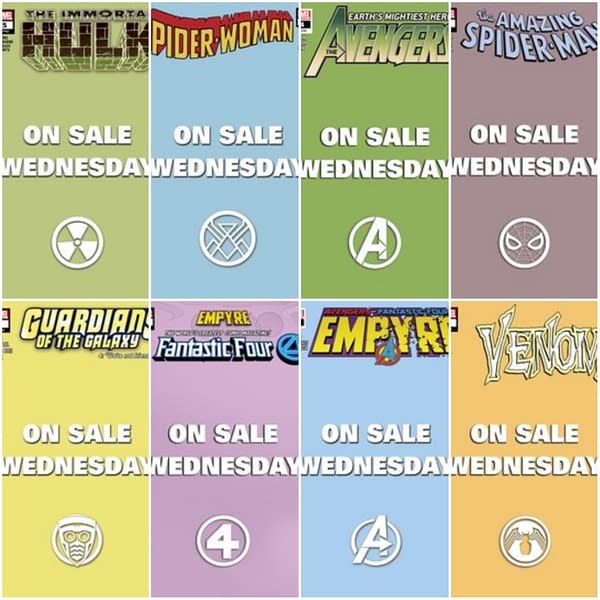 Enjoyed this article? Share it!