Marvel Won't Put Trump On The Cover Of A Comic. So The Mighty Trümph Will.
When Barack Obama was inaugurated President Of The United states eight years ago, Marvel Comics ran an story that saw Obama meeting Spider-Man, with Obama on the cover of the second -and all subsequent printings. People lined up around the block to buy a copy of the comic. It was a big deal.
This time around… there is no Trump appearance lined up. He may of course turn out to be the leader of the Secret Empire, as Nixon was in his day, but that's still a way off.
So, where Marvel has stepped down, Velleity Studios have stepped up, determined to make comics great again with The Mighty Trümph #1.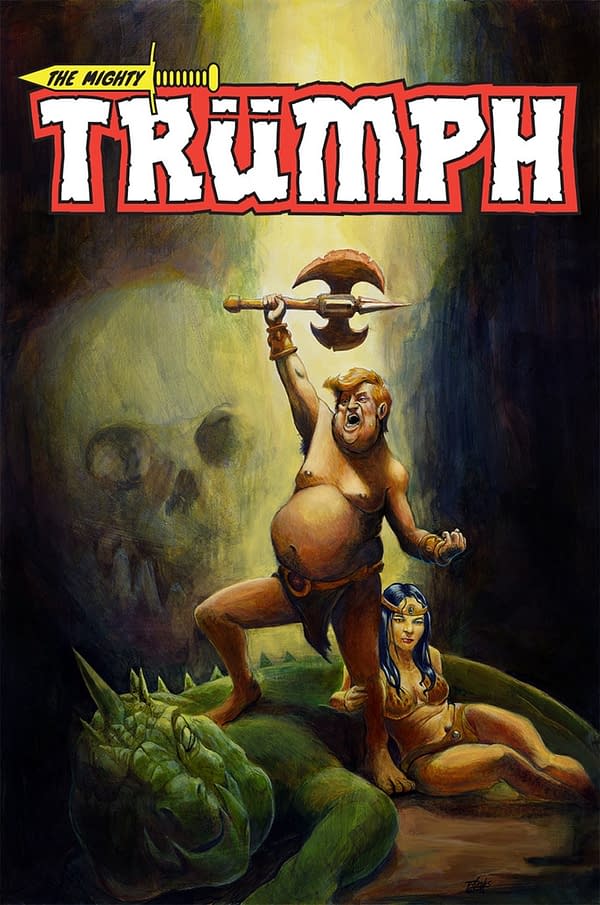 Long ago… in an age unremembered, when gleaming cites dotted the ancient world like jewels, each more marvelous than the last.

Hither came Trümph, the Mighty!

In all his sandy-hair, squint-eyed glory. With all his great wits he will rise to the lofty heights of the greatest nation in all the realm.

Trümph the adventurer is without fear. He's better than any man, he's great, the best, just ask anybody.

His legend has spread over the land and sea.

With his mighty intellect and a strong arm, he defeats all of his enemies.

Venture into a world of sword and sorcery with: The Mighty TRÜMPH!
Though currently, not one person has backed the Kickstarter… will that change?