Marvel's Big X-Event: X of Swords by Jonathan Hickman, Tini Howard, and the X-Men Slack Team
Following in the footsteps of House of X and Powers of X, Marvel has announced their next big X-Men event at the X-Men panel at C2E2 today: X of Swords! Like Powers of X, but unlike House of X, the X is pronounced "10" here. Try to keep up. This is why they pay Hickman the big bucks.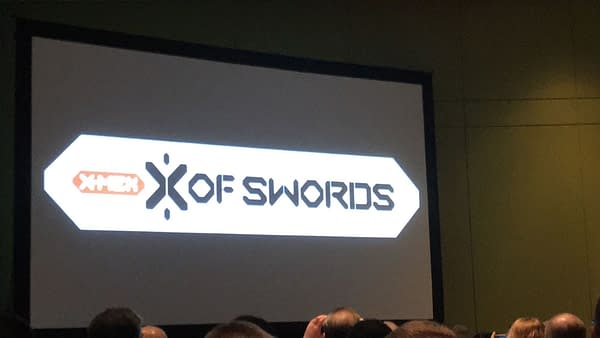 As you can see from the art, everyone gets a sword here. Was Oprah giving them out? "And you get a sword! And you get a sword!" More importantly, does Wolverine get two?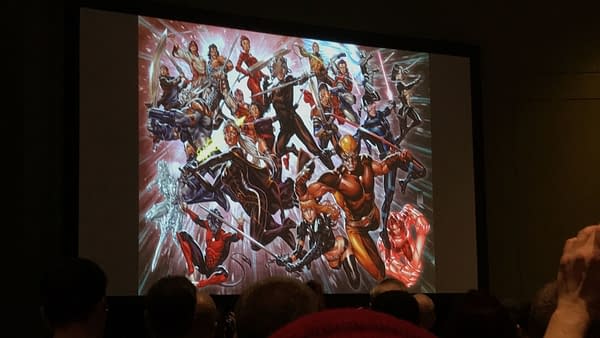 Hickman and Tini Howard are writing large chunks of the event, with Howard coming up with the name, but all of the X-Men writers are contributing because they have a Slack. No word on the artist, but this will all kick off with the Free Comic Book Day book.
Hey, is that a lightsaber in Cyclops' hand? Star Wars crossover? Hickman did allude to another event coming up in December.
UPDATE: Marvel has posted a press release for the event with more details, including the fact that it will be fifteen parts!
Just announced to an enthusiastic crowd at C2E2's X-Men Panel, X OF SWORDS will be a 15-part crossover tying into your favorite X-titles. Led by Head of X Jonathan Hickman, this sprawling saga will find the mutants of Krakoa facing their biggest challenge yet.

Threatened by powerful forces from the unknown, ten mutants will rise up to defend their home. Arming themselves with legendary blades both new and familiar, mutantkind will finally meet its mystical destiny. Impacting the entire X-Men franchise and setting the stage for the future of mutantkind, X OF SWORDS will be a modern X-Men epic that both longtime and new X-Men fans can't miss.

Last year, Jonathan Hickman reshaped the world of the X-Men with the top-selling HOUSE OF X and POWERS OF X. Since then, the X-Men titles have become of the talk of the industry, each telling exhilarating stories set in this exciting new era. Don't miss the next chapter in Hickman's grand vision for Marvel's mutants when X OF SWORDS kicks off in July!

Keep an eye on Marvel.com for more from C2E2 all weekend!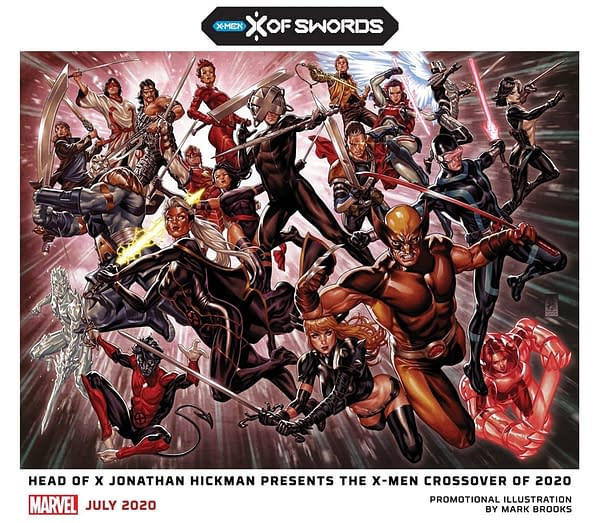 Bleeding Cool ace reporter David Pierce is on hand at the Marvel X-Men panel at C2E2, sending us breaking news. Jordan White is hosting the panel with Jonathan Hickman, Gerry Duggan, Tini Howard, Benjamin Percy, Vita Ayala, Leah Williams, and C.B. Cebulski in attendance. Pierce has already nailed the most important story of the weekend, asking several x-writers point-blank about how many dicks Wolverine has. Keep an eye on our C2E2 news page and keep checking back for updates as we learn what's in store for the greatest franchise in comics!