Marvel's Fresh Start and Rick Remender and Bengal's Death Or Glory on Front of Next Week's Diamond Previews
The March edition of Diamond Comic Distributors' monthly Previews catalogue arrives in comic shops on February 28th and features comic books, graphic novels, toys, and other pop culture merchandise scheduled to go on sale beginning May 2018.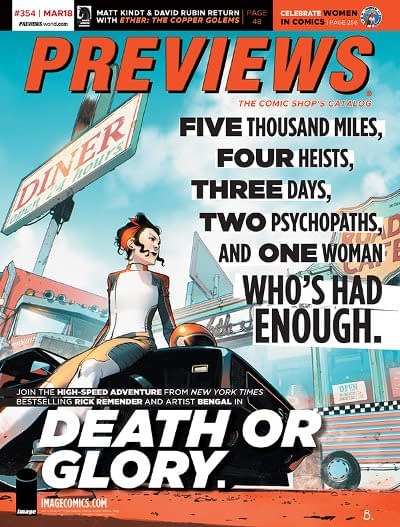 FRONT COVER: After a life lived off the grid, a woman has to pull off a cross-country heist to save her dying father in Rick Remender and Bengal's new book for Image Comics, Death or Glory.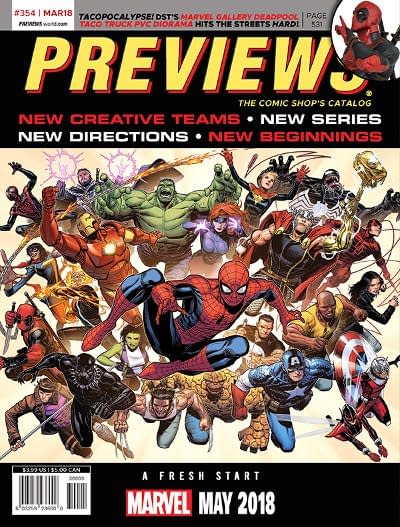 BACK COVER: Steve Rogers, Tony Stark, and Thor reunite to form a new Avengers team to confront a cosmic threat in Jason Aaron and Ed McGuinness' Avengers #1 from Marvel Comics.
The catalogue also features
Women in Comics Month — In March, PREVIEWS celebrates the many women who work within the comics industry and community, whether it is behind-the-scenes as publishers, editors, or translators or in the spotlight as writers, artists or as strong female lead characters. Throughout PREVIEWSyou'll find the "Women in Comics" icon pointing out a deserving title featuring female creators or protagonists.
On The Flip Side — Tying in with Women in Comics Month, PREVIEWS interviews several creators, including Amu Chu, VIZ Media's Hope Donovan, BroadSword Comics' Holly Golightly, Janet Harvey, Kelly Heying, Emily Martin, Molly Knox Osterag, BOOM! Studios' Morgan Perry, Jamie Lee Rotante, Lion Forge's Karya Tan, and Zenescope Entertainment's Ashley Vanacore.
Gems of the Month — March's PREVIEWS Gems of the Month include:
Dark Horse Comics' Blackwood #1 and Ether: Copper Golems #1
DC Entertainment's DC Nation #0 and Curse of the Brimstone #1
IDW Publishing's Star Trek: The Next Generation: Through the Mirror #1-5
Image Comics' Barrier #1 and Death or Glory #1
Marvel Comics' Black Panther #1
catBUZZ — PREVIEWS shines a special spotlight at some of the blockbuster books and products coming out in the months ahead. This May, as the Celestials' Final Host bears down on Earth, the classic Avengers trio of Steve Rogers, Tony Stark, and Thor unite a new Avengers team to confront the threat in Jason Aaron and Ed McGuinness' Avengers #1 from Marvel Comics. Plus, Evan Dorkin and Veronica Fish introduce readers to a brand-new school of magic in Dark Horse Comics'Blackwood; the United Federation of Planets faces an incursion from the Mirror Universe in IDW Publishing's five-part weekly event, Star Trek: The Next Generation: Through the Mirror; Brian K. Vaughan and Marcos Martin's webcomic Barrier comes to print in a unique, weekly format; Flesk Publications explores the creation of Mike Mignola and Gary Gianni's acclaimed Hellboycollaboration in the Hellboy: Into the Silent Sea Studio Edition; Brad Meltzer's series of illustrated biographies for young readers continues with I Am Gandhi, featuring artwork from twenty-five different artists; WizKids brings a classic television series to the tabletop with DC HeroClix: Batman The Animated Series; and many more products that will be coming your way this spring.
PREVIEWS Exclusive Apparel — Each month PREVIEWS offers comic book fans and pop culture aficionados a selection of t-shirts and other apparel that can only be found in your local comic shop! Boldly go this summer with the Star Trek: "Trekkie" Gray T-Shirt, visit scenic Tatooine with the Star Wars: "Tatooine Take Off" White/Orange T-Shirt, and one of Marvel Comics' most recognizable anti-heroes stars on the Marvel Netflix: "The Punisher Poster" Black T-Shirt. These and many other shirts can only be found through PREVIEWS and your local comic shop.
Indie Edge — PREVIEWS talks to Kat Leyh, the co-writer and cover artist of BOOM! Studios'Lumberjanes about her work, her forthcoming projects, and the comics and graphic novels that she's reading today.
Out net Wednesday…