Mark Russell is a political and satirical comic book writer who often finds himself writing comics like Flintstones, Batman, Snagglepuss, The Wonder Twins, Lone Ranger and Red Sonja, but still keeping the political satire and commentary. He also happens to be rather funny. But today sees his writing the much-delayed Marvel Snapshots: Captain America will very little humour. Very little Captain America for that matter. But a lot of politics. And despite everything, it is bang on the current politics. Scarily so. If it had been published when originally planned, April 8th, he, and artist Ramon Perez would have been looked upon as witches.
The original Marvels series by Kurt Busiek and Alex Ross looked at Marvel Universe history and told it from the point of view of a bystander living in New York City. And this Marvels Snapshots series does the same. But while the original series is nostalgic, this issue seems ripped from today's headlines, despite being written and draw at the beginning of the year – and also set in the seventies. First, taking an event from Marvel history, the Captain America and the Falcon story from 1976 by Jack Kirby, the Mad Bomb – then an epic seven issues long, and seeing who got left behind after the superheroes left.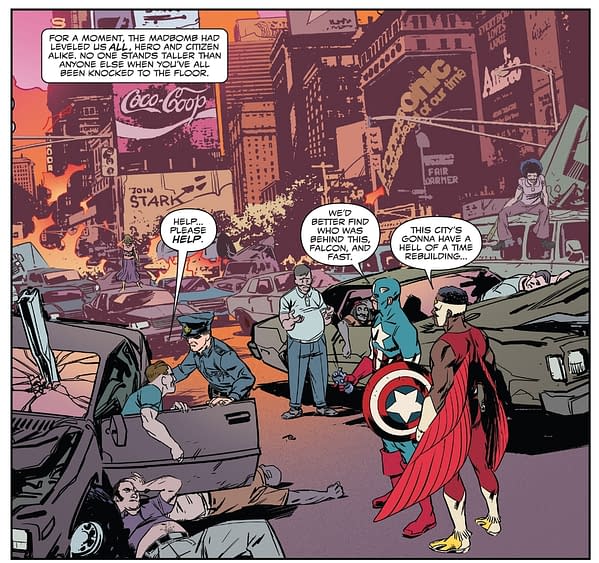 And one young talented repairman by the name of Felix Waterhouse sees all of New York City repaired but his own community in the South Bronx ignored.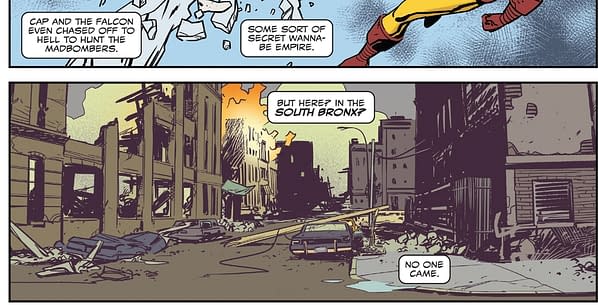 Coming to the realisation that nothing will change, the world has moved on.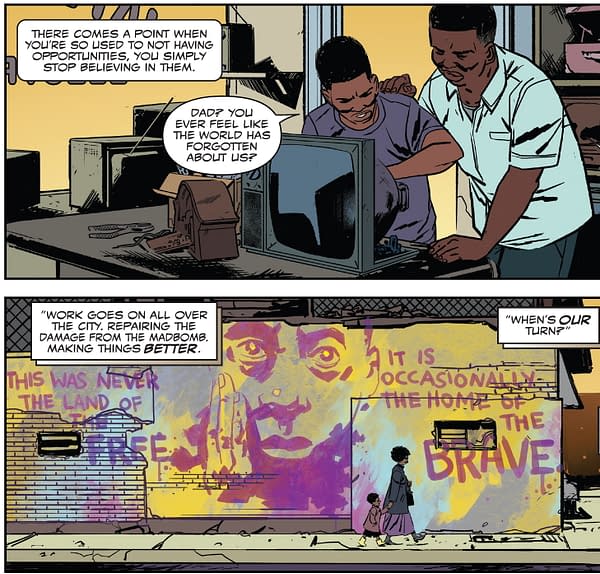 And once ignored, everything gets worse. Neighbourhoods, communities, crime, policing, it feels like Russell and Perez were telling a story from the last few weeks rather than from months ago.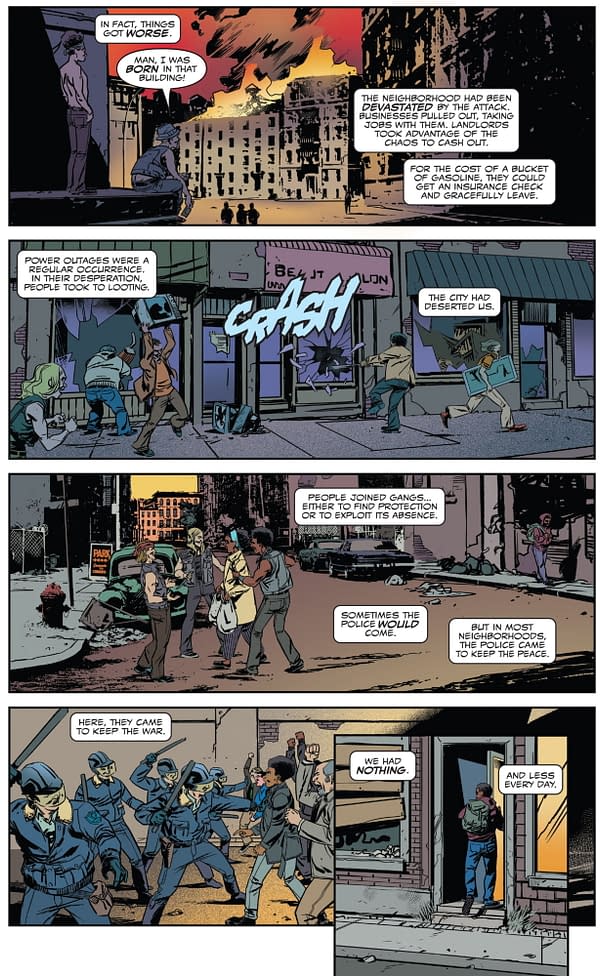 His world is abandoned and a future is taken from him.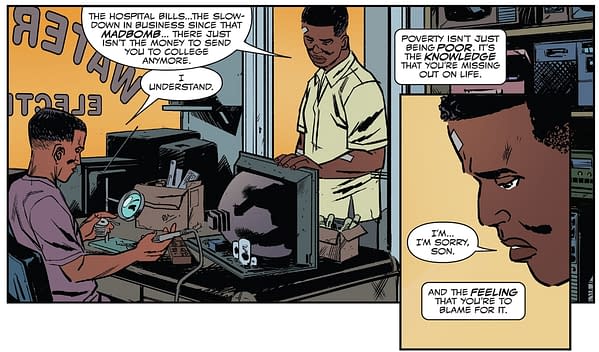 If the people you are meant to look up to abandon you, then others are ready to fill the vacuum. And in this case, that's AIM. Advanced Idea Mechanics, terrorist scientists for hire, created by Jack Kirby and Stan Lee with mad helmets. But they also suit up.
All he needs is a little push.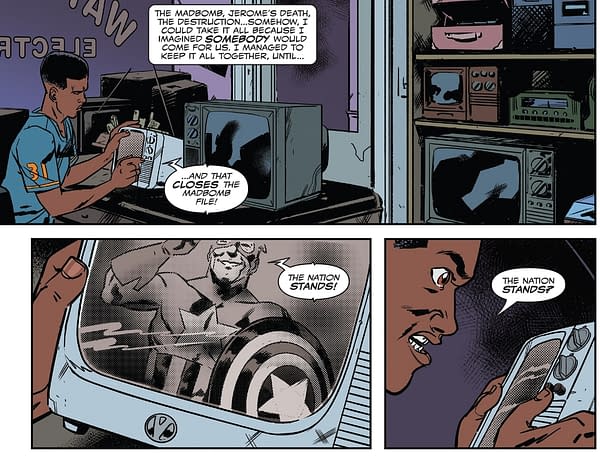 Time to put an AIM helmet on? Not just yet.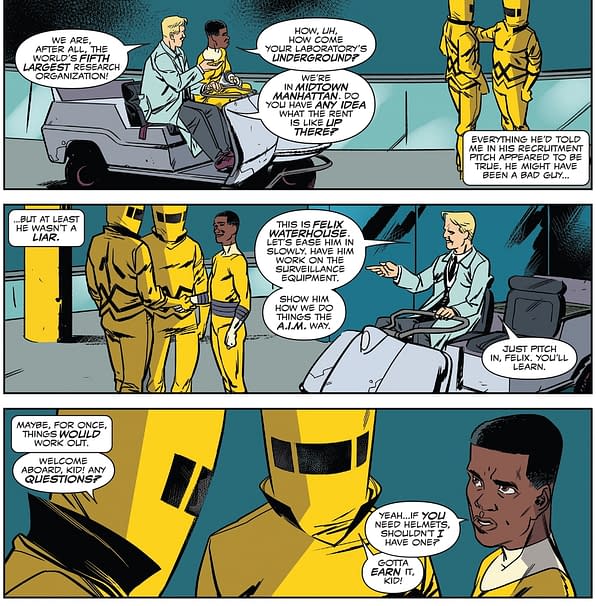 It doesn't end here of course. Heroic journey and all that. And not everyone would be able to make the choices that Felix can. Definitely worth picking up, is not the kind of comic you might have expected and has hardly any Captain America in it. Though his presence casts a long shadow.
CAPTAIN AMERICA MARVELS SNAPSHOT #1
MARVEL COMICS
FEB200899
(W) Mark Russell, Kurt Busiek (A) Ramon K. Perez (CA) Alex Ross
Acclaimed writer Mark Russell (Second Coming, Wonder Twins) and superstar artist Steve Rude take us to Kirbytown for a literally explosive story of the madness-inducing Madbomb and its aftermath, as the MARVELS SNAPSHOT tour through Marvel history continues. A gifted South Bronx teenager sees his neighborhood destroyed in the initial Madbomb attack, and his future up in smoke with it. What does he do when A.I.M. recruiters come calling? Does he stand by a system that's failed him, or find a future outside the law? Featuring Captain America, the Falcon, Iron Man and more! Rated T+In Shops: Jun 24, 2020 SRP: $4.99
Enjoyed this article? Share it!