Matthew Rosenberg Doubles His Body Count in Today's Uncanny X-Men (SPOILERS)
With Jonathan Hickman's big X-Men relaunch kicking off in July, we now know for certain that Uncanny X-Men will end with issue #22 that same month. But by the time Hickman gets to take over the franchise, will there be any X-Men left? Perhaps not, if Uncanny X-Men writer Matthew Rosenberg has his way. Read ahead only if you are unconcerned with spoilers…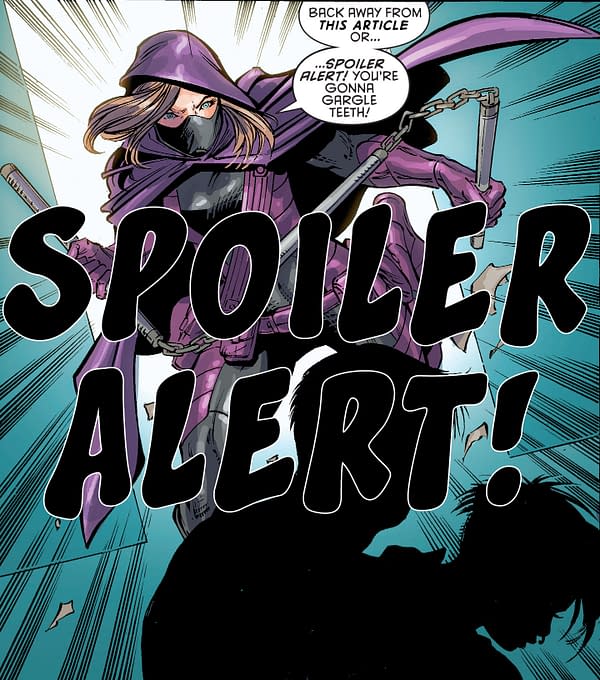 Rosenberg has already killed off six characters in his previous issues of Uncanny X-Men, and has gone on record as promising to kill at least two more. Today's Uncanny X-Men #18 delivers on that promise and then some.
When Rosenberg made his tweet back in April, we analyzed the rate at which he was killing characters and determined it was increasing at a rapid pace.
So not only do we know that Rosenberg is planning to kill at least two more characters, but he's also stepping up the rate at which he murders them, since six characters killed in thirty-seven issues works out to just over one dead character every six issues. However, Rosenberg has now he revealed he will kill two characters in the next six issues, twice the historical rate. Even more troubling, prior to killing two characters in last week's Uncanny X-Men #16, Rosenberg had only killed four characters in thirty-six issues, or one dead character every nine issues. That means Rosenberg will have effectively tripled his rate in a matter of months. This is math, people. You can't argue with math.
In today's Uncanny X-Men, Rosenberg kills off seven — yes, seven — characters in a single issue. The preview of the issue released last week showed the X-Men confronting the Marauders in a subway station, angry at the group for murdering the Morlocks, though the Marauders claim not to know anything about that. Enraged by their denials, Chamber, who had been living with the Morlocks before the massacre, retaliates by burning the entire team of villains alive… right after they surrendered!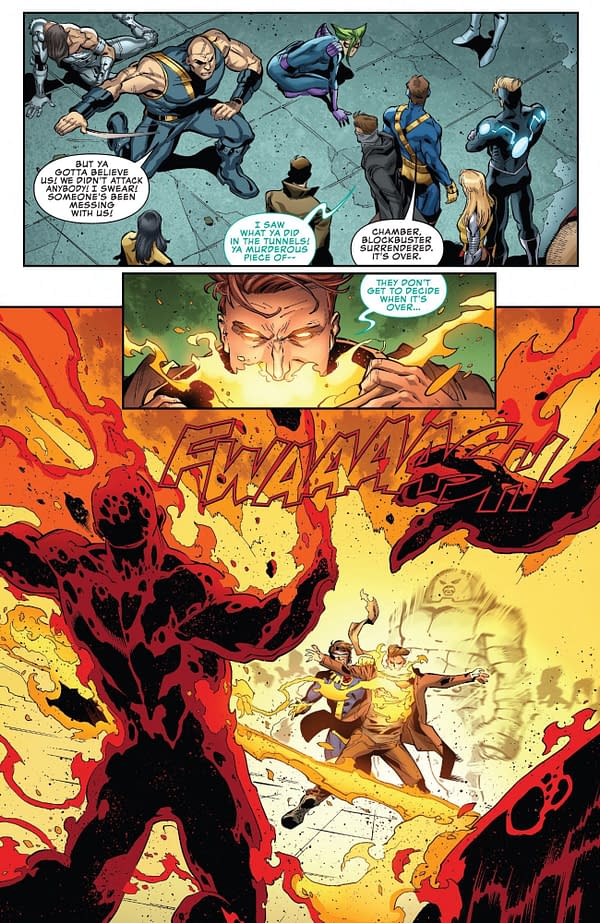 But before they die, Harpoon manages to strike back, killing Chamber before Hope finishes him off with a gunshot to the head.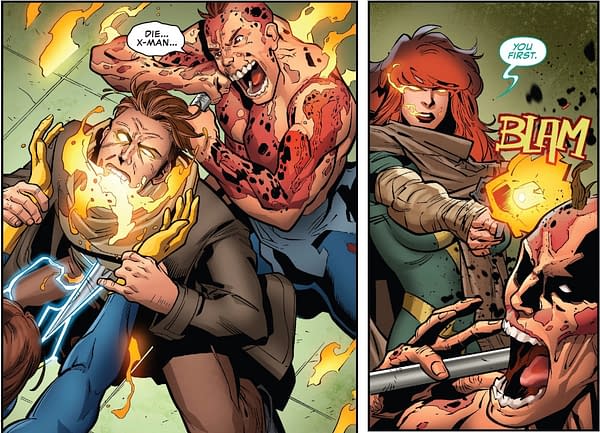 So just for those keeping track, Rosenberg went from killing 6 characters in 37 issues to killing 13 characters in 39 issues (that's two more issues of Uncanny and one War of the Realms tie-in), effectively doubling his rate. And what do we make of his tweet, which promised the "next two" to die would be men? Cyclops says all of the Marauders are dead, and that's confirmed later in the issue by other characters. So this begs the question: was Rosenberg referring only to X-Men in his tweet and not villains? Because if so, that means we've got one more X-Man on the chopping block, and who knows how many bad guys, before Uncanny X-Men wraps up in July.
And that's not even the most shocking stuff to happen in this issue! The rest of the issue includes a showdown with Mister Sinister, a big change for Havok, and you won't believe what "Captain America" has been up to.
Uncanny X-Men #18 is in stores now.
Uncanny X-Men #18
(W) Matthew Rosenberg (A) Carlos Villa (CA) Whilce Portacio
• First…the X-Men lose one of their own.
• Then…the new Black King of the Hellfire Club makes a move.
Rated T+
In Shops: May 15, 2019
SRP: $3.99