Mel Caylo's career in marketing is a who's who of comic book circles. In 1998, Mel Caylo became an Associate Editor for Wizard Magazine: A Guide To Comics before being promoted to Managing Editor in 2000. Taking a break to launch and run a bubble tea shop called Felicitea in Upper Manhattan's West Side in 2002, he returned to Wizard as an Editorial Director in 2004. In 2008, he made the jump to become Vice President of Sales and Marketing for comic book publisher and Image Comcis imprint Top Cow Studios, which is where I first became familiar with his work, before becoming a marketing manager at graphic novel publisher Archaia the year after. The purchase of Archaia by comic publisher Boom! Studios saw him become Marketing Manager for Boom! in 2013. And he became an ever-present face of the company at shows, conventions and for PR, until the end of 2017. And in March 2018, he became the Marketing Director of comic book publisher Valiant Entertainment, just as the DMG buyout of Valiant saw a number of employees leave the company.
Well this month, it seems Mel Caylo has moved on himself, as the new Synopsis Editor at Netflix.
We look forward to see how he will be describing Mark Millar's upcoming work…
UPDATE: Mel Caylo gives us comment, saying
"I will always value my time working in comics. I've met some great people over the years and still count many of them as good friends. I am thankful for the opportunity I had at my last job at Valiant, and I wish nothing but the best for them, especially with the Bloodshot movie coming out! I may be working for Netflix now, but I will always keep my comic book roots!"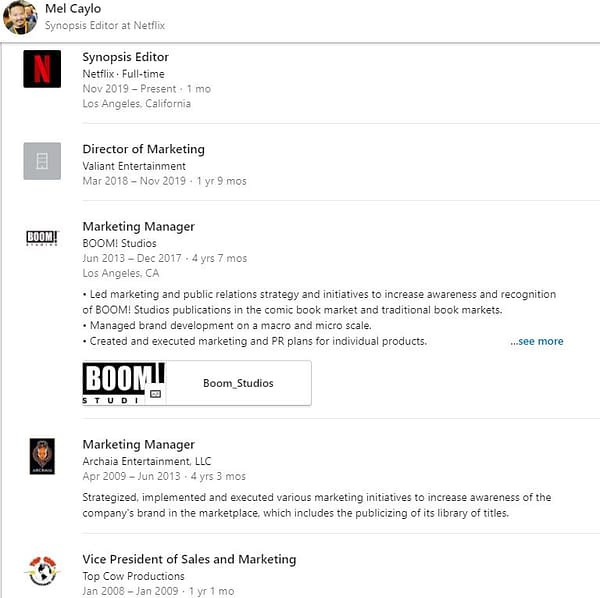 Enjoyed this article? Share it!