When Mike S Miller Tried to Slip Religious Messages Into X-Men Comics
Last week's kerfuffle saw comic book artist Mike Miller tried to reuse and redraw an old Spider-Man cover sketch by the late Mike Wieringo, and claim it as Wieringo's final cover, before appearing to burn it after there were complaints, including from Wiringo's family. He then called it an exercise in trolling, which it was, with the added frisson of using the memory of a much beloved comic book creator who tragically died in his forties.
Well, this has brought up all sorts of people's memories of working with Miller. Comic book writer Joe Harris has his own, which he shared on Facebook, reproduced here with permission.
Mike S. Miller drew the second comic book I ever wrote: X-FACTOR #147, a fill-in story young Joe remembers being proud of (though it was a loooong time ago…) and an allegorical tale about being "different," being treated like the mob at school felt you deserved (under the not-so-subtle title, "Bashed"), and human nature once sides are chosen. But looking back over this issue, I'm most reminded of how I had to try and artfully place caption narration to cover all the unscripted "Jesus Saves!" and "Evolution: A Theory In Crisis" type messages he'd scribbled and hidden throughout the damn thing.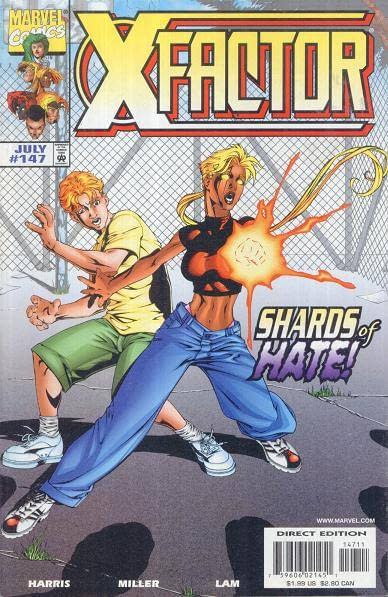 Here's one instance that jumps out on a flip through the pages. I think we might have covered a lot of stuff up with caption and balloon placement (did what we could, if memory serves).

Remember the eleventh commandment, Thou Shalt Troll People Over The Memory of Much-Loved Dead Friends. Man, I don't know, these comic creators trying to shoehorn their political opinions in where they are not wanted. Maybe someone should start a hashtag against that or whatnot.
UPDATE: In response, Mike Miller has posted,
So what do you think?