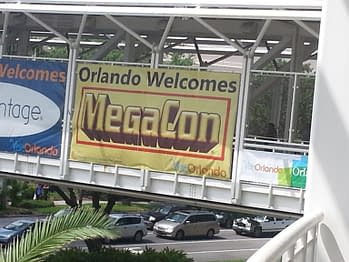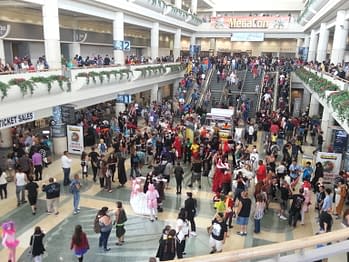 Summer came early this year to Florida, making the weekend of MegaCon in Orlando a particularly steamy one. This is my second year now at the convention (purchased just recently by the company that runs FanExpo out of Canada), and it was a mixed bag for me as a writer about comics and conventions and as a fan of these things.
Don't get me wrong. There was a lot that was good about attending MegaCon, but there were also down sides to it. The convention felt smaller this year, as an attendee. The show was moved to the older part of the Orange County Convention Center, and over all the convention didn't feel as grand as it had last year. A few of the vendors and exhibitors that I spoke with had similar feelings about the convention. I was told by a couple of exhibitors that the walking paths through the hall floor were wider this year, and that did seem to help with the flow of traffic, but overall it made the exhibition floor itself feel much smaller than it did last year.
The Artists Alley, always a busy part of any convention, didn't seem to benefit from the "wider paths," and walking around in the area felt more congested than it had last year. One person who spoke anonymously found the Artists Alley to "confined in a perplexing way that limited foot traffic" and left early because of that.
I can't help but wonder if this seeming contraction of space is connected to the meteoric rise of Tampa's Tampa Bay Comic-Con, which has been demonstrating spectacular growth each of its years in the area. The Tampa Bay Comic-Con has been in the area since 2000, seven years less than MegaCon's inaugural year of 1993, but the Tampa Bay Comic-Con has a more vibrant and exciting feeling to it compared to that of MegaCon.
Hopefully these perceptions will be turned around under the care of the people at FanExpo but only time will tell. One thing that would definitely help would be if the convention moved away from issuing wristbands for all of the attendees and moved towards a badge model, like so many other conventions. Last year, having a weekend pass and being expected to keep the same wristband over the course of the three days was a problem.
Don't think that the experience at MegaCon was an entirely bad one. There were a lot of vendors selling everything from costumes and apparel to manga and anime to back issues and compilations. Troma Entertainment had a busy booth, with a lot of people wanting their pictures taken with Lloyd Kaufman and various Troma models. Zenescope Entertainment had two booths running full tilt, with a lot of their material gone on Sunday. Comic artists Amanda Conner and George Perez and Ed McGuinness had long lines outside of their tables. Cosplay phenomena Yaya Han had a long line outside of her booth as well. Even with a number of last minutes cancellations, the star signing area was busy during convention hours.
People were having a good convention, it is just that it was a mixed bag of experiences for many of the attendees, vendors and professionals at the show.
There are rumors circulating that MegaCon is going to move to being a four-day convention next year. Hopefully the bumps in the road will be smoothed out before then if this rumor turns out to be true. I am not certain if the convention that I attended this year would be able to sustain itself over four days.
Christopher Helton is a blogger, podcaster and tabletop RPG publisher who talks about games and other forms of geekery at the long-running Dorkland! blog. He is also the co-publisher at the ENnie Award winning Battlefield Press, Inc. You can find him on Twitter at @dorkland and on G+ at https://plus.google.com/+ChristopherHelton/ where he will talk your ear off about gaming and comics. You can also support his Convention Season Coverage fundraising campaign page at Fundrazr.
Enjoyed this article? Share it!