Moira MacTaggert – an Omega Level Mutant? "House Of X" #2 Spoilers
Every single issue of House Of X and Powers Of X so far has completely upturned the apple cart. And with its third issue, House Of X #2, it's apple cart tipping time again, just as we told you.
Because we get the entirety of Moira MacTaggert's life, from birth to death, her first love and details of her three children
And then it starts again. All over again. From the beginning.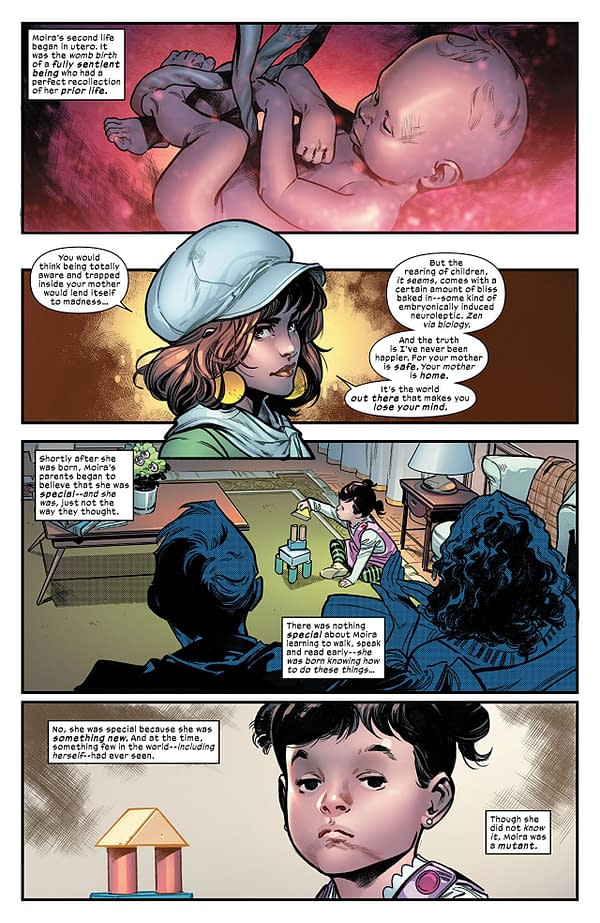 That is her mutant power. To live her life again and again. To reverse time, start again, but with all the knowledge she had. It is a common wish-fulfilment fantasy, and here Jonathan Hickman has given her the mutant power of self-reincarnation.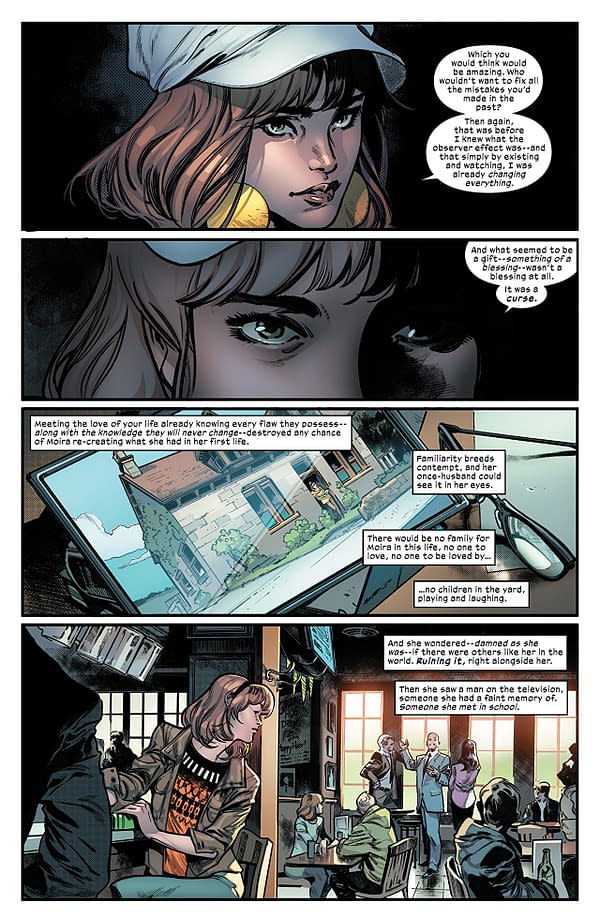 Again and again and again. And making changes, finding new solutions. every solution to the issue of mutants living with humans. Each time knowing what happened, each time trying to do things differently, find a different solution, but ever time, seeing it end in disaster.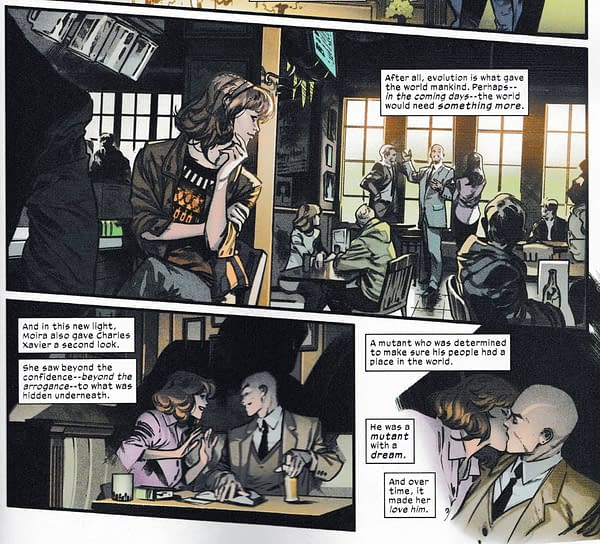 With the events of Days Of Future Past being part of a very familiar-looking fourth timeline, complete with AVX being seen as the 'lost decade'. Bendis gets burned. But the fourth timeline is the most recognisable of the Marvel Universe…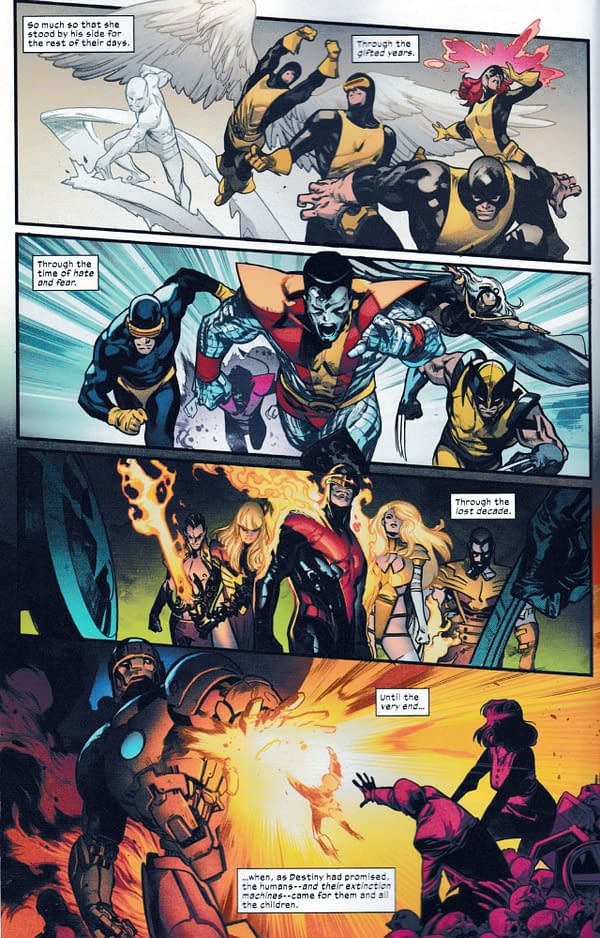 …but the backmatter insists it is not, as Moira and Charles are married in that timeline.
Moira MacTaggert is living through Groundhog Life.
Remember when we said that Jonathan Hickman's arrival at Marvel may be on mutant books but wouldn't be comics with an X in the title, or at least pronounced in that way? We were proved partially right with Powers Of X being pronounced Powers Of Ten, and now showing different eras, Year One, Year Ten, Year One Hundred and Year One Thousand, all to the power of ten.
Well House Of X has also revealed it might also have to be pronounced House Of Ten.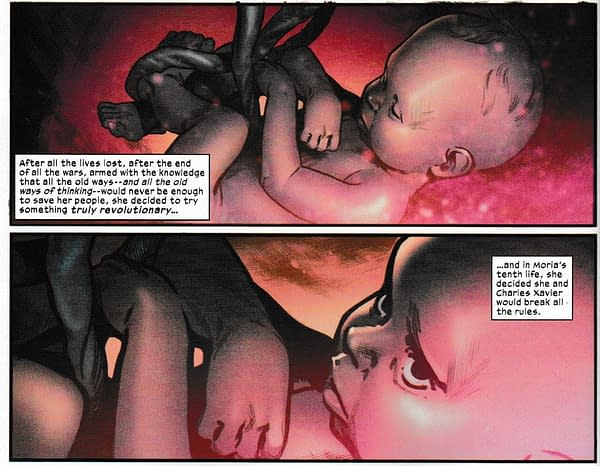 Because this House Of X timeline is the tenth timeline Moira has lived through. And her death by the Legacy Virus, which should have started the universe again at her moment of birth – was faked. She's still here… somewhere. And the timeline shows she has plenty to do.
What the hell is a Shi'ar Golem?
Could the Marvel Universe as we have seen it before the events of these series appear to still have been the Tenth iteration? How will it explain the actions of Charles and Moira together? Or is it part of a timeline we haven't seen yet?
Oh no, I've gone cross-eyed.
The timelines do however explain why the genocidal Apocalypse is a member of the upcoming Excalibur, the mutant team traditionally located on Moira's Muir Island off the coast of Scotland. Moira has history working with him, even if he doesn't know it, forming a different version of the X-Men in a previous iteration of reality…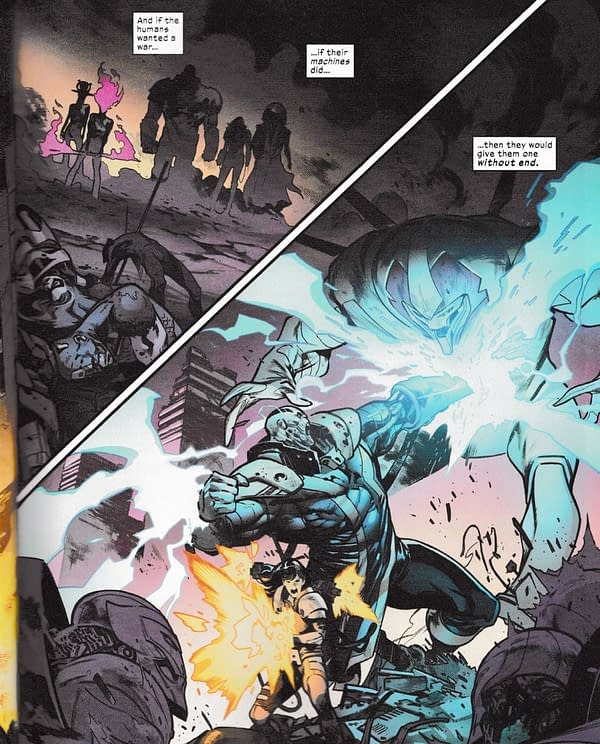 …and fighting a familiar future Nimrod from Powers Of X #2. So which timeline is Powers Of X Year X2 a part of then?
Regenerate or reincarnate?
And Moira is running out of lives now. And there are rules too. In previous mutant comics, we have seen Destiny possess Moira's supposed-ghost, the link between them is heavily underlined in an earlier timeline.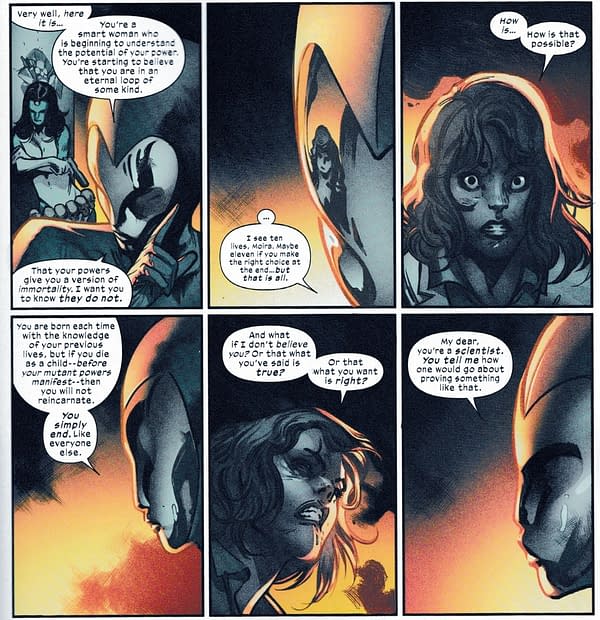 And Pepe Larraz making all these contradicting, tumbling and twisting timelines look as entertaining as all hell. He is probably Marvel's premier superhero artist right now, and the House is asking all of him on this one.
Strike up the music, the band has begun… how is that apple cart going to be tipped next week?
HOUSE OF X #2 (OF 6)
JUN190814
(W) Jonathan Hickman (A/CA) Pepe Larraz
Learn the truth about one of the X-Men's closest allies…and then begin the fight for the future of mutantkind! Superstar writer Jonathan Hickman (AVENGERS, SECRET WARS, FANTASTIC FOUR) continues reshaping the X-Men's world with Marvel Young Gun artist Pepe Larraz (EXTERMINATION, AVENGERS)!
Rated T+
In Shops: Aug 07, 2019
SRP: $4.99