Monstress, Charles Vess, Into The Spider-Verse Win Hugo Awards 2019
Presented at the 2019 World Science Fiction Convention in Dublin last night, the annual Hugo Awards, as voted on by the attendees and supporters of the show. They were first given in 1953 at the 11th World Science Fiction Convention, and have been awarded every year since 1955.
This year's winner of Best Graphic Story was Monstress, Volume 3: Haven, written by Marjorie Liu, painted by Sana Takeda and publushed by Image Comics.
Best Professional Artist went to comic book illustrator Charles Vess – who once was only added to the Hugo-winning Sandman: A Midsummer Night's Dream when Neil Gaiman had to argue that Vess was as important to the story as he was. And now has a Hugo all of his own. Vess was also part of the winning team for the Hugo Award for Best Art Book, The Books of Earthsea: The Complete Illustrated Edition, illustrated by Charles Vess, written by Ursula K. Le Guin and published by Saga Press / Gollancz.
And Best Dramatic Presentation, Long Form went to Spider-Man: Into the Spider-Verse, screenplay by Phil Lord and Rodney Rothman, directed by Bob Persichetti, Peter Ramsey and Rodney Rothman, from Sony.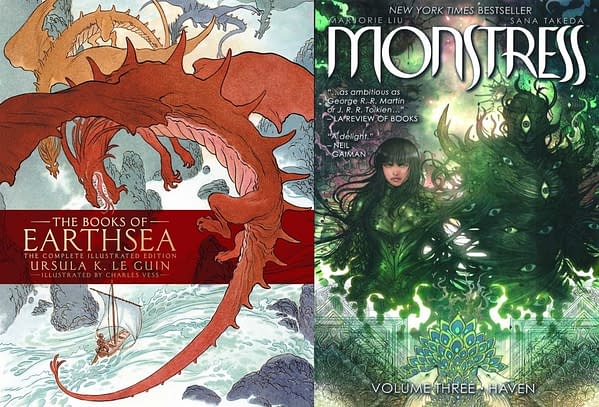 The winners also included:
Best Novel: The Calculating Stars, by Mary Robinette Kowal (Tor)
Best Novella: Artificial Condition, by Martha Wells (Tor.com publishing)
Best Novelette: "If at First You Don't Succeed, Try, Try Again," by Zen Cho (B&N Sci-Fi and Fantasy Blog, 29 November 2018)
Best Short Story: "A Witch's Guide to Escape: A Practical Compendium of Portal Fantasies," by Alix E. Harrow (Apex Magazine, February 2018)
Best Series: Wayfarers, by Becky Chambers (Hodder & Stoughton / Harper Voyager)
Best Related Work: Archive of Our Own, a project of the Organization for Transformative Works
Best Professional Editor (Short Form): Gardner Dozois
Best Professional Editor, Long Form: Navah Wolfe
Best Professional Artist: Charles Vess
Best Semiprozine: Uncanny Magazine
Best Fanzine: Lady Business
Best Fancast: Our Opinions Are Correct
Best Fan Writer: Foz Meadows
Best Fan Artist: Likhain (Mia Sereno)
Lodestar Award for Best Young Adult Book: Children of Blood and Bone, by Tomi Adeyemi (Henry Holt / Macmillan Children's Books)
John W. Campbell Award for Best New Writer: Jeannette Ng
Best Dramatic Presentation, Short Form: The Good Place: "Janet(s)," written by Josh Siegal & Dylan Morgan, directed by Morgan Sackett (NBC)