Are These Names Of The New Catalyst Prime Titles From Lion Forge?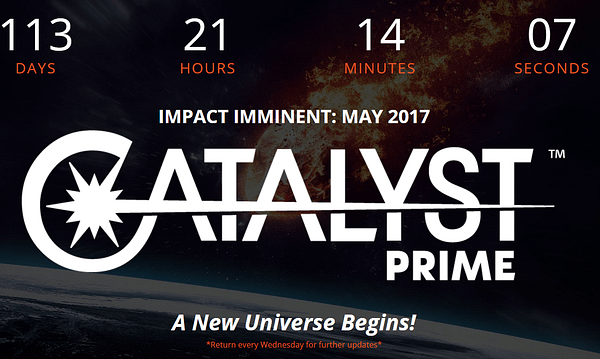 Lion Forge is launching Catalyst Prime with Free Comic Book Day, a new superhero line with a diverse cast of characters – and creators – that in many ways looks to be far more Milestone 2.0 than the currently delayed revival. And it has Milestone intern and showrunner Joe Illidge, co-writing the launch issue with Milestone co-founder Christopher Priest.
Their launch website has been updating again, with added fictitious news reports, about the impending Icarus2 asteroid impact, that one can sift through looking for clues about the Icarus Wings project set to combat it.
So we get more on the Foresight Corporation led by CEO Lorena Payan helping build fallout shelters, the dangers of tsunami, conspiracy about aliens being behind it all and whether Foresight are going to be harvesting alien technology from the asteroid…
And a check through the recent trademark registrations from Lion Forge might also be revelatory. The names they have recently registered include Catalyst Prime (for the second time, after an earlier, abandoned iteration in 2014).
But also…
Superb
Summit
Quincredible
Noble
Kino
Incidental
Chosen
Accel
Cubhouse
The latter is Lion Forge's new children's line. Accel, Kino and Incidentals are Joe Casey's run of books from the original Catalyst Prime effort. Quincredible was also part of the previous line by David Gorden and Gerardo Sandoval. Could these be revived?
But as for Superb, Summit and Noble seem to have had no previous use…