Nancy Drew #1 Review: Filled with Charm and Humor
[rwp-review-recap id="0"]
Nancy Drew finishes up a case set around the kidnapping of her school's mascot, Goatington. Upon returning to her home, she receives a mysterious letter that references her mother's death, and it leads Nancy back to Bayport, where she reunites with her old friends, Bess, George, and the Hardy Boys.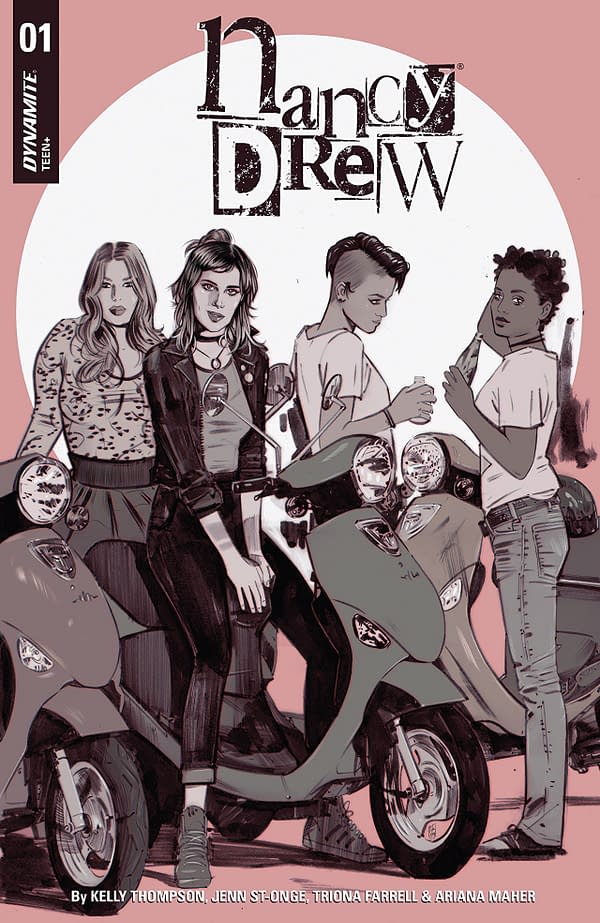 Disclaimer: I've never read any Nancy Drew or Hardy Boys novels, even as a kid. So, I'm coming into this completely fresh.
And I dug the hell out of this comic. Nancy Drew is a funny and charming lead. Her friends are charismatic and enjoyable too. Goatington is a great goat to ease you into the world; yes, I know he's just a fictional goat—but he's my friend now.
It is a little weird how the comic goes from a kidnapped school mascot to a case involving Nancy's deceased mother. It's a bit of a tone jump, but it does set the precedent that the stories within can handle both the serious and the lighthearted.
The dialogue is fantastic, and Nancy's interior monologue keeps the comic entertaining throughout.
The themes of returning home and reconnecting with old friends gives me some Life is Strange vibes, though I am fully aware that these novels are far older than the Dontnod game.
Like Life is Strange, it is focused upon teenagers, and the dialogue and tone reflect that. This may be a turn-off to some people, but it never detracted from the story in my measure.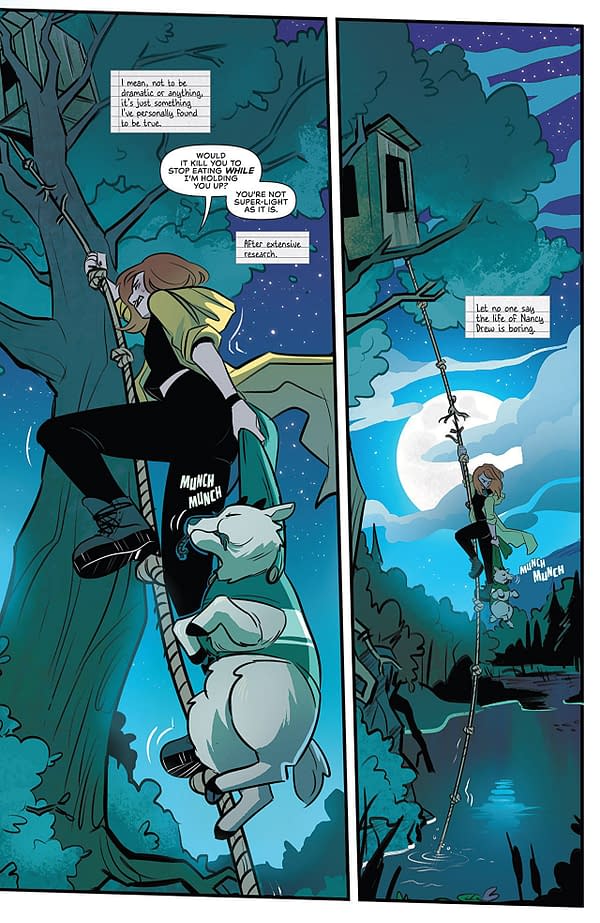 The art of Jenn St-Onge is very cartoonish, lighthearted, and kinetic. It is reminiscent of the animation style from Steven Universe, though the inking in this game is far less heavy (which fits this comic). The world looks cute, but it can carry the heavier details without feeling mismatched. Triona Farrell brings vibrant and well-contrasting shades to the comic, making it even more appealing to the eyes.
Nancy Drew #1 is a charismatic and entertaining start to this reimagining of the classic books. Then again, one should expect nothing less of the talented Kelly Thompson. The characters are endearing, and the story is fun. Jenn St-Onge and Triona Farrell make the comic as enjoyable to look at as it is to read, and the book earns a recommendation. Check it out.
[rwp-review-ratings id="0"]
[rwp-review-form id="0"]