 Wow.
The Harley Quinn Little Black Book team-up series written by Amanda Conner and Jimmy Palimiotti, has an upcoming issue with Zatanna drawn by Joe Linsner.
But after that, it is going to do something even more special. And a little Deadpooly.
We all must remember Deadpool #11 by Joe Kelly and Pete Woods, where Deadpool and Blind Al crashed into an existing sixties Lee/Romita Spider-Man and rewrote it, transposed the art and told a new mashed up comic with the twosome taking the roles of Spider-Man and Aunt May in the narrative.
Well, Harley Quinn is doing something similar. At the Instore Convention Kickoff streaming to stores right now, Jimmy Palmiotti announced that Harley Quinn is travelling back to the classic Superman Vs Muhammad Ali comic book by Neal Adams, with Harley Quinn taking Muhammad Ali's role.
Muhammad Harley?
What's more, Neal Adams is drawing the new art…. including redrawing this cover with many different celebrities. UPDATE: Apologies, it has been suggested, a redrawn cover may not be happening.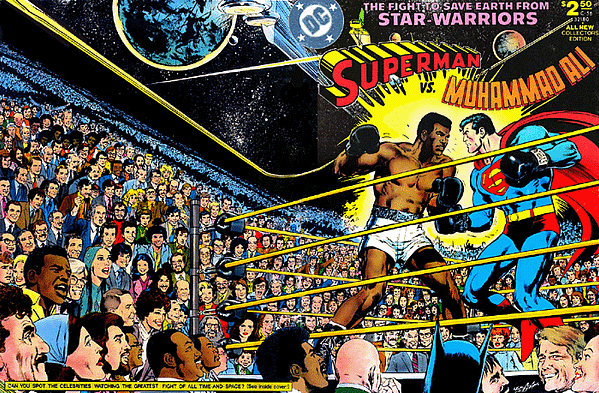 This could be all shades of wrong. Looking forward to it right now!
Follow the rest of our In Store Convention Kickoff coverage here.
Enjoyed this article? Share it!