If Rick and Morty was a horror comic, it might be something like Necromancer Bill. Both are irreverent buddy comedies with grouchy mentors and meek protégées, but rather than exploring the depths of the multiverse; Necromancer Bill explores the space between the dead and the living. The story starts when hapless divorcee Bill Hayes is accidentally granted the powers of necromancy in a ritual gone wrong. Until the council that governs death can revoke these powers, they assign Larry, a wisecracking raven with a substance abuse problem, to look over Bill. But Larry takes it upon himself to go past his mandate and actually train Bill in the ways of necromancy—something that quickly goes horribly wrong.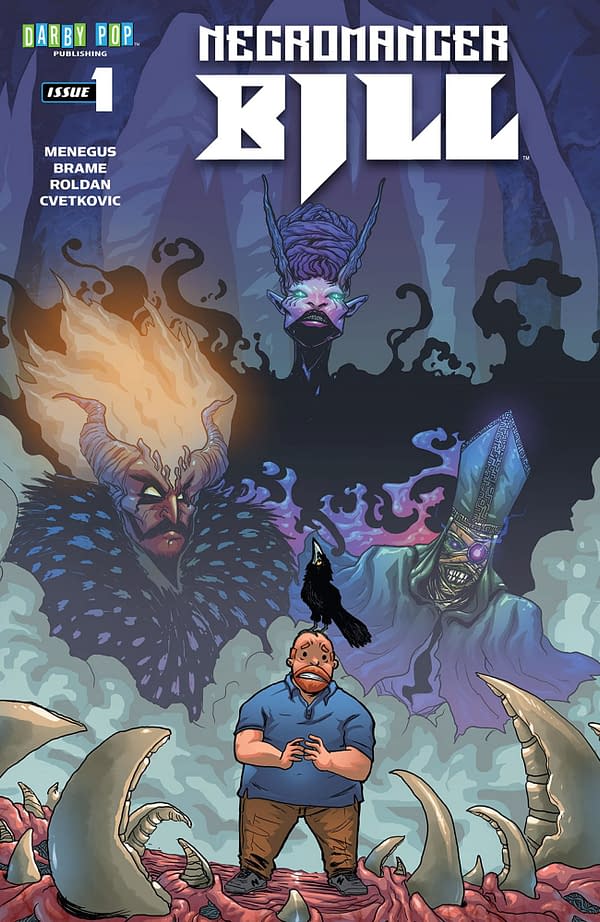 Incidentally, I'd never seen Rick and Morty when I created these characters back in 2015 (something I have since rectified). I was on the heels of getting my first comic stories accepted for publication when I was invited by editor Mike Schneider to submit a story for the first volume of his anthology Octal. It was different from most anthologies, as each 8-page story was designed as a pilot and accompanied by a pitch document. The goal was to create a book that readers would enjoy, and editors could use to scout stories. At the time, I had just finished a typical necromancer story with a brooding protagonist, and I started to wonder what it would be like if the least likely person to become a necromancer got those powers—someone meek and easily startled. I also had this wild idea of putting Edgar Allan Poe's head on a pony's body, calling him "Edgar Allan Pony," and giving him a sidekick who's an EDM-loving, substance-abusing raven named the "Raving Raven." I put these two ideas together, and Necromancer Bill was born.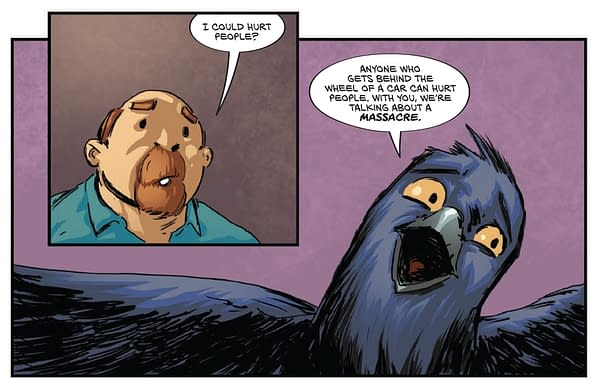 I immediately brought on artist David Brame, who I'd already worked on six short stories with, and we completed the pilot that was included in Octal Volume 1. After that, the anthology/pitch was sent off to publishers. Necromancer Bill is my first comic series, so I feel compelled to mention that David and I turned down the first two publishers that approached us because we weren't comfortable with their terms. As a "new" creative, there can be a temptation to take the first deal you're offered, so I think it's crucial for aspiring creators to remember that not all publishers are the same. The book ended up at Darby Pop, which was the perfect home for it⁠. They really got what we were going for as did colorist Gabriel Roldan and letterer Frank Cvetkovic, who both did a fantastic job on top of David's smart and evocative lines.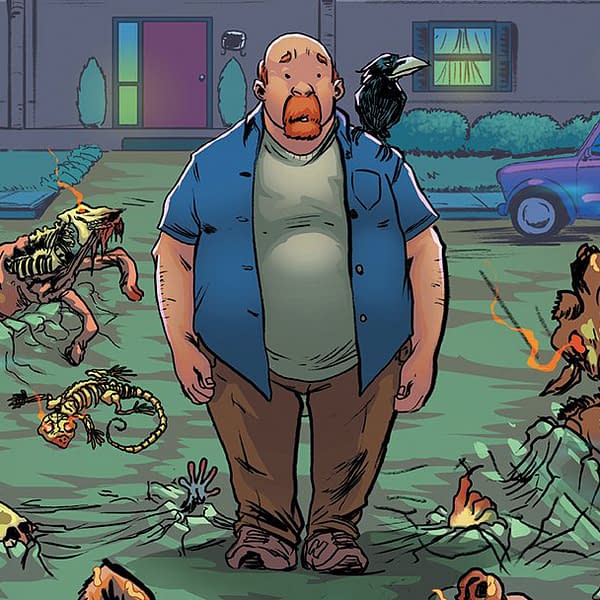 Necromancer Bill is available physically and digitally on Darby Pop's website, and it can also be ordered at your local comic shop through Diamond. If you purchase a copy on the site above within the next week and type "Bleeding Bill" in the notes column at checkout, you'll receive a free copy of Women of Darby Pop #1 with your order!
If you want to keep track of what we're all up to, you can follow us on these socials:
Robert Menegus (script) – Twitter @RobertMenegus
David Brame (art) – Instagram @amazingdavidbrame
Gabriel Roldan (colors) – DeviantArt @pesmerga25
Frank Cvetkovic (letters) – Twitter @GoFrankGo
But first, take a look at the free 12-page preview below!
Enjoyed this article? Share it!