Netflix Speculators Want Something Is Killing The Children #1
While Diamond announced that single issue comics will be back in comic shops soon and DC announced some new releases even sooner, comic shop retailers are still wondering if fans will come back with the same interest in spending money as they did before the current crisis. Well, it looks like fans are still spending big on some recent releases – and latest is James Tynion IV's and Werther Dell'Edera's Something is Killing The Children #1 from Boom Studios. The demand from fans prompted a sixth printing of the debut issue (as we first told you about earlier this year) but it's the big Boom & Netflix partnership news that seems to have generated a whole round of new interest from fans. Though it doesn't hurt that some of the biggest influencers are also citing it as one of the series most likely to end up on Netflix.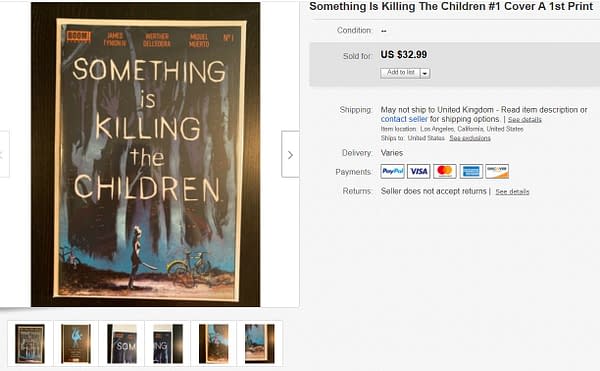 The main cover to Something is Killing The Children #1 has steadily been increasing in price over the last week, heating up at $14.99, seeing sales rise to $29.99 and now most recently selling for a new high of $33. That follows another Boom series drawing a lot of fan attention and new high sales of MMPR/TMNT #3 selling for $100.
Retailers might want to see if they can dig up those copies other Boom's "Must Read" series from 2019 like Once & Future #1 and Faithless #1, because those just might be the next Boom series that fans rush to check out next. It also may be a signal to retailers to check their orders on the company's other "Must Read" series this year – namely the upcoming Faithless II #1 – as fans continue to chase down the next series that they think might be optioned by Netflix. Remember, everyone's going to be a bit more careful with their orders as the Direct Market re-opens – and that will make these new "Must Read" series even rarer.
SOMETHING IS KILLING CHILDREN #1 CVR A DELL
(W) James TynionIV (A/CA) Werther Dell'Edera
GLAAD Award-winning writer James Tynion IV (Memetic, Batman: Detective Comics) teams with artist Werther Dell'Edera (Briggs Land) for an all-new limited series about staring into the abyss to find your worst fears staring back. When the children of Archer's Peak begin to go missing, everything seems hopeless. Most children never return, but the ones that do have terrible stories-impossible stories of terrifying creatures that live in the shadows. Their only hope of finding and eliminating the threat is the arrival of a mysterious stranger, one who believes the children and claims to see what they can see. Her name is Erica Slaughter. She kills monsters. That is all she does, and she bears the cost because it MUST be doneIn Shops: Sep 04, 2019 SRP: $3.99