New GWAR OGN The Enormogantic Fail Revisits the Obliteration of Flab Quarv 7
We didn't get that news out of New York Comic Con, but close enough! A new GWAR comic has been announced, a 96-page graphic novel by Matt Maguire, Matt Miner, and more. Called GWAR: The Enormogantic Fail, the comic's story was explained in an update to GWAR: Orgasmageddon Kickstarter backers:
The story's gonna involve the telling of the destruction of Flab Quarv 7 and GWAR's coming to Earth from 7 unique viewpoints, the members of GWAR, as they're interrogated by Sawborg and Bozo Destructo. It's gonna be so much fun and by the end of it, you're guaranteed to see GWAR and the Destructos throw down against Cardinal Syn – it's gonna be glooooorious!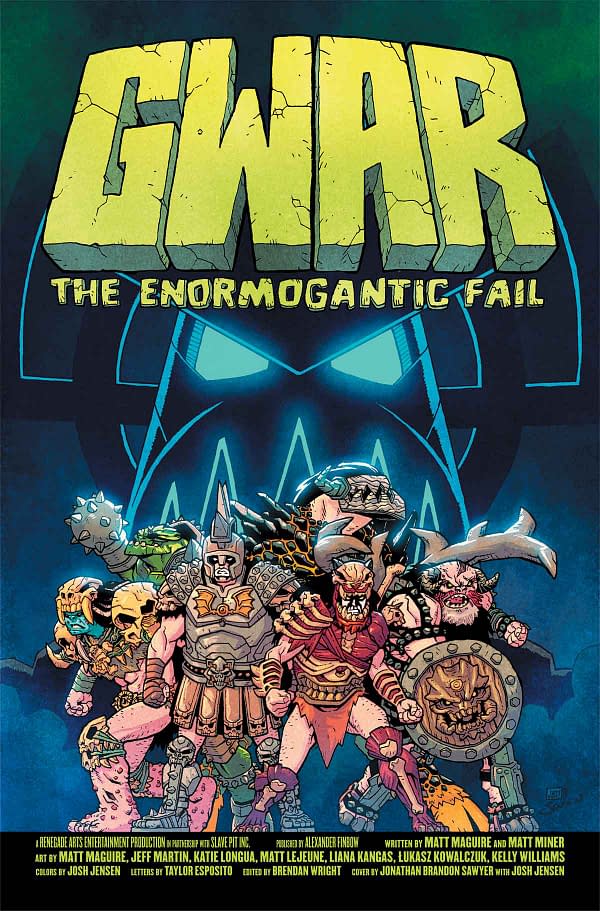 The destruction of Flab Quarv 7 was, of course, previously documented in the song The Obliteration of Glab Quarv 7 on GWAR's 1994 classic, This Toilet Earth. You can listen to it below… but there's a pretty big spoiler at the end, so maybe you want to skip it.
In a press release, writer Matt Miner said:
Well it looks like I'm not quite done with GWAR yet, and I'll be hanging out with that crew long enough for some more dick jokes and blood spray. Always a good time when I can hide from the world in piles of bodies, covered in spew.
And publisher Alexander Finbow:
The opportunity to work with GWAR on this new graphic novel gave us the chance to help create a great story in a collaborative process that respects the band, creators and GWAR fans. The first GWAR comic series was successfully funded through Kickstarter, but the team were keen to try out a different approach this time, one that tied in with some ideas we'd also wanted to try. That's why we created the gwarcomic.com website, a place where GWAR fans can find out easily what the book is all about, and decide whether they want to sign up for the ride.
And Sawborg Destructo:
The time has come once again, human filth, to show your Lords and Masters your undying, but most likely dying, devotion! I Sawborg Destructo commands you to get your pre orders in now for GWAR's new comic The Enormogantic Fail! That's right, get your preorder in today and maybe you'll survive long enough to read it.
Well how can you say no to that? More info below:
GWAR: The Enormogantic Fail
Writers: Matt Maguire And Matt Miner
Artists: Matt Maguire, Liana Kangas, Lukasz Kowalczuk, Matt Lejeune, Katie Longua, Jeff Martin, Kelly Williams
Colour Artist: Josh Jensen
Cover Artists: Jonathan Brandon Sawyer And Josh Jensen
Letters: Taylor Esposito
Editor: Brendan Wright
Publisher: Alexander Finbow
96 pages, softcover, $19.99 US, ISBN: 9781988903477

You know their name, you know their music but do you know their story? Everyone's favorite blood spewing alien band return to comics in an all new 96 page graphic novel.

The Master is at it again in a fierce battle against Cardinal Syn. To get into the Master's good graces, the Destructo brothers have trapped GWAR in order to interrogate them to find the key to destroying Cardinal Syn once and for all. Will Sawborg and Bozo Destructo get the answers they need? Can GWAR escape their clutches? Will Cardinal Syn destroy them all? And what really happened when GWAR were banished to earth?

All will be revealed in GWAR: The Enormogantic Fail, a new 96 page graphic novel from GWAR and Renegade Arts Entertainment. Written by Matt Maguire (GWAR) and Matt Miner (Critical Hit, Toe Tag Riot), with art by some of the greatest comic creators this side of Flab Quarv 7, hand-picked by GWAR themselves.

Available for pre-order now along with exclusive prints, pins, CDs, signed goods and even unique stage props. Pre-orders will be delivered June 2019.
Pre-order at GWARcomic.com.