No Heroine #1 Variants Going for Hundreds on eBay, Ahead of Launch
Frank Gogol and Source Point Press made quite a splash with Dead End Kids, which saw individual issues of the series fetching quite a bit on the secondary market and the series selling out several print-runs. Now Gogol's back with a new project, No Heroine, drawn by Criss Madd and Shawna Madd looks to be what you'd get if you crossed Buffy the Vampire Slayer with Tank Girl to tell a story about addiction and recovery. Originally solicited in the April Previews catalogue, the cutoff to preorder No Heroine #1 was yesterday.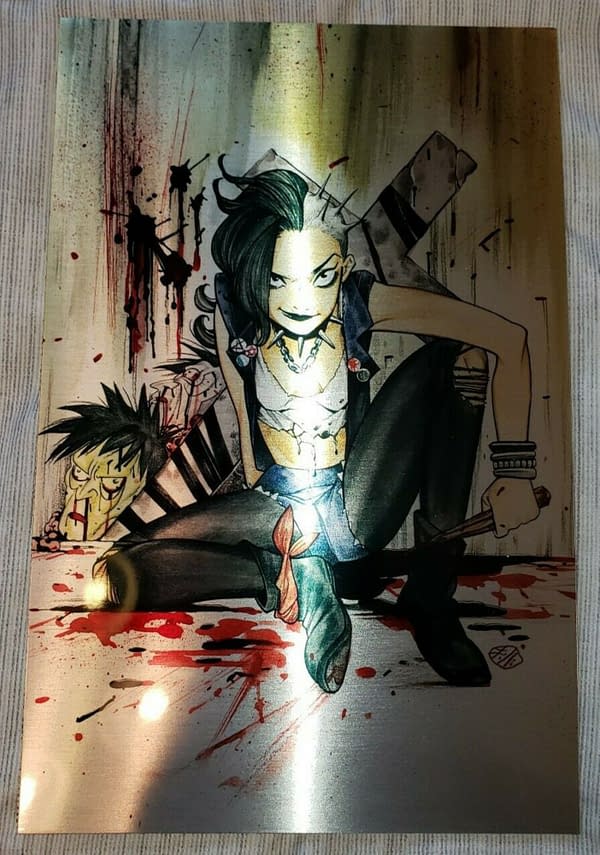 However, No Heroine is also showing early signs of being a much bigger potential hit for Gogol. During the shutdown, he managed to get exclusive variant copies out to a number of stores, at a time when there was little competition and it blew up. The Hive Comics variant by Peach Momoko for No Heroine #1 sold out 500 copies well ahead of the first issue's release and is selling for over $35 on eBay. While the 20-copy metal variant of the same has sold for north of $580. Several copies of the Chris Callahan No Heroine Announcement variant have sold for $120+ on eBay as well. The Trinity Comics variant for $50. The HipHopf variant for $20 as is the Space Cadets variant. There's also a Ben Templesmith 1:5 retailer incentive variant that could do well on the secondary market, especially if the print run for the first issue is low.
With so much confusion surrounding the release of comics in the coming weeks and months, a lot of new series are flying under the radar, especially with small press books. Will this be another hit for Gogol? Only time will tell, but if you're convinced, you may want to check and see if your retailer had enough foresight to order copies.
No Heroine #1
(W) Frank Gogol (A) Criss Madd, Shawna Madd (CA) Ahmed Raafat
Drugs. Vampires. Punk rock. Clawing her way to her 90th day sober, Kayla sets out to find her missing friend, Sid – the one person she knows can keep her on the straight-andnarrow. The only problem? The gang of heroine-dealing vampires that have him. From the writer of 2019's breakout indie hit Dead End Kids comes a story of a young woman's recovery journey and one hard truth: not everyone is cut out to be a hero.In Shops: Jun 24, 2020
SRP: $3.99