Now Batman #90 Sells Out and Goes to Second Printing Before Going on Sale
As backorders continue to come in, Batman #90 has sold out At a distributor and publisher level, ahead of its March 4th on-sale date in comic stores. And as a result, DC is rushing back to press for a second printing. This marks the second subsequent pre-on-sale sellout for the series, following Punchline's debut in Batman #89.
Batman #90 Second Printing reprints part five of "Their Dark Designs," written by James Tynion IV and illustrated by Jorge Jimenez and Tomeu Morey. This issue is a special flashback to the early days of the Designer's plan, and will arrive in stores with a recolored version of its original cover by Jimenez. Bleeding Cool will be endeavouring to see an early copy at C2E2 and will be reporting back.
Batman #90 shows how the Designer started pulling the strings of Gotham City's greatest criminal minds: The Joker, Catwoman, the Riddler, and Penguin. Along with Jimenez's take on the classic versions of those villains, the issue also includes the artist's depictions of modern-day Batman and Catwoman, plus Harley Quinn.
Batman #90 Second Printing is on Final Order Cutoff this weekend with an on-sale date of March 25th.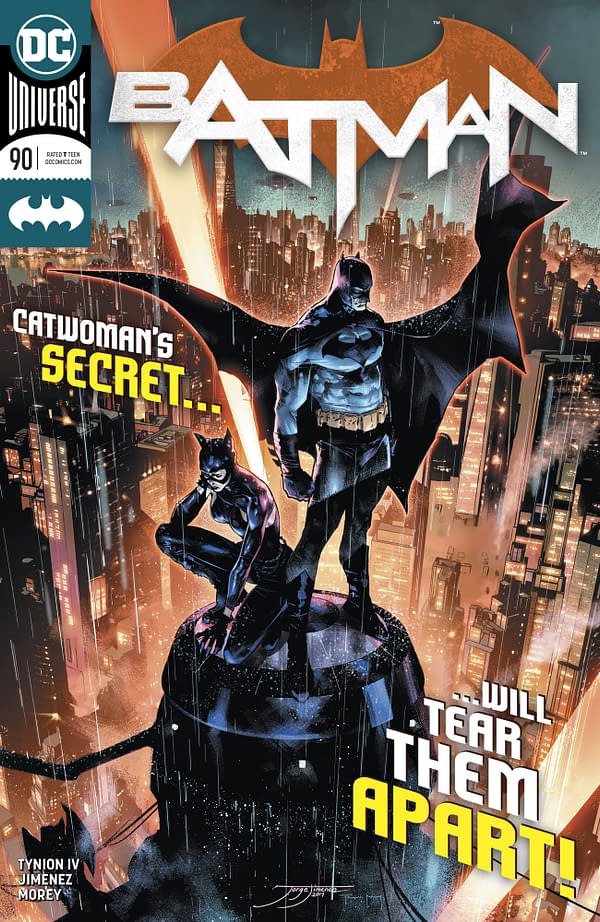 BATMAN #90
(W) James TynionIV (A/CA) Jorge Jimenez
The mysterious master criminal known only as the Designer once brought together Gotham City's greatest criminals to plot the perfect crime, and now his plan has been unleashed upon the city in all its might. Batman will go to any length to uncover the grand design, but Catwoman is the one who holds the greatest secret. If Batman wins against the Designer, he will lose everything.In Shops: Mar 04, 2020
SRP: $3.99