Now Captain Britain Gets a U.S.Avengers "State" Variant Cover
In what is either a shameless cash grab with little regard for geography or definitions, or a shrewd prediction of President Trump's plans to ally with Vladimir Putin and conquer America's former allies, Marvel has revealed the latest "state" variant cover for U.S.Avengers, and it's: The United Kingdom?! Of course, The United Kingdom is not actually a "state," per se, or even a part of the U.S. at all, but that didn't stop Marvel from making a Canadian variant. In addition, Marvel released an updated version of their U.S.Avengers ordering chart, showing that the U.K. is in favor of becoming a U.S. state, since they're currently leading all other variants by a large margin. Could this have been the secret motivation behind Brexit?
Frankly, we'd be happy to have them, as long as they leave Rich Johnston behind. Can Rich report on comics news from France? I think we'd all like to find out.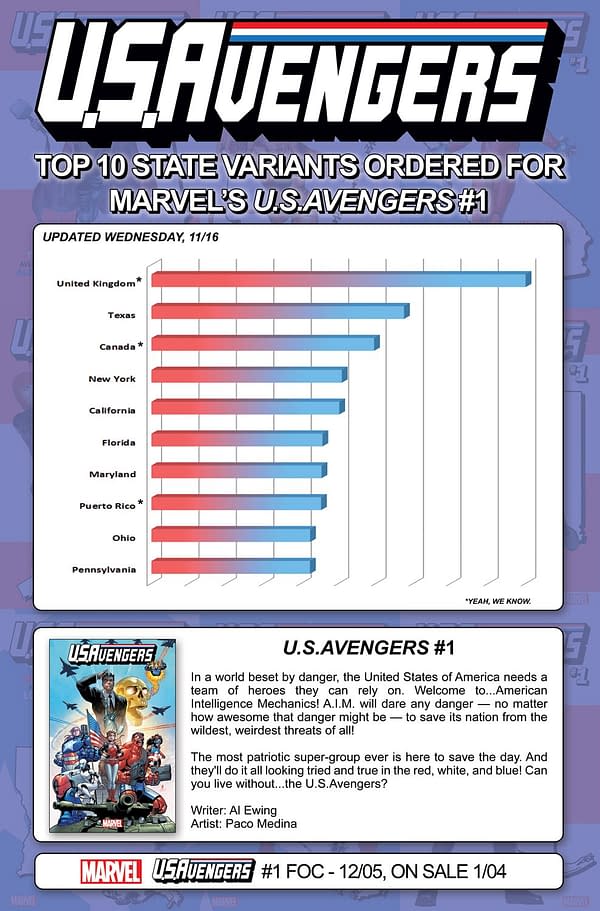 U.S.Avengers, by Al Ewing and Paco Medina, will confound cartographers around the world on January 4, 2017.