Now Lois Protects a White House Whistleblower in Lois Lane #5 [Spoilers]
While Marvel Comics strives to remain as apolitical as possible, rival DC Comics has made no efforts to hide parallels with Donald Trump's White House in the pages of Lois Lane. Those comparisons have been there from the start of the series, in the storyline titled Enemy of the People, a phrase used by Trump to describe the American media, with Lois holding the White House accountable for child separation. She's even been barred from the briefing room like CNN reporter Jim Acosta.
That theme continues in this week's Lois Lane #5. Spoilers ahead…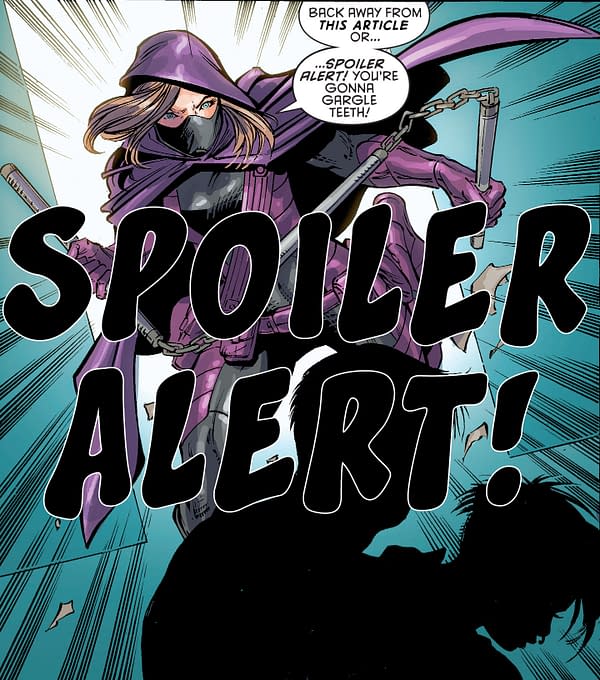 First, with a chance meeting on a plane, a regular American shocked to learn from Lois's reporting about what's happening in this very country…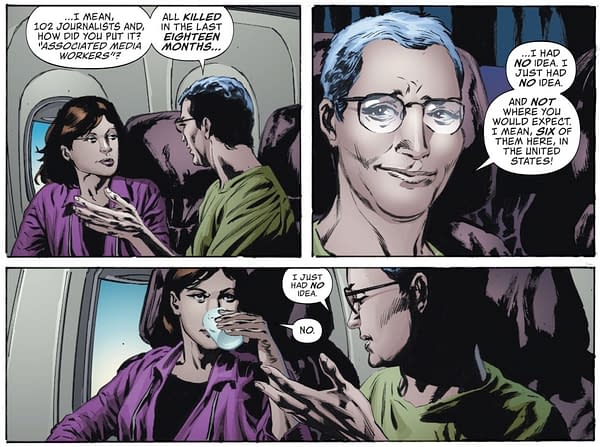 And yet, still mistrustful of the media, suspecting it's all fake news, just like the President says.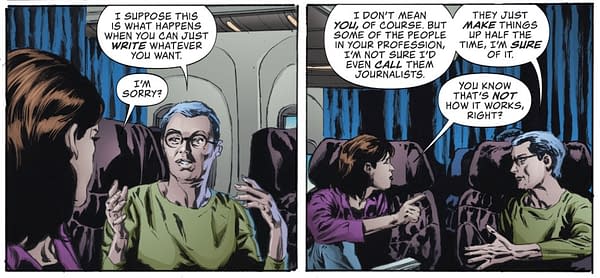 But Lois has work to do, and in Washington, she meets with a source, explaining how that works in journalism.
This source, Lydia, would prefer to remain anonymous. Because she has some information to share. Information about what the administration has been up to. Call her a whistleblower?
And she wants to share evidence, but fears it won't matter, as some of those in power refuse to believe what's happening in front of their own eyes. Kind of like Republican Senator Lindsay Graham, who refuses to even look at the transcripts from testimony in the Trump impeachment hearings.
"I've written the whole process off," Graham said this week, declaring a verdict before a trial has taken place. "I think this is a bunch of B.S."
But does Lydia have evidence that can't be ignored?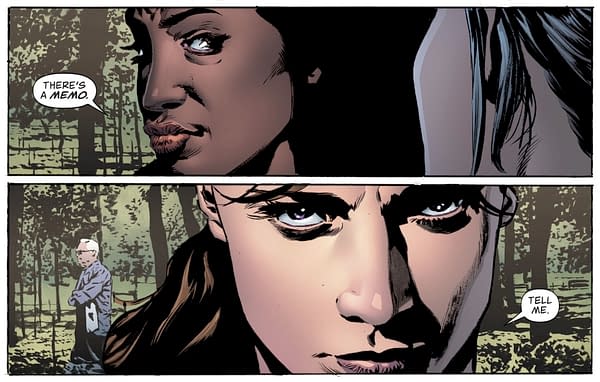 Lois Lane #5 continues to stay freakishly up-to-date with current affairs, in stores now.
LOIS LANE #5 (OF 12)
SEP190504
(W) Greg Rucka (A/CA) Mike Perkins
As Lois delves deeper into a mystery whose answers could shake the entire DC Universe to its core, the Question hunts the people responsible for an attempt on the famed reporter's life. But do they want her dead because of what she knows or to stop her from finding out more?
In Shops: Nov 06, 2019
SRP: $3.99