Now Superman is Picturing His Son's Death 100 Times Over (Justice League #25 Preview)
Tom King may have had his Batman run cut unceremoniously short by DC Comics, but it can't be denied that his influence as a writer continues to spread across the DC Universe. Earlier this year, King penned a Superman story for Walmart which saw Superman imagine Lois Lane being brutally murdered over and over. This, King said, was what true love was like. And since then, this insightful vision of Superman's relationship has made it way to other comics, such as Justice League, where a Superman trapped in the sixth dimension spent last issue imagining the entire world being destroyed, and, of course, Lois along with it.
And in this new preview of Justice League #25, Superman is back at it again, as he continues to relive old traumas and imagine the deaths of loved ones. This time, it's his son, Jonathan Kent, who Superman pictures dying, according to the preview, a hundred times over.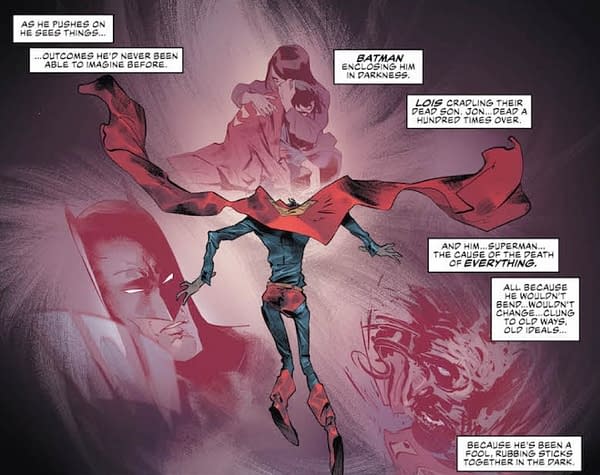 Maybe Superman doesn't care about Lois anymore because she's such a bad role model?
At this point, this vision of Superman is ingrained in the canon. Faster than a speeding bullet. More powerful than a locomotive. Able to leap tall buildings in a single bound. Capable of imagining the gruesome deaths of loved ones in unlimited fashion for all eternity!
Also in this preview, the Justice League face off against their future selves… and would you believe they have no respect for their elders?
Justice League #25 hits stores on Wednesday. H/T to Newsarama for the preview.
Justice League #25
(W) Scott Snyder, Jorge Jimenez, James TynionIV (A) Javi Fernandez (A/CA) Jorge Jimenez
The "Sixth Dimension" storyline wraps up in this oversize issue as Superman faces down the World Forger to save the Justice League! Can Superman withstand the might of a being that can create worlds from nothing?! Plus, with the Justice League away, Mr. Mxyzptlk's been wreaking havoc! Can anyone on Earth stand up to the fifth-dimensional menace?
RATED T+
In Shops: Jun 05, 2019
SRP: $4.99