NYCC '15: DC's Master Class With Gustavo Duarte And Babs Tarr
By Dimitrios Haritos
I was able to make the DC Comics Master Class: Art History panel which was really laid back, moderated by Jason Inman (DC All Access) with Panelists Gustavo Duarte (Bizzaro) and Babs Tarr (Batgirl). The Panel Began with Duarte and Inman discussing what he should draw, Durate started talking about drawing professionally for about 20 years. When he first started he really enjoyed drawing monsters, especially Godzilla. Duarte says that Bizzaro 5-6 were really fun to draw and some of his favorite stuff to date. Inman then asks who his favorite character is and he explains that the Joker is his favorite character. Tarr then arrives to the panel and is asked the same question, she responds that she loves drawing Batgirl but really enjoys any type of "Bad ass Girls".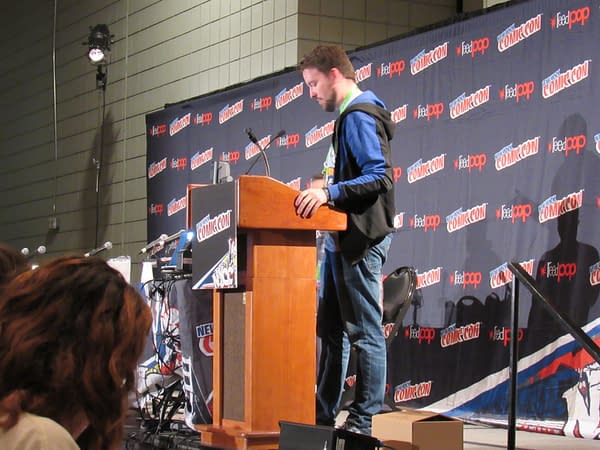 The Panel then goes to questions, where Inman gave out Batman v. Superman hats to the best questions. A fan asked what is their least favorite thing to draw in which Tarr responds buildings and Duarte really dislikes drawing crowds. The next question is about artists that influenced them. Tarr says she is inspired by Jaime Hewlett, Kevin Dart and Bruce Timm and Duarte really loves Charles Schultz as well as Greg Capullo, Will Eisner and Jeff Smith. After a few more questions they were lastly asked who would win in a fight Batgirl or Bizzaro, they both agreed that Bagirl would win.
When the panel ended the fans went up, took photos and got signatures and then the crowd dispersed.
Dimitrios Haritos is a contributor for Bleeding Cool as well as a Cosplayer who loves all things