Officials Sent to Confiscate Gay Comics at Rio Book Biennial in Children's Crusade Controversy
Earlier today, we told you about Rio de Janeiro mayor Marcelo Crivella's order that booksellers at the city's 19th International Book Biennial stop displaying copies of Allan Heinberg and Jim Cheung's 2010 comic book series Avengers: The Children's Crusade. Unfortunately for Crivella, who is also a bishop of the evangelical Universal Church of the Kingdom of God, his order was refused by organizers of the Book Biennial, who replied that the festival is a place where "everyone is welcome and represented." Also, as a result of the ensuing controversy, copies of the trade paperback reportedly sold out across the festival.
But that wasn't the end of Crivella's own personal Children's Crusade. The mayor, who once wrote in his book Evangelizing Africa that homosexuality is a "terrible evil," wanted copies of The Children's Crusade placed inside sealed plastic bags with content warnings, saying that the book contains content unsuitable for minors and warning, "Guys, we need to protect our children." Since festival organizers resisted, the government has now sent fifteen officials from the Municipal Secretariat of Public Order to scour the festival for "inappropriate" and "pornographic" content and forcibly seal it inside plastic bags or confiscate it, according to a report from Brazillian independent newspaper Globo.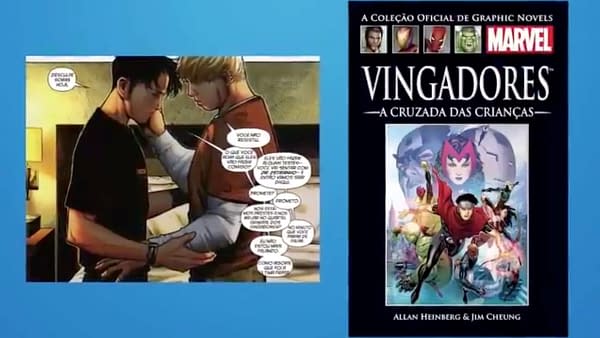 SEOP Chief Wolney Dias told the paper, in regards to the government's authority to censor comics:
City hall has police power for that. If the material is not following the recommendations, it will be collected. We are following the guidance of the city prosecutor's office. I do not understand that there is censorship. If it is pornographic material, offered without the standards, it will be collected.
Avengers: The Children's Crusade does not contain any pornographic material, but it does feature a gay kiss and romance between two of its teenage characters, Wiccan and Hulkling, which Crivella's administration has made no secret is the issue it takes with the book, featuring a scene between the two characters in a video message recorded by Crivella on Thursday.
We'll continue to keep you updated on this situation as it develops.