Halloween is my favorite time of the year. The darkness, the spookiness, and oh, the horror! I've always been fascinated by themes of the unknown creeping in and terrifying us, or the repressed finally erupting into chaos. One thing growing up that I always wanted, though, was to see more characters of color as the main characters and not as the "other" where our background were the source of horror or we were relegated to the side kick best friend who most likely died. And I'm sure other marginalized groups feel the same in terms of how we're represented and I'm always down for some subtext and social commentary if provided, horror serving as a great backdrop for such stories. So for this feature in the days counting down to Halloween, I wanted to showcase some independent works featuring leads of color, women, LGBTQ+, disabled, especially if created by creators of the like. So without further ado…
Oh, the Indie Horror! Day 2 (Double Feature!): Home by Kalani Caraballo & Crescent City Monsters by Newton Lilavois
Hailing from New Jersey, Kalani Caraballo is the writer and visionary of Dummie Comics Inc. along with his soon-to-be-wife, Chrissy Torres, who is the co-founder and editor. Under Dummie Comics Inc., they've released titles such as Home, Manifesto, Messenger, Pistol Grip, and most recently the newly released Street Justice. Coming 2020, Torres will be releasing her first book, a children's comic and she's so excited to share her new talent with the indie world.
GREG ANDERSON ELYSÉE: Y
ou guys are going to tell me about Home, right? What's that all about?
CHRISSY TORRES: Home is the story of a house that literally goes "bump" in the night! Throughout the 4 issue mini series, we meet Gio and Drew, a Puerto Rican and Dominican preteen duo who love to play baseball and video games. Everything is business as usual until a sleepover, before a big game, goes awry that things unravel and aren't what they seem once they lights turn off and Drew is witness to a series of unfortunate events. The fact that this is all true and that Kalani is really Drew just adds a different element to the story. Our readers who like horror thoroughly enjoy it and many like to share their own spooky stories with us whenever they see us at an event.
ANDERSON ELYSÉE: Wait, so this is actually based on a true story?!
KALANI CARABALLO: Back in the 4th grade my best friend Giovanni moved into a house in North Plainfield, NJ. We kept in touch during those times and at first everything seemed like it was going great, then I noticed a change. My friend explained to me what was going on in the house. He told me about different paranormal phenomenon. They would hear voices telling them to leave, see ghosts, etc. I didn't believe him until I had my own experiences in the house. The events of the book are all based on everything Giovanni told me.
ANDERSON ELYSÉE: Well, you have to tell us now about at least one experience!
CARABALLO: Here's a direct quote from my best friend, Giovanni, "The chairs in our dining room moved on its own in the middle of the night. Shadows would be seen running through our basement. Children's laughter would be heard quite frequently. My older brother and I slept in the basement (the basement was turned into a bar and lounge, pretty cool). We used to see a tall black man through the bar window and he would just vanish. We saw him about four times, my older brother saw him more. We left after my sister was pushed through the front glass door. She was chasing my little cousin throughout the house, and when she ran by the front door she said she was pushed from the side into the front glass door."
I have so much more to say about this house, but I'll leave that for the comic to tell.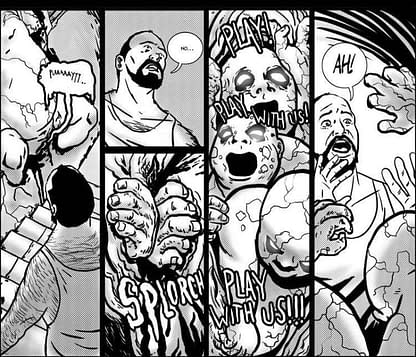 ANDERSON ELYSÉE: In time for Halloween season, what other horror series or popular stories/movies can you compare it to or which category of horror fans will feel right at home in checking out this book?
CARABALLO: The only book I would compare Home to would be Wytches by Scott Snyder. Wytches actually inspired me to write Home. Not so much the content of the book but the essay in the back of issue 1. Scott Snyder explained how Wytches was inspired by a story of his best friend and him growing up, and how they had a paranormal experience in the woods where they lived. Immediately it reminded me of my best friend Giovanni and his old house in North Plainfield. The perfect movie comparison would have to be House on Haunted Hill.
TORRES: You can order the collection of issues 1-3 of Home HERE.
_____________
Newton Lilavois was born in Port-au-Prince, Haiti and grew up in New York City. He currently lives in the Boogie Down Bronx with his wife, two daughters, and chocolate lab. When not writing comic book scripts, he's writing code as a web developer for a consulting company.
GREG ANDERSON ELYSÉE: The representation of Vodou in horror stories is something that's been a continuing theme within the genre. There's a few comics showcasing Vodou. What is Crescent City Monsters about and how does it stand out in comparison to the others out there?
NEWTON LILAVOIS: In a broader view, Crescent City Monsters is about a man who has everything he cared about taken away from him by monsters. He tries to take his life back and in the process has to fight from becoming a monster himself. The original thought that inspired this story was that I wanted to create a zombie story but one that featured zombies that weren't brainless beings who are just out to eat human flesh. I wanted them to more reflect what a zombie is known in Haitian culture: someone who is brought back to life and is under another person's control.
ANDERSON ELYSÉE: You incorporate Vodou figures like Baron Samedi and Papa Legba. Who are they and where do they fit into the story? How are they connected to the main character?
LILAVOIS: Baron Samedi is Loa of the Dead. He is a natural choice for dealing with zombies. Papa Legba is a Loa that gives humans access to other Loas. Since Papa Legba is essentially a gatekeeper, his powers are extended to being able to travel other worlds also. There will be monsters from other worlds so Papa Legba has a role in helping fight those monsters.
ANDERSON ELYSÉE: Will we be seeing other important figures from Haitian lore?
LILAVOIS: I'm still working a few things out. Maybe a couple more Loas will be introduced. I've been looking to incorporate Haitian werewolves called Jé Rouge, but haven't found a good way to incorporate them yet. I'm also throwing the idea of having a character called Ton-Ton Macoute. Ton-Ton Macoute was the name of the old vicious secret police force in Haiti but it translates to the Boogeyman. So I thought, a character called Ton-Ton Macoute could fit nicely into the story.
ANDERSON ELYSÉE: I understand that aside from Haitian and New Orleans Vodou religion, you also draw along themes and ideas from some Native American beliefs? Can you tell us about that? Where else do you take from?
LILAVOIS: Since there's a Creole culture in New Orleans I wanted to mirror that in the magic that the main character, Jonas, uses. New Orleans Creole culture is a mixture of African, Native American, and European culture so I think it's fun to be able to mix that all together. For example: the character Munin is one of Odin's raven. The werewolves will be Native American. Mix that with some Vodou Loas and you have some Creole Magic.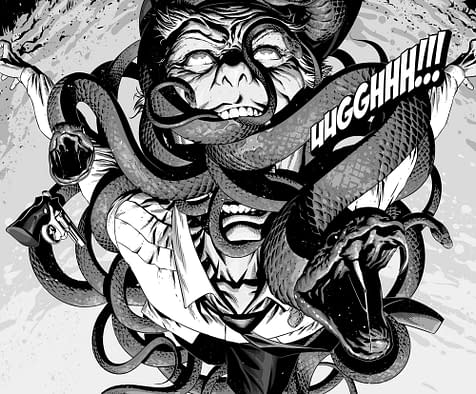 ANDERSON ELYSÉE: I love that. Now Issue 1 took place in the time of Jim Crow. I see issue 2 takes place in more modern time. Where does the jump in time take place in terms of this story? How does that connect to the story you're trying to tell?
LILAVOIS: The jump takes place after the first issue. The idea for the jump came from the idea that I wanted the protagonist, Jonas, to wake up in the most uncomfortable situation as possible. So I thought, "Let's displace him in time." Then I thought, "Let's put him the Jim Crow era to explore what has changed and what has stayed the same." How does someone who experienced Jim Crow as a young man react to the times we live in now, while he still being a young man?
ANDERSON ELYSÉE: Tell us about your artist. How did you two come together and what has the working relationship been like?
LILAVOIS: My wonderful artist is Gian Carlo Bernal from the Philippines. I found him through DeviantArt. Our working relationship has been incredible. I can hand Gian the script and know most of the time I'll be totally happy with what he's done. Gian is also a fan of the story so it's great when you're working with an artist who likes your story.
ANDERSON ELYSÉE: Thanks, Newton, for your time. Where can potential readers find your work?
LILAVOIS: We have a website where you can read issue one online for free at DreamFuryComics.com.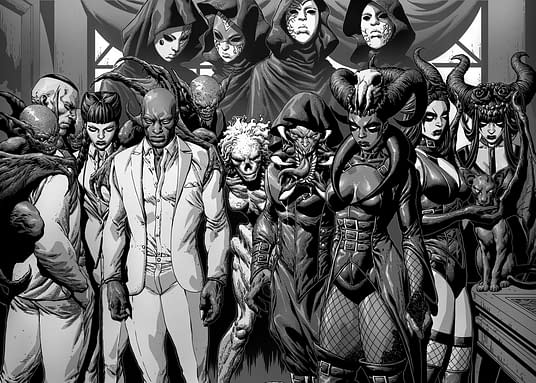 Enjoyed this article? Share it!