Over 100,000 Sign Petition Against DC Comics Publishing Second Coming
A few weeks ago, Bleeding Cool showed you how a slow news day on CBR led to Fox News and Breitbart running stories about the upcoming DC Comics title The Second Coming, with allegations of blasphemy being thrown around willy-nilly.
All because they suddenly noticed an interview with writer Mark Russell that ran in August.
And now a hundred thousand people have signed a CitizenGO petition calling for DC Comics to cancel the comic.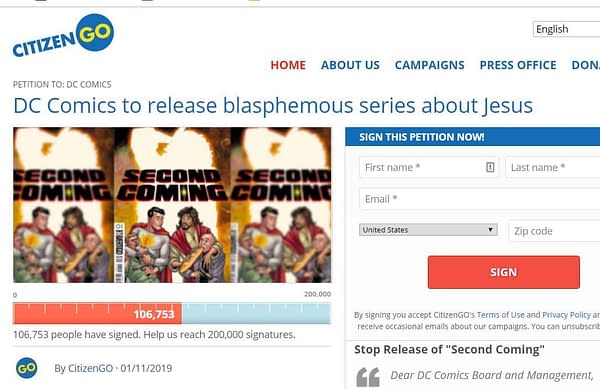 CitizenGO is a right-wing advocacy group from Spain which promotes petitions in many countries, defending Christian and Catholic causes, and as well as campaigns that oppose equal marriage, abortion rights and euthanasia. The petition reads,
Dear DC Comics Board and Management,

I am appalled by your decision to publish "Second Coming," a comic that features Jesus Christ as a clueless superhero sidekick.

In a recent interview with Bleeding Cool, author Mark Russell described the concept behind his upcoming comic. He explained, "God was so upset with Jesus's performance the first time he came to Earth, since he was arrested so soon and crucified shortly after, that he has kept him locked-up since then." In Russell's comic series, Jesus comes back to earth as the roommate of "an all-powerful superhero, named Sun-Man."

Would DC Comics publish similar content about other religious leaders, such as Mohammed or Buddha?

This content is inappropriate and blasphemous. It should be immediately pulled from your publishing schedule.
The solution is obvious. DC comics needs to publish similar content about Mohammed or Buddha. Then everyone will be happy. Right?