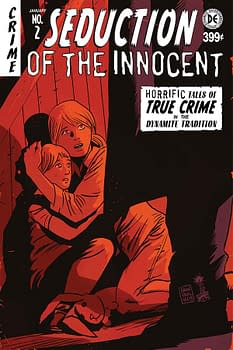 One of the things I love about comic books is that just about any genre can work within the four-color pages. Superheroes, romance, westerns, monsters, science fiction… all of them have succeeded at one point or another. Crime comics have had a few different resurgences over the years. If you are a fan of the genre, you should be reading Seduction of the Innocent from Dynamite.
Ande Parks is writing the hell out of this story. We're only two issues in and already the character of Detective Jennings is a well established, fully-formed protagonist thrust into a big mystery with lots of moving parts. Here is a guy who is in a new city, trying to fit in and he gets caught up in a powder keg case that is going to blow it's just a matter of how big. He also is worried about becoming a father. He's a character that you can relate to but at the same time there seems to be more to him than just what we've seen so far.
The cover by Francesco Francavilla is a nice homage to the old EC comics, but it's Esteve Polls interior art that feels like it might be from a bound collection of those old crime stories. He brings across a grittiness to the story that holds the mood perfectly. It makes you feel uncomfortable and anxious which matches the hero of the story.
I grew up a superhero fan and still enjoy those books both as a fan and as a writer when I get to work on them. But crime comics is a special genre and it takes a skilled hand to pull it off… that is exactly what the creative team for Seduction of the Innocent is doing. Well worth picking up.
Enjoyed this article? Share it!