Paul Tobin Addressing The "Asian Elephant" In The Room With King: Jungle Jim
Gail Simone, writer of Red Sonja #15, talks with writer Paul Tobin about KING: Jungle Jim #2, both on sale now. Covers by Chip Zdarsky and Wilfredo Torres.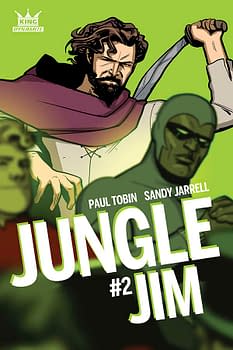 GAIL SIMONE: Let's deal with the Asian elephant in the room. The white savior jungle story is full of elements that are really problematic today, significant problems with colonialism and racism and more seem to be attached to nearly every pulp jungle hero from Tarzan to Sheena. From what I have read elsewhere, Jim is not an exception. What was your thinking on this when updating the character?
PAUL TOBIN: It was something that was definitely on my mind. The first step I wanted to take was not to portray Jim as a real savior in his own mind. I think that's what really bugged me about those old stories, the wink of "these people can't take care of themselves, so it's up to me and my superior English blood!" That's something I really wanted to avoid. That's partly why Jim, in my stories, is essentially a powerful buffoon. He's a good man, no doubt, but success is as much an accident as it is because "Jim knows better."
GAIL: Of all the King Features updates, Jungle Jim seems to be the biggest leap from the source material. Was that intentional, did you feel you had more license to do that, considering his relative obscurity? What is it you changed, and what did you want to keep?
PAUL: Definitely intentional, and partly because of what we were talking about earlier, the "white savior" elephant in the room. I wanted to move Jim away from Earth and the jungles of Asia where he had his earlier romps. And, like you say, the relative obscurity of the character in the modern world (despite a wealth of comics, comic strips, movies and television and radio, etc… in the past) meant that I wouldn't be treading on too many toes by changing a "beloved" character. So, I moved him to another planet, Arboria in this case, which is a jungle planet, and of course that made it easy to link things up with Ming the Merciless and the mythos of Flash Gordon, which is something we wanted for the overall universe. And, readers will note that I have MUCH more linked Jim to the jungle. In the old days, Jim's adventures only took place in the jungle, but in our stories, Jim very much IS the jungle.
GAIL: Please explain the basic plot for new readers.
PAUL: Overall, I wanted to keep the plot simple, and just have a good fun adventure romp. Lille DeVrille, a native of Arboria, is trying to save her rather mouthy brother, who has been scheduled for execution by a despot ruler named Ming, who is not especially known for his mercy. Lille first approaches Prince Barin, but he's unable to help, but he is able to provide a couple helpers on Lille's possibly-hopeless quest to find a legendary man named Jungle Jim… the only one who might be powerful enough to rescue not only Lille's brother, and save another life at the same time, because Lille has a secret of her own.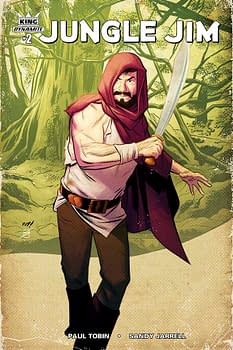 GAIL: This book has a lovely sense of whimsy and fun. My favorite character is the Rhino Man Kugor, but Jim himself seems halfway in another world, as well. What made you decide to go that route?
PAUL: I very much enjoy a good romp, and comics don't have enough pure adventure these days. It's all super grim and horrible and I just wanted to have fun, so… yeah… I pumped this comic full of wit and whimsy. Sometimes you want a jungle adventure written by H.P. Lovecraft, and sometimes you want one written by P.G. Wodehouse. I leaned towards the latter, on this occasion.
GAIL: The art, by Sandy Jarrell, is lovely, sometimes it's science fiction, sometimes it's adventure, and at times, it has a Narnia-like quality. Can you describe the collaborative process here, did you ask for this effect?
PAUL: Honestly, I just let Sandy run loose. My scripts have a lot of direction in them, enough that I feel like keeping my foot in the door after I shoot off the script would be too intrusive. There has to be a time when I just let the artist run wild, and Sandy's really good at whipping off his pants and running through the meadows. I'm speaking metaphorically, here. I can't say what he does in the real world.
GAIL: Please tell us why readers should pick up this lovely, fun book. Aside from the fact that it's lovely and fun, of course.
PAUL: Well, it's that love of adventure and wit. Honestly, the real reason readers should pick up the book is because we had a blast making it, and I think that always shows on the final pages. When I'm reading a book, I can always tell if the creators had fun creating the book, or just cashing the paycheck. We had a lot of fun on this one. It shows.
For more on King: Jungle Jim #2, click here.