Peach Momoko No Heroine Sketch Variant Sets for Charity
Peach Momoko has become quite the darling of the variant comic book cover scene of late, with a line of speculator attention, and a contract with Boom Studios for a brace of them to come. Dead End Kids writer Frank Gogol, Source Point Press and Hive Comics have teamed to offer a set of sketch variant covers for his series No Heroine featuring artwork by red-hot artist Peach Momoko, with half the proceeds benefiting charities.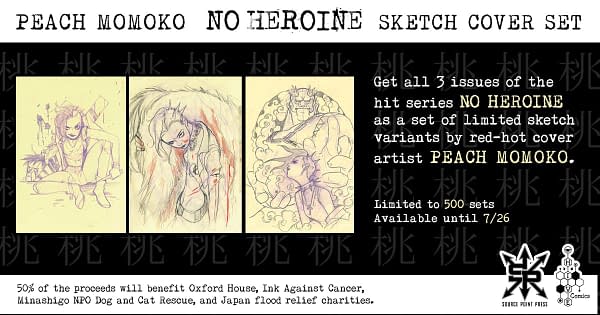 The set includes copies of No Heroine #1-3 featuring Momoko's in-process sketch artwork for the original covers she created for Hive Comics. Half the proceeds from the sale of these sets will benefit Oxford House, Ink Against Cancer, Minashigo NPO Dog and Cat Rescue, and Japan flood relief charities. At the time of this writing, more than $4,000 has been raised for these causes.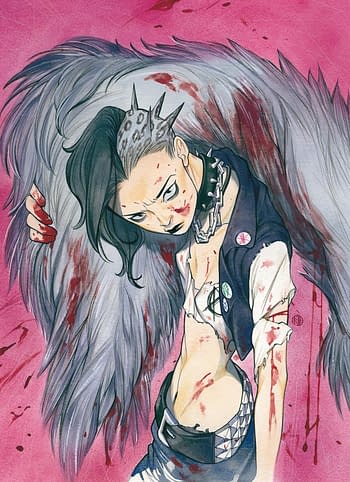 The long-sold-out Hive Comics exclusive for No Heroine #1 by Peach Momoko has regularly sold for $100 or more over the last couple of months. Several 9.8-graded metal copies of the same cover have sold recently for as much as $1100, making it one of the highest-selling Momoko covers sold to-date. Copies of the Momoko cover for No Heroine #2 have sold reasonably well, too, fetching anywhere between $50 and $150.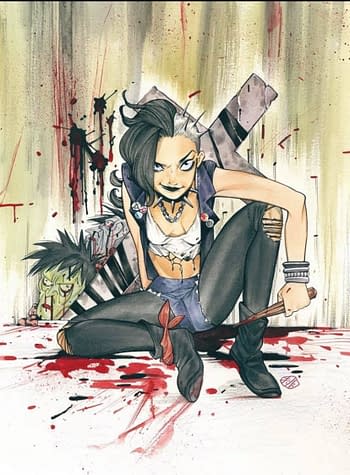 Bleeding Cool recently reported that No Heroine #1 has sold out two weeks ahead of its release next Wednesday, making it two consecutive sell-outs of a debut issue of a series by Gogol.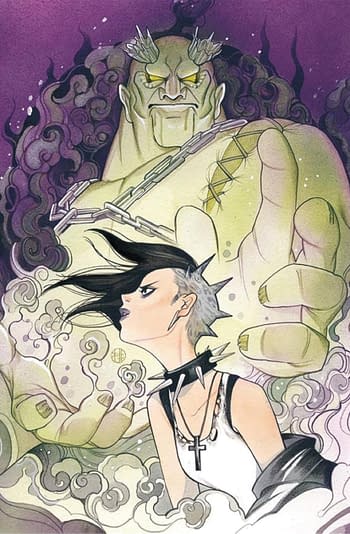 Preorders for the Momoko sketch variant set for No Heroine will be available through July 26. Each set is priced at $49.99 and only 500 sets are said to be available. They can be ordered here. No Heroine #1 hits comic shops next Wednesday.