The Perfect Joker Commission by Brian Bolland
Chris C is a comic book and original art collector. A decade-and-half ago he commissioned the following piece from Brian Bolland. At a time when DC Comics would have been about to publish the 80th Anniversary Joker comic book, we thought this might be a time to celebrate this one particular piece. On the ComicArtFans website, where fans upload the work that they own, Chris detailed the events that saw him commission the piece.
He wrote "I have literally been trying for YEARS to get the legendary Mr. Bolland to do a commission for me. He has been so busy and unavailable that nothing came of it until NOW. A huge thanks to Spencer, without whom this would not have been possible. When it became a reality I went for a full on cover quality piece. You would never know that Brian has not worked in pencils and inks for finished pieces in almost a decade. He knocked it out of the park. I won't have the piece in hand until tomorrow but I could not wait any longer. And for those that are wondering the heads on the wall from left to right top to bottom: Superman, Animal Man, Penguin, Wonderwoman, Robin, Batman, and Batgirl…with some heads just slightly out of camera shot. I gave Brian a host of ideas for this piece and he picked the most "out-there" and graphic of them all. I was concerned that he would think it too macabre but he took to it like a fish to water. When you have a living legend of an artist who gets excited about a piece he is working on this is what you get. I am beside myself."
Not only could he afford this commission, but he also already bought this piece of legendary artwork from Brian Bolland. Chris recalls "What can I say? This is my favorite Dredd image. It's possible THE finest and most memorable piece of Bolland Dredd artwork. I love it. Everyone remembers this page no matter what side of the Atlantic you grew up on. Originally published as 2000AD Prog 227 page 21, but soon took on a much larger place in the realm of comics. I feel lucky to own this and the weight of its significance is not lost on me whatsoever. It sums up everything that this character means in one knockout panel. I also picked up the page that precedes this one because it explains why the hell Dredd wants someone to "Gaze" into his fist anyway."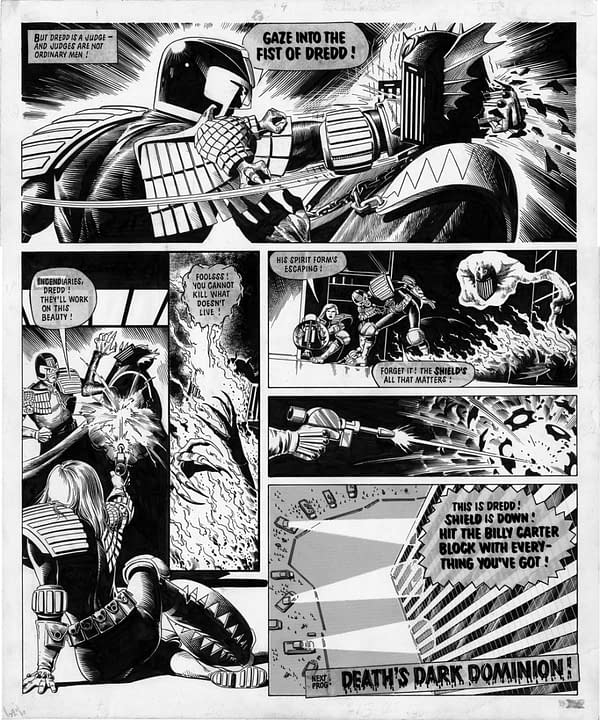 If you are not yet consumed by jealously you can also check out the Killing Joke page, the Dave Stevens Rocketeer, the accompanying Green Gobin image to his Joker commission by John Romitas Senior and Junior together, as well as the stories that accompany them all, right here. Well, what else are you going to spend your lock-in doing?