Pestilence Vol. 1 Review: Someone Call the Plague Doctor
[rwp-review-recap id="0"]
Often a comic doesn't quite manage to catch your interest in issue #1. That was the problem I originally had with Pestilence. Written by Frank Tieri, the premise is an interesting take on the zombie genre. It poses the question: What if the Black Death was really just the world's first zombie infestation?
Set in the 14th century, it follows a group of men known as "Fiat Lux", sent by the church to figure out the source of this mysterious plague as they do battle for humanity's survival.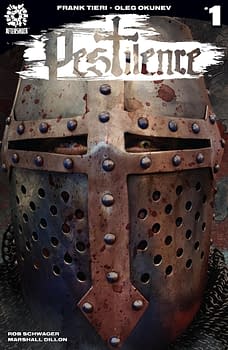 My original problem was that the first issue felt crass and flat. The art, supplied by Oleg Okunev, had some bumpy patches with questionable anatomy and boring scenery. The script was stilted; the time period largely misused. At the time of its release I wasn't a fan, and I relegated it to the mound of boring zombie literature that I had zero interest in. Now, with the release of Pestilence Vol. 1 — a collection of the first six issues — I've given Tieri's story another go. And honestly? I'm glad I did.
If you can get past the heavy pandering of the male gaze and odd dialogue in the first issue, Pestilence offers a story that gets increasingly interesting as it goes on. Issue two makes it feel like a whole new story as characters develop, suffer, and swear their way through the beginnings of the Black Plague. Okunev's art also takes a turn for the better with some down right beautiful panels. Death has rarely looked as good as the underwater shots given as Fiat Lux travel to the Vatican.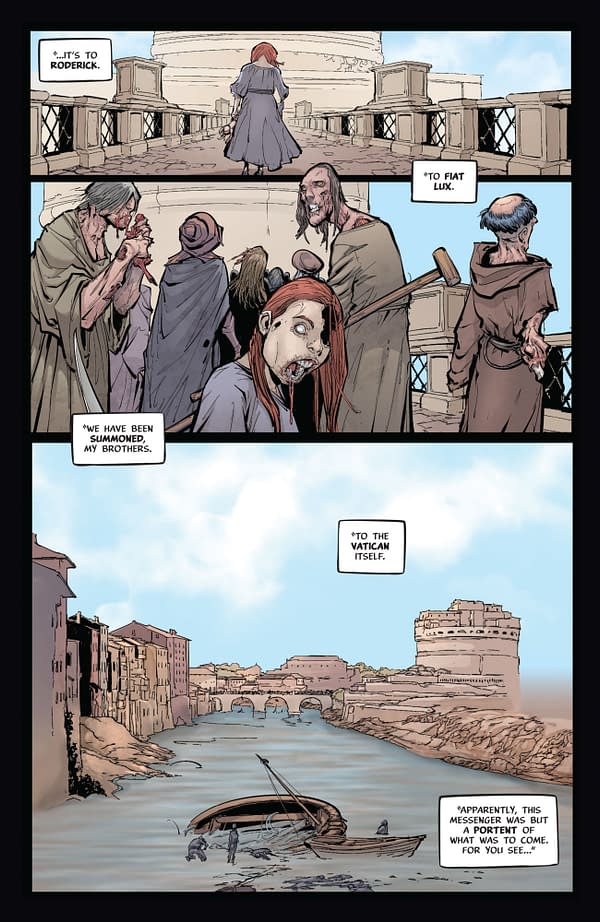 The story dips a bit in issue four as the story lags to fit in unnecessary plot twists. It's not enough to take you out completely, though it marks the beginning of a handful of missed opportunities. There's no real surprises hidden in Pestilence — what you see is what you get. That would be totally fine if the book itself stopped trying to surprise you. Instead it does its best to insert little moments that they want to be shocking, but that come across as terribly obvious.
Arguably issue five is Pestilence's strongest as Tieri finds his pacing, offering us short, streamlined travel and the tying up of several loose ends. Six follows suit, though the ending is somewhat lackluster. I'm not sure where Fiat Lux can go from here other than a typical period piece following a band of outlaws — disappointing, given the fun ride of the first six issues. I understand the wish to continue a story, but had it ended on more of a downer note I feel the previous issues would have had more of an impact. That being said, I'll be sure to read whatever comes next.
Pestilence is a story that steadily grows better. It hooks you in quickly and leaves you eager to turn the page. If you're a fan of zombies or Tieri's previous works, then this collection is for you. Tim Bradstreet's extraordinary covers are a fantastic bonus that lends more pull to the work. They give the story a grandiose feeling, absolutely nailing the time period with a majestic air.
Pestilence Vol. 1 is available starting February 7th for $17.99.
[rwp-review-ratings id="0"]
[rwp-review-form id="0"]